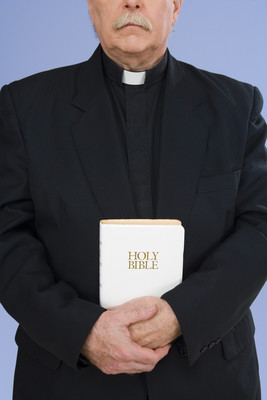 Two weeks ago, during one of his last Sunday Masses at St. Andrew Catholic Community, the Rev. Joseph Annese gathered a gaggle of children at the altar during a key part of the service.
"I want you to see what I'm doing up here," explained Annese, who officially retired the following day after spending 30 years as pastor of the Boulder City parish.
Why? Simple, Annese told them. "We need more priests."
Annese's pitch for vocations as he, himself, was leaving full-time ministry underscored how important it is that the Diocese of Las Vegas find new priests to replace its chronically overtaxed clergy.
Granted, the Las Vegas diocese isn't alone in suffering a vocations crisis, and most other dioceses across the country are struggling to find men who wish to become priests. But the clergy gap in Southern Nevada has been made more acute by a population that has grown dramatically during the past decade.
According to the Very Rev. Kevin McAuliffe, the diocese's vicar general (the bishop's chief administrative official), about 740,000 of Southern Nevada's roughly 2 million residents are Catholic. Serving that large, and still growing, Catholic population are about 65 priests.
However, according to McAuliffe, only about 20 of those priests are priests who "actually belong to the diocese, (who) are incardinated into the Diocese of Las Vegas, and are active."
The rest are members of religious orders — who serve in the diocese but can be relocated if their superiors deem it necessary — visiting priests from other dioceses, or retired priests who've moved to Southern Nevada and have agreed to assist the diocese by celebrating Masses here.
Now factor into that dispiriting equation this: The Las Vegas diocese's clergy is, comparatively speaking, an aging one.
The average age of priests in the Las Vegas diocese is about 60, McAuliffe noted. Because priests may submit letters of resignation at age 65, the diocese could face an even more significant reduction of its clergy in the next decade or so.
Certainly, retired priests may continue to assist the diocese. Annese, for example, is 75 and said he agreed to stay on as full-time pastor at St. Andrew for 10 years beyond his official retirement age. And, although he is officially retired, Annese said he'll continue to say Mass at parishes across the diocese when he can.
Filling in as parish administrator at St. Andrew until a full-time successor to Annese can be found is the Rev. Sam Falbo, 75, who retired six years ago after serving for more than 42 years in the Archdiocese of Santa Fe, N.M.
Falbo became acquainted with Las Vegas Bishop Joseph Pepe in Santa Fe. "Since I was retired, I was thinking of moving to this area and asked if he needed any help," Falbo recalled.
According to a Santa Fe archdiocese spokeswoman, the archdiocese — which serves about 307,400 Catholics — has about 83 diocesan priests, about 83 priests who belong to religious orders, about 41 retired priests and 22 seminarians.
"There's a real tightness of vocations here," Falbo says. "So, I accepted."
According to McAuliffe, 10 to 15 retired priests are helping the Las Vegas diocese serve parishioners. But it isn't a given that retired priests always will be willing or available to do so.
"Sometimes, they retire and want to stay retired," McAuliffe said.
The next five years will be "exceptionally critical," he added. "When so many men hit 65 all at the same time in five years, we hope that means nothing to them, and they'll say, 'That's OK' (and stay on)."
Against this backdrop of an already stretched clergy, Southern Nevada's population continues to grow. The bottom line, McAuliffe said, is that the diocese's "personnel issues are really getting kind of severe."
However, there's no quick fix on the horizon. Candidates to the Catholic priesthood begin by participating in a discernment process, during which they examine whether they do have a vocation to the priesthood. That can take a year.
Once a man officially has been accepted as a diocesan seminarian, a candidate just out of high school will spend four years earning an undergraduate degree, typically in a discipline such as philosophy. (Seminarians who already have an undergraduate degree will take two years of pre-theology courses.)
Then comes four years of theology study, followed by a pastoral year, during which seminarians serve something akin to an internship at a local parish. Only then can the seminarian be ordained a priest.
"It's essentially nine years from start to finish," McAuliffe said. "And, typically, you have a pretty healthy attrition rate in ordination class. My class, for example, we lost two-thirds by the time we got to the end."
The next priest scheduled for ordination in the diocese is John Assalone, a former entertainment executive at the MGM Grand, who was ordained a deacon in May. He is scheduled to be ordained a priest a year from now. (In 2002, the Review-Journal profiled Assalone and three other men who were exploring their call to the priesthood. Of that group, only Assalone still is seeking diocesan ordination.)
The Rev. Mugagga Lule, the diocese's vocations director, said the Las Vegas diocese has four other seminarians studying for the priesthood. One of them is Jesus Garcia, 26, a Chaparral High School graduate who is entering his fourth year of undergraduate studies at Mount Angel Seminary in Oregon.
Garcia has lived in Las Vegas since he was 3 months old and said that, while growing up, "I was never close to the Mass and never close to church or religion at all."
After high school, he attended college with plans of becoming a physical education teacher. But, Garcia said, "I started reading the Bible and attending Mass, and it opened my eyes."
After attending a series of retreats to explore a possible vocation, "I felt God calling me," Garcia said.
Some who have known him are curious about the new direction his life has taken. Some, Garcia noted, even wonder if they, too, may have a calling to the priesthood.
"What I always tell anybody is, you have nothing to lose and so much to gain if you give it a try," he said. "One thing I didn't want is to have that doubt in my mind. Now, it's the best decision I've ever made."
In promoting vocations to the priesthood, the Las Vegas diocese faces all of the obstacles every other American diocese faces, from a general de-emphasis on religion in American society to a greater societal emphasis on material success.
But, McAuliffe added, "one of the problems we're facing that's very difficult to overcome is that Las Vegas is a relatively new city."
Unlike Boston, Baltimore or other older cities with strong historic Catholic traditions, Las Vegas isn't blessed with a deep-seated "Catholic culture," McAuliffe said.
Also a problem is the transient nature of the city, Lule said, that can prevent newly relocated Catholics from identifying strongly with the Las Vegas Catholic community.
"When I talk to many people," he said, "their feeling is, 'Well, back East ….' "
But, for Lule, the primary obstacle to diocesan vocations is a lack of Catholic teaching and culture in many homes. "Basically, one of the biggest obstacles is, we're talking about a generation that was not catechized," or taught the basics of their faith, Lule said. "So, when kids come to church, they don't really understand the very concept of church, the very concept of God."
And, Lule said, "you cannot love what you don't understand."
Lule addresses such issues when he speaks about vocations at local parishes. One of the points he makes is that, without priests, the things Catholics take for granted — visits to the sick, priests who are available to hear confessions, even the celebration of the Mass — would be impossible to provide.
Yet, it's not all bleak, McAuliffe said. Las Vegas' Catholic clergy are "a tough, dedicated group," he said, and "if anything is going to give (prospective seminarians) an example and draw others to this life, it will be that commitment, that dedication.
"Never has a weekend gone by where I get a call on Monday or Tuesday where a Mass was not celebrated or 'Father didn't show up.' Never. No matter how shorthanded we get, no matter how large these parishes get, I have yet to hear that 'Father wasn't there for something,' and that's the kind of dedication and commitment that, despite the constant growth and (being) shorthanded, to me, is the bright spot."
But even that "bright spot" can be compounding the problem.
"People still don't realize the situation here in terms of personnel, because their needs are being met and continue to be met by this clergy who will show up at all hours of the day and night and do what needs to be done and are seeing to people's needs," McAuliffe said.
"How long that can continue, I don't know."
Contact reporter John Przybys at jprzybys@reviewjournal.com or 702-383-0280.