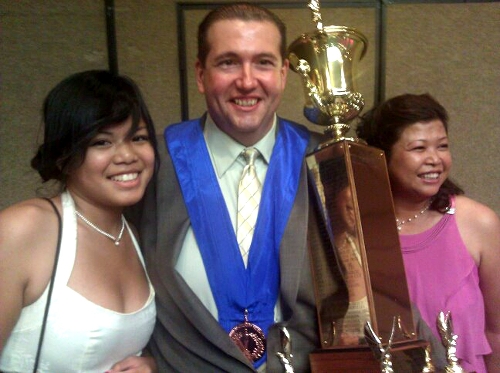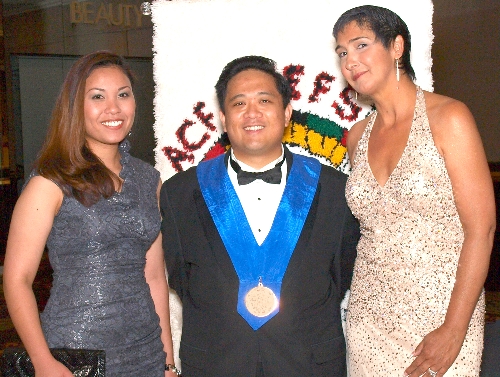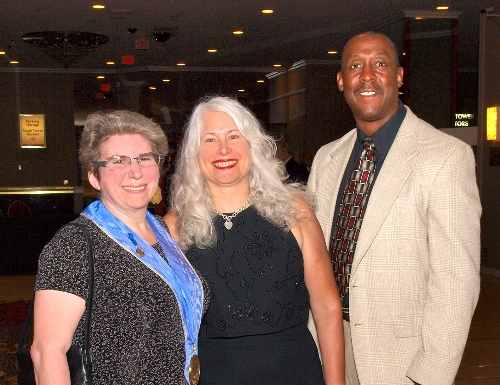 Patrick Simon, corporate executive chef for Sysco, was honored as the 2012 Chef of the Year during the recent American Culinary Federation Chefs of Las Vegas awards gala at the Plaza.
The dinner, in its 32nd year, pays tribute to member chefs whose culinary expertise and exemplary dedication have enhanced the image of the chef and the Culinary Federation.
The other finalist for the coveted award was J.B. Brown, president and CEO of The Chef's Catering.
The reception featured barbecue Peking duck with hoisin sauce on a tart, spicy tuna bites, and mushroom tartalete with arugula and lemon vinaigrette.
Seen socializing were Frank and Jean Insera, Carolyn Leontos, Steve Soltz, Mike Whitesides, Lou Ann and Christopher Johns, P.J. Sodano, Heinz Lauer, Eileen and John Metcalfe, Rick Baumes, Lorri and Dale Davidson, and Hans Lackinger.
The American Culinary Federation's Chapter President Tom Rosenberger delivered the dinner's invocation. Dale Davidson, the evening's master of ceremonies, introduced chef Jean Hertzman of the University of Nevada, Las Vegas who announced that Michelle Basinski, a student at Le Cordon Bleu, won the 2012 Student Culinarian of the Year Award.
Winning the Associate of the Year Award was Chris Yankowski, representing BakeMark. The federation's advisory board also was recognized
Rosenberger presented the federation's President Medal to chef Christopher Johns, recognized for his strong support of the organization and his outstanding work and dedication to student culinarians and Chefs for Kids.
Two nominees thanked for their work with the culinary community were Kathy Grant and Andrea Reyes.
The Plaza's executive chef and the 2011 Chef of the Year, Jeffrey Martell, was joined by his staff in preparing the dinner that began with a lobster roulade salad served with heirloom tomato, green beans and bacon vinaigrette.
The entree was chicken mousseline, veloute and Kobe short ribs with port wine sauce accompanied by braised Brussels sprouts with maple glaze and selected wines from Southern Wine & Spirits of Nevada.
Other attendees included Sarah Scott, Roza Brown, and Tom Rosenberger's mother, Joyce Hoskel, his wife, Caroline Rosenberger, with daughters Ashley and Kellcy .