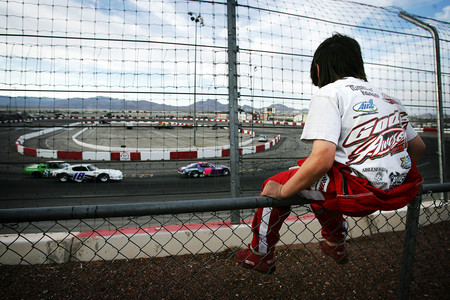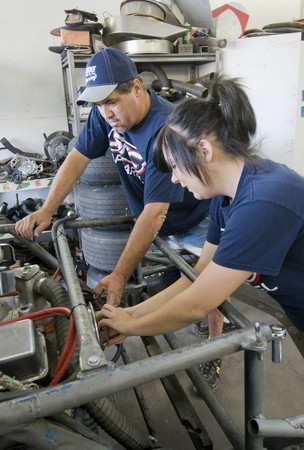 There's a universal relationship involving dads, cars and kids that defies explanation.
Dads usually have the cars and, eventually, kids want to drive them. First, they must learn to drive, which often involves dads, kids, cars and parking lots. Not to mention, a lot of patience on both sides.
These things often are painful rites of passage that all fathers must go through with their children, usually around the age of 16.
But not all dads. Some, such as Brian Holley, Jim Petrie and Vince Generalao, choose an easier way. At least to them.
They introduced their children to racing at an early age and continue to race with them today. These dads had their reasons for getting their kids involved in driving cars fast. One is a father who started racing with his daughter because they didn't know what to do with themselves, or their grief, after the death of their wife and mother.
Others are carrying on family traditions, passing down their love of cars and racing to their own kids the way it was passed down to them.
Following are three stories of dads who race with their kids.
THE HOLLEYS
Brianna Holley, 17, was a mommy's girl mostly because her father, Brian, was a workaholic. He wasn't around, didn't spend as much time with his daughter as he wanted.
Then four years ago, Brianna's mother died suddenly, sending them down a path neither knew how to navigate. They were sad and scared and didn't know what to do with themselves.
"We were laying in bed after her mom died and we were like, 'What do we do?' " recalls Brian Holley, 46. "And we decided on racing."
It sounds simple, but the new pastime became their anchor and their glue. It gave both of them something to focus on so they didn't feel so lost, and it bonded them in a way many parents never achieve with their children.
"I don't think too many fathers have the relationship with a 17-year-old daughter like I have with Brianna," Brian says. "The racing brought us together, and it has turned out beyond my wildest dreams."
Brianna drives while Brian serves as part of her pit crew and adviser. The two spend hours each week preparing Brianna's Charger and actually racing it. Brianna is part of a driver development program offered by Jim Petrie. The program helps young drivers learn the ropes, providing them with the vehicle and auto shop.
"Racing was something that me and my dad had in common," Brianna says, explaining their decision to get involved in car racing. "I definitely thought it was going to make our bond stronger." Someday, she hopes to race professionally.
Brian raced off-road vehicles before he got married, but once he had a family to support, the racing fell by the wayside, he says. He always has loved it.
Brianna says she admires her father, and racing has enabled her to witness his work ethic and learn important life lessons from him.
"It has taught me if you want to set a goal, you really need help to achieve your goal," Brianna says. "He's held my hand, he's shown me the way, he's set examples."
Brianna describes her father as a nice man, independent, patient, hard-working and considerate.
"My dad has always been there for me, always, always," Brianna says. "If I was ever sick, he would stay home and make me soup. He taught me how to ride my bike. He's taught me all the basics in life. When I need to man up, he'll be like, 'Brianna, you need to man up' when I'm complaining. He definitely shows me how to be a better person."
THE PETRIES
Some families go camping. Others fish. Jim Petrie and son Jimmy, 7, drive cars really fast.
"My favorite thing about racing, honestly, is that we do it as a family and we spend time together," says James Petrie, 32. "Other than that, trying to go fast."
Petrie is part owner of Ace Town Racing, a team of family and friends who race at the Las Vegas Motor Speedway and sponsor a youth driver development program, providing cars and mentorship to young drivers. Racing is truly a family affair; Petrie's brothers race and their father raced. It was only natural that the youngest, Jimmy, would want to follow in his footsteps. He races go-karts while his father races NASCAR Super Late Model stock cars.
"I help my dad and my uncles and the pit crew working on the cars, so that's a lot of fun," says Jimmy, who has learned everything he knows about racing from Dad.
What has he taught him?
"Um, he tells me what to do, so if I'm doing something wrong, he tells me to do better," Jimmy says, adding that his dad is cool.
He especially likes the way his dad "races good and how he has all the trophies." One day, he plans to drive a car like his dad.
"Probably when I'm 23, but I'm only 7, so I've got a long way to go," Jimmy says.
THE RAUCCIS
Vinny Raucci, 40, says he's been into racing his whole life.
"I just never had the opportunity to give it a try," he says.
That changed five years ago when he discovered the Las Vegas Motor Speedway. That's when he and son Vinny Jr. started hanging out at the Bullring. Junior was only 5 at the time. Now, at 10, Vinny Jr. is racing bandolero cars, a light-weight race car for entry-level racers. Watching dad do it made him want to race, Vinny Jr. says.
"I just wanted to drive," Vinny Jr. says. "I like to spend time with my dad. He's cool."
Junior says his father has given him the most important advice he's ever received about racing: "Dad said, 'Have a good time. Just race good and hope you don't crash.' "
THE GENERALAOS
This will be the first year that Vince Generalao will miss some of his son's drag races. And it will be the last, he says.
"I don't want to miss his races," says Generalao, who will be racing on some dates that 14-year-old Vince Jr. is scheduled to race.
Although Generalao loves to race and has been driving race cars for 34 years, his son is his priority. When Vince Jr. drives his junior dragster, his father helps him with the car and offers advice.
"I enjoy seeing the smile on the kids' faces," says Generalao, 45. "For me, that's more of a win. If I can make someone else smile, that's a win for me. I really don't care about racing, I just enjoy it."
Racing has been a family tradition; Generalao's father raced, his older brothers, too. Spending so much time working on the cars and driving them enabled Generalao to get to really know his father, and now it's giving him the same insight into his son.
"My dad and I are best friends," Generalao says. "I have a very similar relationship with my son. We get along great, our relationship is just as good if not better than my relationship with my dad."
Vince Jr. says his father has taught him a lot about life as well as how to drive a car.
"Over the years, we've learned to communicate better with each other," Vince Jr. says. "You learn from your mistakes, and I've learned some lessons."
Among those lessons?
"I've learned sportsmanship from my dad," Vince Jr. says. "I've learned to be thankful that we get the chance to drive. He's shown me the tricks of driving, how to get out of something that might hurt you."
A good lesson that transfers to other parts of life, too.
Contact reporter Sonya Padgett at spadgett@reviewjournal.com or 702-380-4564.
Video