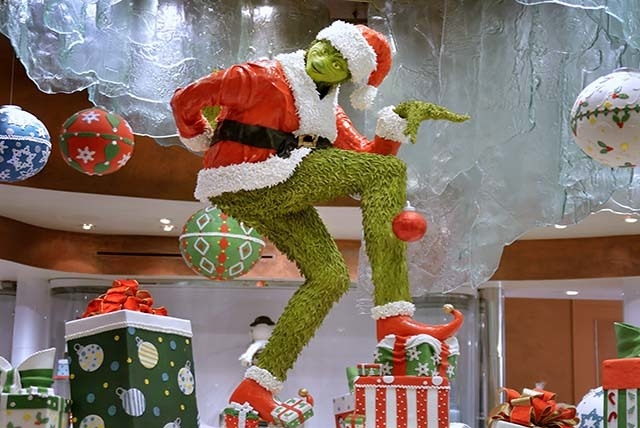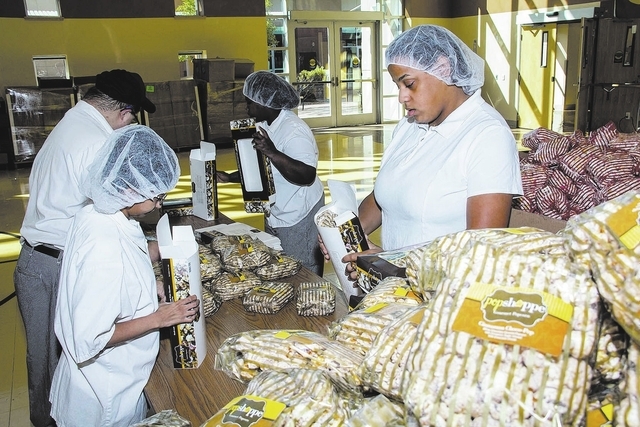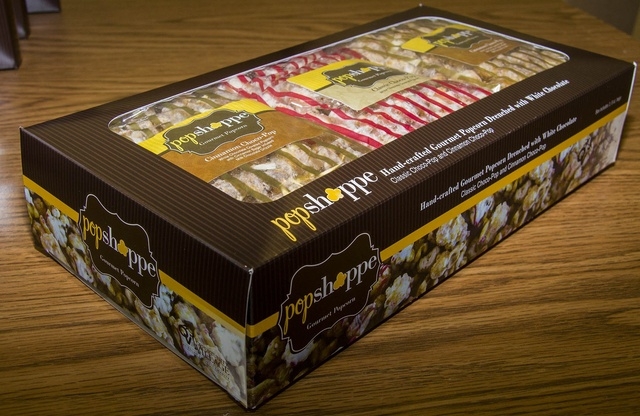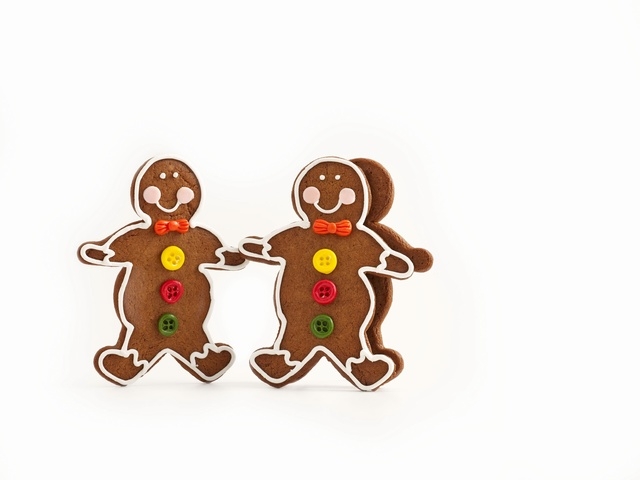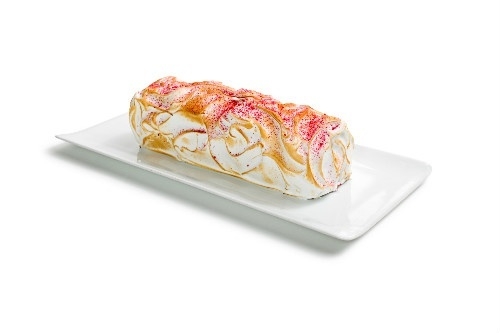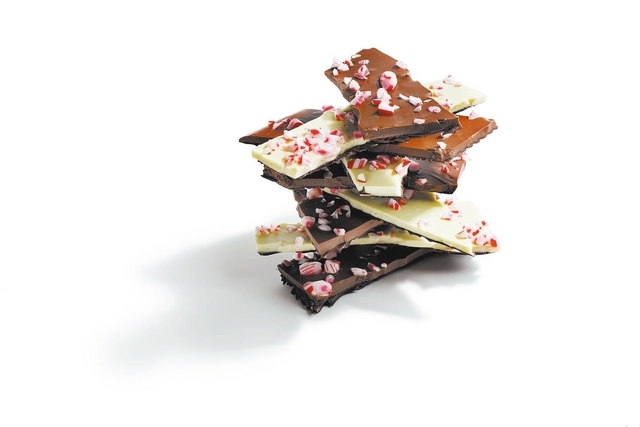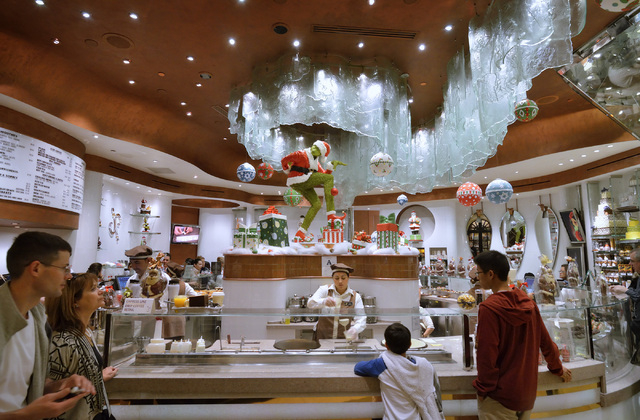 No, the Grinch is not for sale.
Well, you might be able to swing a deal — isn't everything for sale in Las Vegas? — but officially he's the holiday greeter at Jean Philippe Patisserie at Bellagio. He's 5 feet, 6 inches tall and made with 50 pounds of chocolate and 112 pounds of rolled fondant. And even if the Grinch is out of reach for you, rest assured that the patisserie, which has another shop at Aria, has plenty of other offerings.
We're featuring an even dozen sources for food gifts from businesses that are based in Las Vegas or have locations here.
Here's the thing about food gifts: They always fit, they never go out of style and they're almost always welcomed, whether they're for the person who has everything or the person who has next to nothing.
So much better than a necktie. Or a pair of socks.
BOUCHON BAKERY
Three locations in The Venetian; 702-414-6203 or www.bouchonbakery.com
Three of Bouchon's Christmas offerings can double as holiday decorations. They are the Macaron Tower, similar to a croquembouche and available in three sizes serving 15-50, $150 to $500; gingerbread people, individually decorated at the baker's whim, $3.75 each; and the traditional French buche de Noel in lemon meringue or chocolate creme and in individual or 12-inch sizes, $6.25 to $45. The bakeries also are making peppermint bark, $10; candy-cane macarons, $3.50; eggnog macarons, $3.50; and apple, pumpkin or pecan holiday tarts, $12-$15. All are available beginning Dec. 11.
CHOCOLATE &SPICE BAKERY
7293 W. Sahara Ave.; 702-527-7772
Gift boxes range from the $35 Bronze, with holiday cookies, gingerbread cookies, chocolate-dipped biscotti, coconut macaroons, butter cookies and speculaas cookies, to the $200 Platinum, with assorted holiday cookies, dark-chocolate peppermint bark, white-chocolate bark with fruits and nuts, honey-caramel sauce, dark-chocolate peanut butter cups, chocolate-dipped candied oranges, cayenne-spiced chocolate almonds, classic anise citrus panettone and honey-caramel-nut popcorn. In between are the $50 Silver box, with assorted holiday cookies, dark-chocolate peppermint bark, caramel popcorn and chocolate peanut-butter cups, and the $100 Gold, with assorted holiday cookies, dark-chocolate peppermint bark, chocolate-dipped candied oranges, chocolate salted-caramel truffles, cayenne-spiced chocolate almonds, anise-citrus panettone and honey-caramel sauce.
COLORADO RIVER COFFEE ROASTERS
www.crcoffeeroasters.com
The Boulder City coffee roasters are offering four 8-ounce bags of coffee — a Guatemalan, Brazilian, Ethiopian and Sumatran — with informational literature for $25.
ETHEL M CHOCOLATES
Six local stores, 800-471-0352 or www.ethelm.com
Among the boxed collections offered by Ethel M this year are such spirited selections as a 30-piece creme liqueur tin for $45 and the 16-piece Cocktail Collection for $28. Other selections include a 24-piece Holiday Collection, $34; a peppermint bark tin, $22; classic and chocolate peanut brittle, $35; a Lemon Satin Creme Tin, $30; and the Satin Creme Cactus Garden Box, $28. Ethel M also has three Hanukkah choices: the 16-piece Hanukkah Classic Collection, $28; bagged milk-chocolate coins, $12; and a Hanukkah bar set, $9.
FERRARO'S ITALIAN RESTAURANT &WINE BAR
4480 Paradise Road; 702-364-5300
Ferraro's offers gift baskets in three sizes, which contain the restaurant's house-made Pomodoro Sauce and several other items. The smallest, at $100, is the Buon Feste Basket, which contains pasta, a small jar of Pomodoro Sauce, Salsetta Genovese, LavAzza Coffee, cheese, soppressata, balsamic vinegar and amaretti. The Buon Natale Basket, at $150, contains all of the above plus torrone, jelly, panettone and wine. The $225 Tanti Auguri Basket contains pasta, a large jar of Pomodoro Sauce, Salsetta Genovese, two bags of LavAzza coffee, cheese, soppressata, balsamic vinegar, amaretti, torrone, jelly, panettone and wine.
GARRETT'S POPCORN
Miracle Mile Shops; 888-476-7267
Garrett's Chicago-style popcorn is available in a variety of gift tins and popcorn balls. Popcorn balls are $19.95 for a 12-pack (original or Christmas multicolored), $35.95 for a 25-pack or $59.95 for a 50-pack. The Holiday Favorites trio tin, with Gingerbread CaramelCrisp, The Chicago Mix and Cashew CaramelCrisp, is $24.95. A nut trio gift tin of Cashew CaramelCrisp, Almond CaramelCrisp and Pecan CaramelCrisp is $29.99. Numerous variations, in four styles of holiday tins, are available.
GRANDMA DAISY'S
530 Boulder Highway, Boulder City; 702-294-6639
The shop will make custom baskets containing any of Grandma Daisy's treats, which include caramel apples, fudge, housemade chocolates, truffles, bulk candy, candy canes, Christmas candy and hot chocolates, ranging anywhere from about $25 to $65 or more.
JEAN PHILIPPE PATISSERIE
Bellagio and Aria and www.jpchocolates.com
Among the Santa figures available this year are depictions of him skiing, surfing and rollerblading (4.5 ounces each, $16.25 each), on a sleigh (5.5 ounces, $20), at the beach (8.8 ounces, $31.25), with a reindeer (7.5 ounces, $26.25), with toys (3.9 ounces, $13.75), with a teddy bear, (11.6 ounces, $41.25), walking (23.2 ounces, $81.25; 8.9 ounces, $31.25; or 2.5 ounces, $8.75) and more.
LAYERS BAKERY CAFE
665 N. Green Valley Parkway, Henderson, 702-221-2253, and 6496 Medical Center St., 702-795-2253
Layers makes holiday all-butter shortbread cookies, $2.75 each, and shortbread cookies with custom designs such as corporate logos, starting at $2.75 each. They also offer bar and cookie platters in two sizes, $37 or $69; a bagged biscotti assortment, $9; housemade marshmallows, $7; housemade granola, $6.95; and pickup boxes with an assortment of Christmas or Hanukkah all-butter spritz cookies, $7.
OPPORTUNITY VILLAGE POPSHOPPE GOURMET CHOCOLATE-COVERED POPCORN
Sam's Clubs, www.opportunityvillage.org or 702-880-4074
The staff and clients at the Englestad campus of Opportunity Village have been busily popping corn, swirling chocolate and filling bags to produce the PopShoppe Gourmet Chocolate-Covered Popcorn. The popcorn, available in Classic Choco-Pop or Cinnamon Choco-Pop, is packaged in boxes and available for $9.98 per box.
SMITH &WOLLENSKY
3767 Las Vegas Blvd. South; www.smithandwollensky.com
Through Smith &Wollensky's Fresh Steak Delivery Program, you can get Prime steaks — fresh, never frozen — delivered overnight. The 12 selections range from two 14-ounce dry-aged boneless strip steaks for $89.99 to a four-pack of dry-aged 32-ounce Tomahawk steaks for $339. Other choices include a 10-pound rib roast for $259 and a 3½-pound tenderloin for $175.
SUGAR FACTORY
Miracle Mile Shops (702-866-0777) and Town Square (702-641-7768); www.sugarfactory.com
Several sizes and variations in baskets are available, from Santa's Bootie, a sequined boot filled with a Santa Pez dispenser, white-chocolate-dipped Santa cookie pop, Santa mint tin and bag filled with minimilk-chocolate Santas, $30, to Santa's VIP Tub, filled with a Peppermint Dream swirl pop, white-chocolate-dipped Oreos, white-chocolate birch-tree pretzel rods, bag of cookies-and-cream chocolate crunch, almond white chocolate and dark chocolate peppermint bark, ribbon candy, vanilla clodhoppers, Christmas Jelly Bellys and two Couture Pops, for $200. In between: The Winter Warmer Basket, which includes a mug, Christmas taffy and white-chocolate-dipped Oreos sprinkled with peppermint crumbles, for $50.
Contact reporter Heidi Knapp Rinella at hrinella@reviewjournal.com or 702-383-0474.