Dining Out: Larsen's Grill in Henderson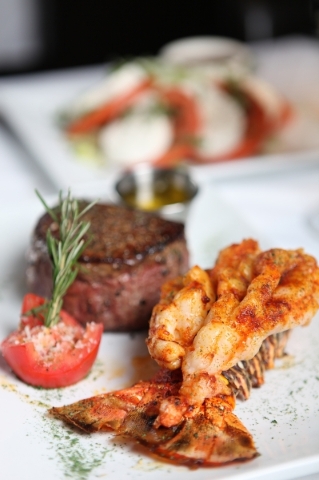 LARSEN'S GRILL, GALLERIA AT SUNSET, 1300 W. SUNSET ROAD, HENDERSON
Larsen's Grill, a member of Larsen's Restaurant Group, which has four locations in California, opened June 10 as part of the $25.5 million expansion of the mall. The group was founded by Flemming Larsen, a Henderson resident who serves as president. Larsen started in the business in 1984 as a meat cutter for Danish American Farms in California, moving up and becoming owner and operator of Birkholms Solvang Danish Bakery/Deli/Restaurant in 1991. The Henderson restaurant, which serves lunch and dinner, is decorated with wooden ceilings and trusses and butcher-block tabletops and bar tops. Below is a sample of the menu:
Lunch: New York steak sandwich, $20; chicken club, $14; seared ground ahi tuna burger, $17; Larsen's Lobster Roll, $20.
Appetizers: Fresh oysters on the half shell, $18; Maryland crabcakes, $18; filet mignon chili, $12; filet mignon sashimi, $18.
Sandwiches, burgers and salads: Larsen's Prime Roast Beef Dip, $19; seared ahi tuna salad, $19; Thai noodle salad, $19.
Chops, roasts, chicken and barbecue: Double-cut Kurobota pork chop, $31; stuffed breaded chicken breast, $22; blackened chicken pesto pasta, $19; sliced tri-tip and baby-back rib combo, $27; USDA Prime slow-roasted sliced tri-tip, $22.
Steaks and seafood: USDA Choice wet-aged Angus 8-ounce filet mignon, $39; USDA Prime dry-aged 8-ounce filet mignon, $49; USDA Prime dry-aged organic 10-ounce grass-fed filet, $55; Chardonnay-soaked cedar plank salmon, $34; halibut fish and chips, $27; cioppino pasta, $28.
Lunch is served from 11:30 a.m. to 2 p.m., dinner beginning at 5 p.m. daily. Call 702-478-9499 or visit larsensrestaurants.com.
— Heidi Knapp Rinella