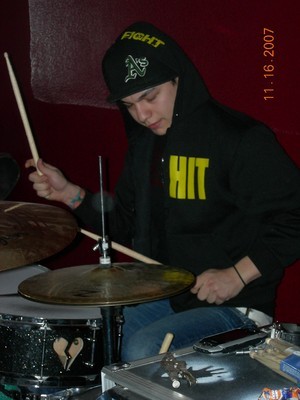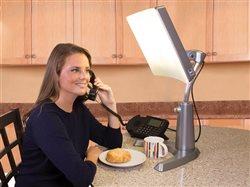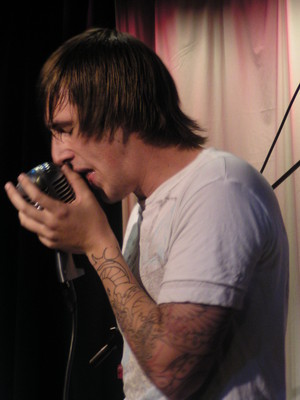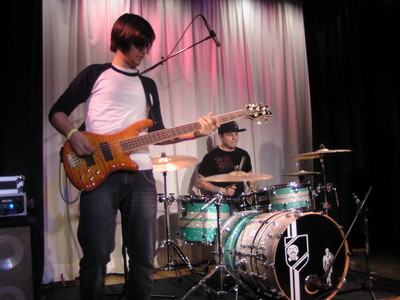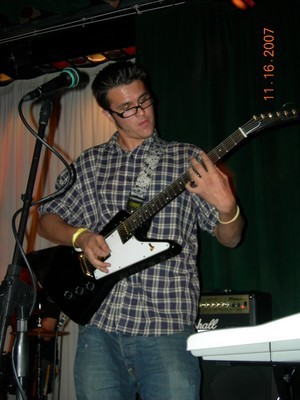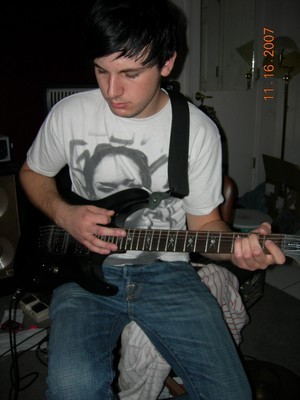 It's a little past 4 p.m. and Foothill High School students Trevor Savage, 18, Andrew Holland, 17, and 22-year-old John Cruz are gathered around Savage's kitchen table, waiting for Dana Anderson, 22, and Taylor Nickels, 17.
The door between the garage and the kitchen pops open and in staggers Anderson, a half-eaten Jack-in-the-Box hamburger in his grip.
"You know, if you're going to be late, you really shouldn't bring food with you, 'cause then we know exactly where you've been," Holland jokes.
Anderson retorts, mouth slightly filled with food, "Taylor's not here either, so it's not just …"
He's cut off by Savage, who's currently picking up his bass guitar, "Well once you get a 4.5 GPA, then you will be able to be late to practice too."
And with that, the boys follow Savage's lead, picking up their instruments and walking over to the entryway of the house, where the rest of their equipment is, and the members of Avidamore (taken from the Latin words meaning greedy love) begin their two-hour practice. Nickels makes his appearance about a half-hour later.
"We started this band almost a year ago," says Anderson, who does vocals for the band. "Originally it was just me, Andy and Trevor playing acoustic songs for fun. But we really liked what we were doing and decided we actually wanted to do something with it."
Nearly six months after forming Avidamore, the boys were introduced to Cruz (who is from California) through a mutual friend. Then Nickels, who had formally played guitar with Savage and Anderson in the hard-core act Lynch Thy Beauty, joined in the game.
Nickels, who attends College of Southern Nevada High School with a 4.5 GPA, claims the best part of being in Avidamore is "having fun and causing others to have good times and good laughs, regardless of how much embarrassment we can draw to ourselves."
Although they joke that the only audience they get usually consists of moms and girlfriends, Avidamore does have a decent fan following in the Henderson area.
"They have a really good sound," says Foothill student Jacob Roland, 18. "I enjoy the different genres they're able to incorporate into one song."
The band members claim that they have tried to sound unlike anything else out there, combining elements of "classical piano, hip-hop beats and pop-punk."
"The first minialbum we put out (released in late September at a show at Jillian's) was basically a trial of combining those three elements," Anderson says. "The stuff we're working on now has more hip-hop. We were trying to figure out how to have the elements we wanted without it sounding awkward. We're really influenced by Coldplay, Three-Six Mafia and Bach."
Foothill student and friend Albert Smedley, 17, thinks highly of the band.
"Their music is innovative; unique lyrics with catchy riffs and sounds, integration of different styles of music into their songs mixed with great personalities to back it up," Smedley says. "They have talent for sure, they just need to be recognized."
Currently the boys are trying to build a bigger fan base in and out of the Las Vegas area that doesn't consist of girlfriends and family, and the California publication Scratch Magazine is helping them with the promotion process. "Scratch is (sending out a) compilation CD (and) we have three songs on it," Anderson says. "It's being distributed to 75 different retail stores and 350 record labels. … Hopefully it will help out somehow."
In the meantime, Holland says, the Avidamore members will keep doing their thing.
"We just want to focus on improving our music and getting more comfortable playing live."
R-Jeneration