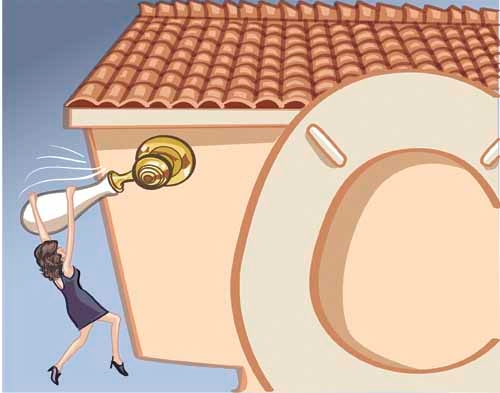 We looked at 100 houses before finding "the one."
You read right. One hundred, as in one more house than there are bottles of beer on the wall. One more house than Jay-Z has problems. We looked at 100 houses before finding the one.
He had a checklist and I had a checklist. The problem was checking off both lists.
Our real estate agent insisted there was no such thing as the perfect house. After about 50 walk-throughs, my then boyfriend and current fiance agreed. The stubborn one of the bunch, yours truly, held out. You've heard of the Hundred Years' War? This was the Hundred Houses' War.
When the three of us walked over the threshold, up the stairs, down the stairs, and through the backyard of the house two of us now own, no one cared how long it took to check off both lists. All that mattered was that we did it and we found it. We found the perfect house.
That's the scenario that keeps playing through my head as I debate what many Las Vegans seem to be stewing over these days: Do we stay or do we go now?
The Hundred Houses' War went down more than three years ago. If you can't figure out why we'd consider walking away from "the one," I'll assume the rock you're living under didn't come with a mortgage.
Our beloved home is worth half of what we bought it for, folks. We may as well make that check payable to our toilet every month.
Considering the figures, you're either profusely nodding your head right about now, or you're finding it very hard to pity a woman who still has her house.
Nevada has held the top spot for foreclosure rates for 56 consecutive months, according to the latest tally from California foreclosure listing firm RealtyTrac. In August, 7,951 properties in Las Vegas alone were sporting that lovely paper notice in the window. The one banks tape up, letting all the neighbors know why the Jones' left — and why no one needs to worry about keeping up with them anymore.
Foreclosures hurt. They hurt the economy and they hurt families. No parent wants to explain to a child why they now have a parking slot instead of a garage. And, no homeowner wants a bank's boot kicking him or her out of his or her own front door.
So, why on earth would someone volunteer for one? The very reasons that justify buying a home are the same ones that justify walking away from one. It's a business decision, a very difficult business decision.
Las Vegas bankruptcy attorney Dorothy Bunce sees clients regularly who are struggling with the moral dilemma of voluntarily entering a foreclosure. They want to honor their obligations, but the expense to do so is killing them. There's also those pesky consequences. Credit ratings take a hit, harassing phone calls kick in, and renting could last as long as five to seven years while FICO scores recover.
"People come to me for an easy solution," Bunce says. "There is no easy solution."
Tell me about it. The first thing people want to know when I mention walking away is whether or not we comfortably make the payments. Well, our definition of comfort has changed. A long clown car ride can be considered comfortable if it's driving toward a mountain of cash. If it's headed toward highway robbery, however, one becomes very aware of the illogical seating arrangement and one starts to feel more and more like, well, a clown.
When I moved to Las Vegas in 2003, I thought I'd never own a home here. Established, double-income households occupied the kind of properties my home state of Utah considered single-living startups. Similar to our current mortgage, my concept of a dream home got turned upside down.
I started fantasizing about owning a two-bedroom apartment-style condo, even though it threatened a paycheck-to-paycheck lifestyle. That's just one symptom of living in a market experiencing one of the biggest housing bubbles in our country's history.
Another symptom is knocking on the doors of lonely old ladies and offering cash for their three-bedroom dwellings in North Las Vegas. A newlywed friend of mine, desperate to own, resorted to those measures.
When the bubble finally burst, people of modest means rejoiced. We had our forks ready for that long-awaited piece of the pie. Some of us dug in too early. Then again, some of us had no choice.
We were renting a house in the northwest part of town for a good four months when a woman knocked on our door with a message for the owners: Pay up or get out. She represented their bank and, judging from her jeans and sneakers, probably had hundreds of doors to knock on that day.
We never missed our rent. But, apparently someone missed their mortgage. We needed to move and we thought the timing was perfect since we could finally afford a home of our own. The same home I find myself resenting more often than not.
RealtyTrac's latest data reflects that 59 percent of outstanding Nevada mortgage loans owe more than 25 percent of the property's market value. That could explain why a Fannie Mae survey from earlier this year shows that 27 percent of homeowners would consider walking away from their homes. Last year it was only 12 percent. The stigma is, slowly but surely, getting destigmatized.
It only works if you can separate your emotions from your business sense, though. Every time we discuss walking away, we vent about the money we flush monthly. We shudder at the thought of our new neighbors' mortgage payments. And then we get to talking about the Hundred Houses' War, the moment we found our home and the day we got the keys to it.
We wasted no time celebrating on that hot afternoon in July. We cannonballed into our very own swimming pool, looked up at our very own palm trees and marveled over our very own American dream.
Contact columnist Xazmin Garza at xgarza@reviewjournal.com or 702-383-0477. Follow her on Twitter at @startswithanx.