Drive like a maniac in 'Need for Speed: Hot Pursuit'
November 28, 2010 - 12:00 am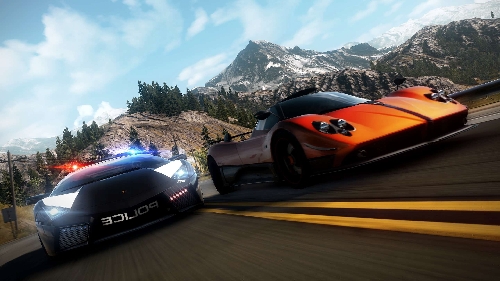 I will not lie to you. My favorite race car games are "vehicle combat" games named "Burnout" and "Wipeout." Those games let you race super-duper fast while firing rockets at rival cars. Do you hear me? Rockets!
And so, this is why I am in-like with the new "Need for Speed: Hot Pursuit."
"Hot Pursuit" isn't the purest sort of vehicle-combat racer. There are no rockets. And only one-third of the game lets you destroy rival cars. But one-third of "vehicle combat" in a game is an exciting prospect.
When "Hot Pursuit" begins, it asks you to play either as a cop or as a speeder, and then you engage in a line of races as one or the other.
But smartly, the game lets you toggle back and forth between cop and speeder, from one race to the next. That way, the game unfolds in something that's twice as deep as you expect.
Then you drive like a maniac through different challenges — multicar races, solo time trials, and best of all, those blow-up-other-car races.
"Hot Pursuit" isn't nearly as massively destructive as the "Burnout" and "Wipeout" series. "Hot Pursuit's" weapons range from mild (electromagnetic pulses that stun other cars' mechanics) to indignant (spikes you drop in front of another car's tires).
But this is just enough destruction to give you an edge in a race, or conversely to take away your edge when employed against you. Plus, it's fun to blow things up when they're in motion.
This is a big, pretty game with lovely vistas. It just doesn't have enough tracks. That's the knock against "Hot Pursuit."
But perfect roads hug snowy curves of mountains, sandy domains of beaches, sunny flats of deserts, and picturesque fluffs of farmlands.
Cars are licensed lovelies that are ludicrously fast, and I can't even pronounce half their names. There are Lamborghini Gallardos, Lamborghini Murcielagos, Lamborghini Reventons, Koenigseggs, Dodges, Chevys, Fords, Astin Martins, Audis, a Pagani Zonda Cinque Roadster and a Bentley Continental Supersports. Whew!
To make your cars win, place or show, you must perfectly employ turbo gas. To earn turbo gas, you must drift around corners; slipstream and shunt behind competitors' cars; then find shortcuts that let you peel away from the main track.
What I'm most addicted to is the online multiplayer mode that pits speeders vs. cops, both armed with tire spikes and EMPs. In the first week of release (on PS 3), I couldn't find a lot of people to race online, but barely enough to keep competing. That lack of an army of other gamers to confront is a sort of negative consideration.
This isn't an easy racer. It is simple for the first few hours. But then it becomes challenging, driving 224 mph on a winding road where, in the rainy dark, you can't foresee every 55 mph pedestrian car that you need to pass without hitting.
Every little fender bender will blow your chances to win the gold. But it's OK to win silver and bronze. Those are nice medals, too.
("Need for Speed: Hot Pursuit" by EA retails for $60 for Xbox 360 and PS 3; $50 for Wii and PC — Plays quite fun. Looks great. Challenging. Rated "E 10+" for violence. Four stars out of four stars.)
Doug Elfman's column appears Sundays, Mondays, Tuesdays and Fridays. E-mail him at delfman@review journal.com. He blogs at reviewjournal.com/elfman.
NEW IN STORES
"Red Dead Redemption: Undead Nightmare Collection" (Take Two) adds a zombie twist to this year's earlier hit, "Red Dead Redemption."
"Redemption" was all about playing as a cowboy hero in the Old West. So in "Undead," you're that same hero, but you've got to shoot zombies in the head, duh.
"Undead" is not an entirely new game. It reuses environments, voice actors and creative brains from the first "Redemption," but it does come up with a whole new story line featuring cinematic scenes and missions (IGN.com clocks it at six hours), plus there are a few new online multiplayer modes.
You get zombie horses, zombie bears, holy water and all manner of zombie stuff. This has been available for download online for Xbox 360 and PS 3. But now you can buy the disk for PS 3 and have at it.
To play this disk, you don't need to own the earlier "Red Dead." And it comes with mini extra modes named "Outlaws To The End," "Liars and Cheats" and "Legends and Killers," plus the free-roaming online multiplayer modes of the original.
I love the poem in the trailer for this disk:
"Hordes of zombies swarm and things will get dire;/ Try some phosphorous bullets and set them on fire./ If your friend has fallen, be quick to revive;/ Good luck, I wonder how long you'll survive."
The game retails for $30 for PS 3. It's rated "M" for blood, intense violence, nudity, strong language, strong sexual content and use of drugs.
Remember "The Mask" with Jim Carey? "Splatterhouse" (Namco) is similar in that you portray a nice enough fella who likes a girl, and then you put on a mask that sticks to your face.
Except, you don't morph into a goofy Jim Carey character. You morph into a horror, chain saw guy who splatters things and demons and monsters.
Visuals of this gruesome horror game lean heavily on inspiration from comic books, and it is gross, as you get meat hooks, blood, sidescroll jumping, blood, fists, blood, shotguns, blood, a damsel in distress and blood.
The game retails for $60 for PS 3 and Xbox 360. It's rated "M" for blood, gore, intense violence, nudity, sexual themes and strong language.
— By DOUG ELFMAN