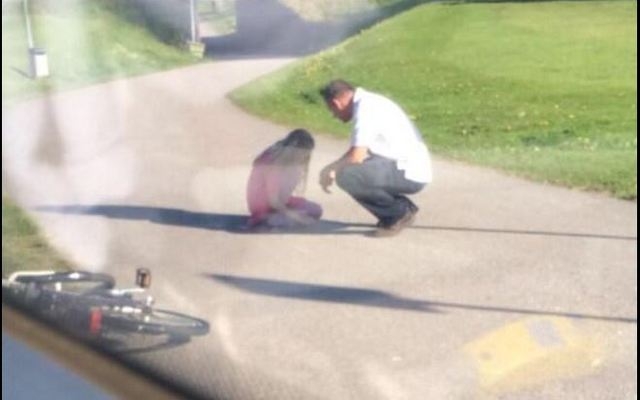 A bus driver in Sweden made an unexpected stop on his route last week when he pulled over to aid a young girl who was crying on the sidewalk.
According to the Huffington Post, André Grandin pulled the bus over, got out, walked over to the 10-year-old girl and knelt down beside her.
The heartwarming moment was captured by passenger Emma Gustafsson, who tweeted a picture of the man comforting the girl.
"The bus driver stops at the way of a sad girl is crying, that's what I call being kind-hearted!," Gustafsson tweeted in Swedish.
The picture shows the girl kneeling on the sidewalk with her bike nearby.
After comforting the girl for a few minutes, the bus driver returned to the bus and continued on the route without a word, according to BBC News.
"It came from nowhere," Gustafsson told BBC News. "We didn't know what was going on. But then we saw that he walked up to a crying girl sitting on the road. It was really cute."
BBC News reports the girl was crying because she had been upset by some other children.
Contact Kira Terry at kterry@reviewjournal.com. Find her on Twitter: @kiraterry