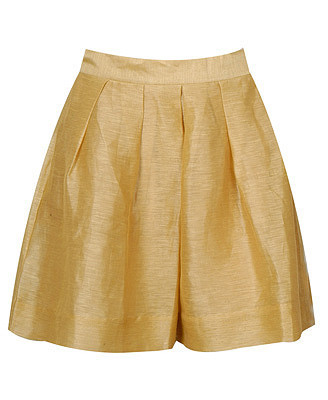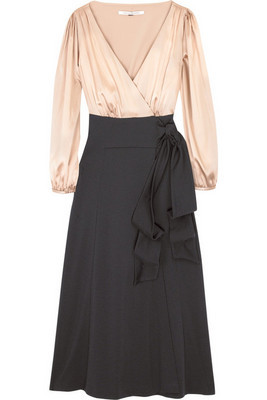 Before you count another carb, weigh another food portion or bear another B-12 shot, try taking a good look inside your closet. You could very well find the instant weight loss you're looking for.
Jenna Doughton, a local life stylist who helps clients build flattering wardrobes, says the right clothes can slim a silhouette anywhere from 10-20 pounds. "It depends on their size, but you can easily do it," she said. "If you want to look like you lost five pounds without doing anything, look for clothes with special details around the waist."
That would include darting, vertical pleating, ruching, ribbing — anything that defines and, consequently, narrows the waist. The key is knowing which items and features to seek out. Necklines, prints, hemlines, tailoring –even shoes and accessories — can help you shed virtual pounds.
It may sound like a bunch of minor details but the little things can add up to several lost inches. And, similar to a small weight loss, people will notice an improvement but they won't be able to pinpoint exactly what caused it. "They'll think you did something drastic to elevate your beauty," Doughton said. "Really, it's just because you bought a blazer that accentuates all the right things."
Take a look at our list of the top 10 slimming articles and accessories. Once you have those down, don't forget to incorporate the final details.
Model: Georgina Vaughan for The Platinum Agency
Hair and Makeup: Whitney Urichuk for One Luv Agency, oneluvagency.com
Stylist: Xazmin Garza, Review-Journal
Stylist's Assistant: Melissa Moscotte
CARDIO CLOTHES
THE 10 MOST SLIMMING FASHION PIECES
1. Fitted blazer: Shoulders, waist and hips are perfectly proportioned.
2. Wide leg pants: The width of the pant narrows the hips.
3. Wide belts: Coverage and waist definition at once.
4. Empire waist blouse: The smallest part of the rib cage is accented.
5. Wrap dress: The V-neck frames the face, the wrap defines the waist.
6. Long necklaces (sans chunky jewelry): Lengthen the torso.
7. Pointed toe shoes: Create a straight, narrow line.
8. Trench coat: All about the waist.
9. A-line skirt: Narrows the waist and hips.
10. Nude shoes: Legs become longer.
TONE AND TIGHTEN
Incorporating these devilish details is like hitting the weights after a good workout: It makes all the difference.
1. Vertical lines: They narrow you.
2. V-necks: The eye starts at the bust and goes upward.
3. Tailoring: If it doesn't fit, you look unfit.
4. Colors: Dark to minimize, light to maximize.
5. Hem lines: Pants to the floor, skirts to the slimmest part of the calf.