Dude, it's a guest ranch now!
November 30, 2008 - 10:00 pm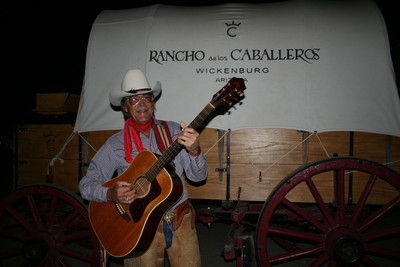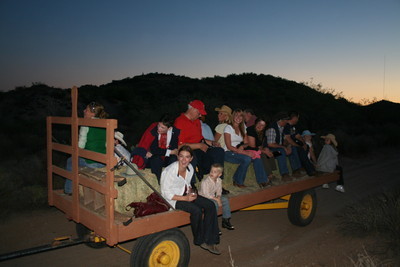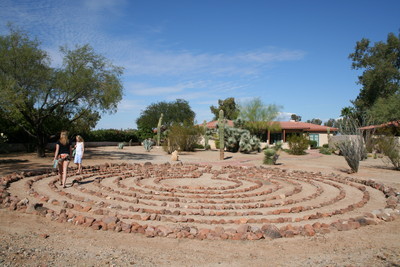 The dude ranch is an American tradition dating back more than 100 years, yet it still endures as a popular vacation destination. It's more often called a "guest ranch" or "ranch resort" today, and no longer specializes in the "charm" of Spartan bunkhouses and nights sleeping under horse blankets along dusty trails. This business is all grown up, a full corporate citizen of the New West, offering services that modern families expect while still celebrating the cowboy culture and the ranch lifestyle.
Although these ranches still can be found throughout the West, it was Wickenburg, Ariz., that was dubbed the Dude Ranch Capitol of the World. Earlier this month, I traveled there to stay at Rancho de los Caballeros, a historic guest ranch and golf club. Two of my daughters, Whitney, 23, and Charlotte, 11, spent three glorious days with me on the ranch's 20,000 acres in the upper Sonoran desert.
Dallas Gant, who had already managed another local ranch, went into partnership with two former guests to open Los Caballeros in 1948. Their plan was to offer a Western experience in a level of comfort not found at other ranches. The place is now run by a second-generation Gant, but for 61 years, the ranch has stuck to that plan.
Even the Spanish name reflects it. Los Caballeros means "the gentlemen" or, literally, "the gentlemen on horseback."
Even though the ranch traces its roots to the more relaxed Western cowboy life, it always has been an upscale resort. Even today, when casual clothes are worn elsewhere on nearly all occasions, Los Caballeros maintains a dress code at the evening meal and at the golf club. Dinner requires either a sport coat or Western vest for men and the equivalent for women; shirts with collars are expected when guests play golf or eat at the golf clubhouse.
Rui Periera, manager of the ranch told me, "We call ourselves a ranch resort because we offer more amenities than a dude ranch. We don't just focus on horses."
Golf Magazine rated the resort's 18-hole course among the country's top 75, so some guests come only to play it. Others come purely for the Old Western experience. But offered those, plus a spa, tennis courts, pool, nature programs, skeet shooting and hot-air ballooning, most parties undertake mixed missions.
"A typical guest is when the husband golfs while the wife enjoys the ranch experience and then heads to the spa," said Periera.
During our first night at dinner, Jesse Walton, corral foreman, stopped by our table. This is his nightly routine, so he can ask newly arrived guests about their riding experience and what type of ride they would like on the following day. I said Charlotte and I had some experience and could handle some trotting and cantering but nothing more, while Whitney said she was up for a bit more action, including galloping. Pairing up the right horse with a given rider takes experience and enough horses, but the ranch staff has plenty of the former and 100 of the latter, so the match is usually as suitable as a first date can be.
Breakfast the next morning was fit for king or cowgirl, including made-to-order omelets and handmade pastries. It was a well-fed, confident crew that strode out to the corral to show our hosses their new bosses.
While Whitney and three others headed out for their fast ride, Charlotte and I started a less challenging one, single file among three other guests and wrangler Caroline Markham. We traveled through undulating terrain, up saguaro-covered hills and down canyons with names such as Little Turtle and Rattlesnake. Most of the time, Markham set a slow pace, but did give us a few thrills, trotting and loping along the sandy washes.
Markham has worked at the ranch for 16 years, but knew it well before. As a child, beginning in 1961, she was a guest with her family for two weeks each year.
"There is a real family feeling here, and families come back year after year. … It's a wonderful atmosphere," she said.
Before joining the staff, she had been a professional musician in Chicago. One winter day, when the wind chill dipped to 65 degrees below zero, she had enough and came west. Besides her job as a wrangler, Markham sings and plays guitar some evenings at the ranch's elegant saloon. But she's not limited to ride-an-old-paint rhythms. She was the featured mezzo-soprano on "Grechaninov: Passion Week," a Grammy-award-winning classical work.
Charlotte rode with the grown-ups, but she could have chosen the Caballeros Kids Program, open to guests age 5-12. They're offered kid-friendly activities 8 a.m.-1:30 p.m. Those at least 8 years old take to the trails while younger kids get to ride in the corral. They also can make crafts, swim, hike, golf or play tennis. Depending on the time of year, as many as 40 children are there simultaneously. There are also night activities for children, so parents can socialize.
We worked up formidable appetites on the trail, so perhaps we were easy to please, but we found the gourmet meals delightful. Desert quail, lasagna, Alaskan halibut and organic chicken breast are offered each night. Besides those, at least three additional entrees are available on any given night, including such dishes as smoked trout, lobster Romanoff, prime rib, steak or scallops.
Instead of a bunkhouse, we stayed in a Maricopa Suite. These have a large private bedroom plus a living room equipped with a full-size Murphy bed. The roomy accommodations also included a kiva fireplace, wet bar and refrigerator. The bathroom had a whirlpool tub, shower and two sinks. The outside patio had views and lounge chairs to enjoy them.
Getting pampered at the full-service spa is one of the ranch's newer pleasures. When we arrived, it was a hub of activity. Most patrons were women, but one man came in for a massage after his horseback ride. We three indulged in manicures only, but the spa offers milk baths, purification desert wraps, facials, and even a four-hour "desert labyrinth ritual" including massage, facial, pedicure and manicure.
Women come alone or in force for Giddy-up Gals, a weekend getaway from their routines and their men. They learn about horses, tack and trail riding; one of the most popular activities is team penning.
On our second night, we took a hayride to the dinner cookout. Guests packed the wagon full for a 15-minute ride, but the tractor pulling us broke down and forced us to walk. The mood was so merry no one minded, especially after the staff came running up with cold beer for the adults to enjoy on the rest of our stroll.
The cookout let us get to know other guests better than we would have at a more formal setting. Charlotte quickly made friends and hung out all evening with two kids from Wisconsin, while Whitney and I mingled. Some of those we met came from nearby California, many from the Midwest, a couple from Massachusetts and a couple from Great Britain. Dinner was chicken and ribs cooked and smoked over a mesquite fire, and the entertainment was ballads sung by a performer called Cowboy Bob.
On our last morning, Cowboy Bob whisked us away for an hour or so of trap shooting. We are not gun people but thought we would try it at least once. I found it reassuring that Cowboy Bob spent about 20 minutes on safety instructions before letting us near a loaded gun. "We treat novice shooters like horses," said Cowboy Bob. "If you stay real close to them we can't get hurt, but 10 feet away is another story."
Perhaps he heard my pounding heart and sensed novicehood, for he stood close as he showed me how to hold a 20-gauge semi-automatic shotgun tight against my shoulder to feel less of the gun's recoil.
"If it hurts, you're not doing it right," he warned. Then he loaded the scattergun and handed it to me, saying, "This gun is hot and ready to fire."
Bob stood directly behind me as I yelled "pull" and a clay pigeon flew bravely out where I could shoot at it. But fearing the gun, I had closed my eyes, and missed it by yards. In a dozen tries or so, I never broke one of the flying disks.
Whitney had never held a gun before, yet hit the clay pigeon on her second try.
Shooting clay birds wasn't my forte, but you can look at plenty of live ones at the Hassayampa Preserve. The ranch offers a tour there, guided by naturalist Dick Frederickson, as well as other hikes and nature experiences.
Although there's plenty to do at the ranch itself, a visitor should allow some time for other attractions in nearby Wickenburg. Desert Caballeros Western Museum focuses on the rich mining and cowboy history of Wickenburg. Among the most pleasing exhibits are intricate dioramas featuring the discovery of gold, the coming of the railroad and the dude ranch. Within the museum is the Aiken W. Fisher Gallery of Western Art, currently exhibiting selections from their permanent collection of 400 works by artists including Frederic Remington, Charles M. Russell and George Phippen.
One of the traditional times of year to visit a dude ranch is during the Christmas season. Many families find the alternative setting allows relief from the commercialism that taints the holiday at home. And of course, every good little cowpoke knows Santa will find him wherever he bunks down Dec. 24. If it's here, you don't hang a stocking by the big copper fireplace. You leave a cowboy boot there, and it won't go empty.