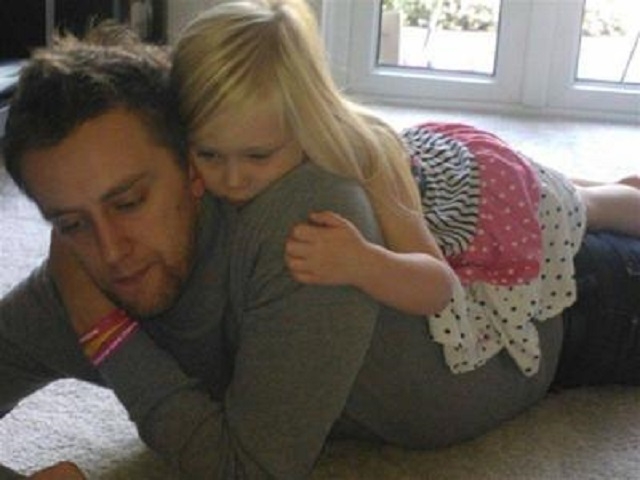 A terminally ill British man wanted to give his daughter more than something to remember him by — so he gave her words to live by.
Tom Attwater is fighting a battle he knows he's likely to lose against a brain tumor. His 5-year-old stepdaughter, Kelli, has already beaten cancer twice.
Attwater recently decided he wanted to be there for Kelli even after he was gone. He partnered with Families Against Neuroblastoma to try to raise more than $800,000 to ensure Kelli could receive treatment in the United States if she ever relapsed. He has so far raised about $350,000.
Attwater wrote an open letter over the weekend to Kelli, whose first cancer diagnosis came at just 3 months old.
"Most dads and daughters have decades to chat around the kitchen table, their hands warmed by mugs of coffee, as the dad dishes out advice and their girls no doubt roll their eyes," Attwater wrote in the letter, published in the Mirror. "We don't have that time. I won't be able to drop you off on your first day at big school, pick you up after your first date, hold you when your heart hurts or cheer when you graduate.
"But while your old dad is still around I thought I'd try to give you some life advice in one go," he continued. "I hope it gives you some comfort. I hope cancer never returns so that your life is long, fulfilled and happy."
Attwater sounds like a dad in the letter, telling his daughter to work hard but to have fun, and to be careful around boys because they're heartbreakers.
He tells her nothing matters more than family and makes a special request for her first Christmas without her father: that she light a candle and remember him for a few minutes.
He tells her to be happy, to travel and to be herself. He describes how he'll be there in spirit on her wedding day.
"I often dreamt about your wedding day and imagined filling up with tears as I walked you down the aisle before giving you away. I won't be able to do that Kelli. Sorry sweetheart," he wrote. "But I will be looking over your shoulder on that day, proud and happy you have found a special someone to love you and care for you."
Most of all, he says, Kelli should enjoy life. He'll be waiting for her at the end of it.
"Thank you for paying me the biggest compliment of all time by calling me Daddy," he wrote. "Having you as my daughter is the greatest honour of my life. Thank you for teaching me more about love and happiness than any other person."
Contact Stephanie Grimes at sgrimes@reviewjournal.com. Find her on Twitter: @steph_grimes