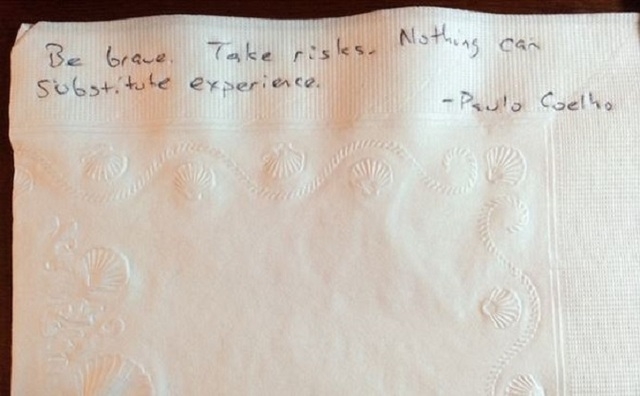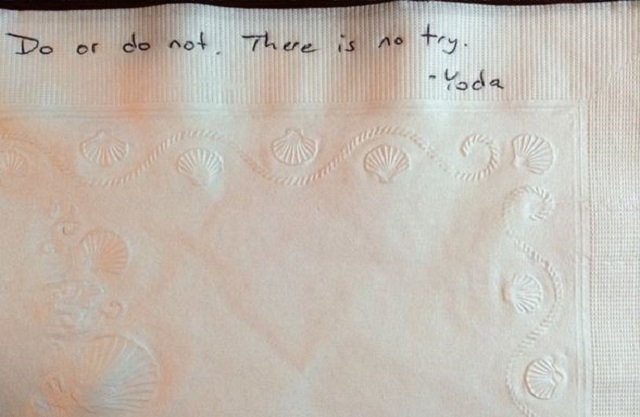 At the end of the day, the notes Garth Callaghan writes for his daughter's lunchbox may be the only part of him she has left.
The Glen Allen, Va., man was diagnosed in 2011 with kidney cancer. He had been writing notes on his daughter's napkins since she was in kindergarten, but they became especially important to him during his cancer battle.
Sometimes the notes are inspirational quotes or inside jokes. Other times they're more personal words of encouragement, followed by "Love, Dad," and always written on a napkin.
Although Callaghan's tumor was removed in Dec. 2011, the notes continued to mean something special to Emma, who saves her favorites in a composition notebook.
"I was really worried," she told the Richmond Times-Dispatch of her father's diagnosis. "I really wanted to have a piece of him with me."
Callaghan has been diagnosed three times since Nov. 2011. He has an 8 percent chance of being alive five years from now, when Emma, now 14, graduates from high school.
He's determined to be there for his daughter, even if it has to be through a message scrawled on a paper napkin.
In September, Callaghan started posting his napkin notes on Facebook, hoping to inspire other parents to create a connection with their children. The Napkin Notes page had nearly 17,000 likes as of Tuesday afternoon.
He also tweets photos of the notes and is working with "because I said I would," a nonprofit that helps people follow through on promises, to write enough napkin notes to last his daughter through high school graduation, even if he does not.
So far, he's written 740 notes. He needs 826. And now, Emma has started responding in kind, occasionally slipping a note of encouragement into her father's lunchbox.
"I don't even know if I can begin to describe joy I feel," Callaghan wrote earlier this month on his blog. "This is utterly awesome! My daughter, to whom I have been writing Napkin Notes to for years, is now communicating to me in the same way."
Contact Stephanie Grimes at sgrimes@reviewjournal.com. Find her on Twitter: @steph_grimes