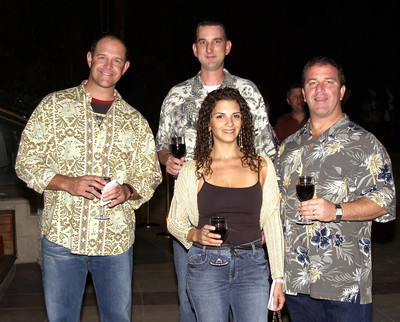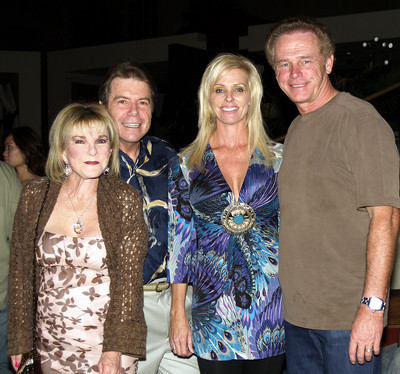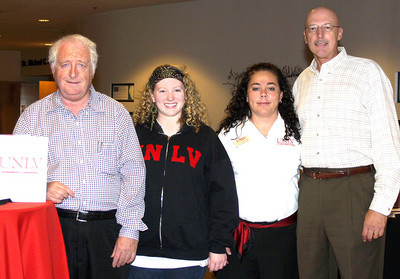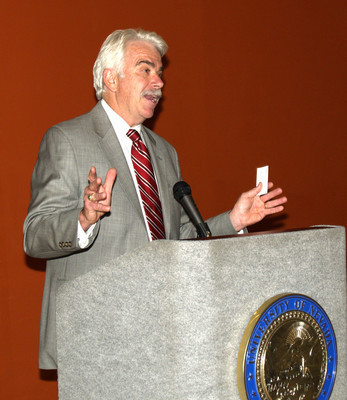 The Epicurean Charitable Foundation hosted its sixth annual scholarship fundraising gala, "Cocktails and Coral," Friday at Mandalay Beach at Mandalay Bay, featuring a concert by the rock band Chicago.
A private VIP party at the Beach Bar Terrace prior to the event's 7 p.m. kickoff honored Andre Agassi for his extensive philanthropic work, especially his efforts to aid at-risk students through the Andre Agassi Preparatory Academy. Assorted wines, champagne and canapes were passed.
Invited guests were requested to wear seaside chic, but sandals and flip-flops were welcome. More than 100 formal dining tables were set up on the sand.
The main event was a dine-around featuring 34 of the city's finest chefs, exceptional wine and cocktails. There also was a silent auction offering a variety of high-end gifts and trips to faraway places.
Event chair Carla Redmond introduced Rino Armeni of Southern Wine & Spirits of Nevada and founder of the Epicurean Charitable Foundation.
Armeni thanked Bill Hornbuckle, president of Mandalay Bay, and the foundation's new board members: Bart Mahoney, chairman; Shawn Ritchie, president; Kevin Stuessi and Chris Fava, vice presidents; Adam Odegard, secretary; and Rick Goldstein, treasurer.
He also thanked the 120 volunteers responsible for the cocktail service, catering, bartending, sommeliers and working staff from Bellagio, Hard Rock Hotel, Las Vegas Hilton, Lowes Lake Las Vegas, Luxor, MGM Grand, Mandalay Bay, The Mirage, New York-New York, Paris Las Vegas, Bally's, Rio and The Venetian who made it an enjoyable event for the 1,030 guests.
This year's four scholarship recipients were announced: Catherine Caro, Hanny Herrada, Myra Aguirre and Alona Rideout. Each student will receive $10,000 per year to cover tuition, books and fees for study in a field of hospitality.
Armeni then presented a crystal trophy to Agassi as well as committing the Epicurean Foundation to four scholarships for the first graduating class of '09 from the Agassi Academy.
Glimpsed in the crowd were partygoers Jim Murren, Perry Rogers, Sandee and Tito Tiberti, Felix Rappaport, Barbara Lee Woollen and Bruce Woollen, Julie Murray, Regina Miller, Ron Nicola, Don Marrandino, Nancy and Jack Weinstein, Lee Medick, Salvatore Ferragamo, Wendy Hornbuckle, Susan Odegard, Janet and Andy Blumen, Karen and Bill Goff, and Susan and Tom Warden.
Happy birthday: The University of Nevada, Las Vegas will celebrate its 50th anniversary throughout 2007 and 2008 with several exciting events.
The first event took place on campus Oct. 16 at the Marjorie Barrick Museum of Natural History, featuring an exhibit of UNLV memorabilia contributed by alumni, faculty, staff and students.
Guests enjoyed a reception as they toured various exhibits and viewed early day photos of the campus from the UNLV Special Collections Department.
Reception speakers included UNLV President David Ashley and Dr. William Boldt, vice president of university advancement.
The occasion also featured Eugene Moehring, a professor of history at UNLV, who signed copies of his latest book "The University of Nevada, Las Vegas," which was published in conjunction with the anniversary.
Making a move: One of Las Vegas' most popular restaurants for locals, the Mayflower Cuisinier, will soon be sailing on. The doors will close after 16 years at its Sahara Pavilion location to move the restaurant to The Palazzo at The Venetian. Plans are to reopen in January.
Kathy and Ernie Becker and Linda and Gary Vause took over the restaurant the evening of Oct. 17 to host a bon voyage party for their many friends to bid a fond adieu to their favorite restaurant.
The reception and dinner were prepared by chef/owner Ming See Woo and served by her daughter, Theresa, and sons, Tony and Peter.
DOROTHY HUFFEYMORE COLUMNS