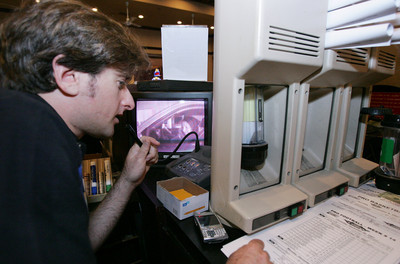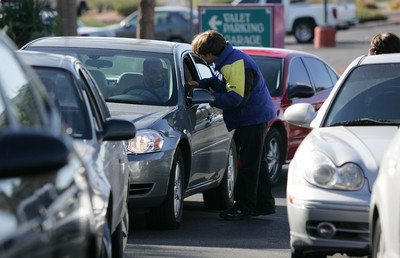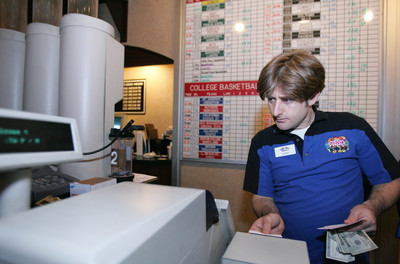 Kickoff time for Sunday morning football is 30 minutes away. But tick-off time has arrived for the drivers lined up outside Fiesta Rancho's Sports on the Run, the only Las Vegas business catering to those who find 200 yards of walking out of the question when the sports-gambling urge strikes.
"No, they want the over on this," explains race and sports book supervisor Vinny Sanzare.
This morning, I'm manning all three drive-through lanes — a fact which, I imagine, may have some correlation to the 30-minute wait. ("It's never that long," says bet writer Cindy Jo Ramirez.)
According to Fiesta Rancho officials, 10 percent to 15 percent of the casino's race and sports book business arrives via plastic cylinders sucked through 100-foot pneumatic tubes. When customers pull up to a drive-through lane, they read a sheet indicating the odds on various sporting events. They pencil in their preferences on what's called a parlay card, which they stuff with their cash and ID into the cylinder. Then they place the cylinder in the tube and press "send."
My task is to feed their cards into the T3 Computerized Bookmaking System and ensure that all preferences are accurately scanned. Never having actually placed a sports bet proves a detriment to my value as a taker of them, however, although my betting knowledge is at least consistent with my sports knowledge. (There is only one team in all of sports for which I can name more than two players. And if someone bets on the 1977 New York Yankees today, I am thoroughly prepared to advise them.)
"On the four-digit numbers, you have to punch in a zero in front of it," Sanzare informs me. (Each number represents a specific sporting event.)
"Void on register 3!" I joke.
The stranger's face on my closed-circuit monitor does not laugh.
George Maloof built Sports on the Run in 1995, before he and his family sold the Fiesta Rancho to its current owner, Station Casinos.
"It's just such a great convenience," Maloof said. "Who wants to make a bet on Sunday? Everybody."
Maloof was so happy with it, he planned a similar setup at the Palms. He even sunk six underground tubes under the asphalt during construction.
"I didn't end up doing it because it's prime real estate for parking," Maloof said. "But if I build one more parking garage, I'll do it."
It should surprise no one that the people who place drive-through bets are often characters.
"They walk up without cars all the time," said Ramirez, who has worked the virtual window since 2001.
Ramirez does what she's supposed to in such cases: conduct the transaction and pretend nothing is out of the ordinary (even if the customer makes engine noises with his mouth).
The toughest test of Ramirez's professionalism occurred four years ago.
"This guy pulls up in a hearse," the 34-year-old said. "I was like, 'Oh no!' "
Her co-workers demanded to know if there was a corpse in back.
"I'm not asking!" she insisted.
The wait outside is now 45 minutes, and kickoff is in 15. Sanzare frantically attempts to clear out my latest error, which occurred basically because I paid more attention to my "you want fries with that?" joke (which didn't fly, either).
Even on days without a moron at the window, the Sports on the Run line is less than Burger King-swift.
"Some customers take a long time to decide," Ramirez said. "You have to politely remind them that other people are waiting."
But a moron definitely slows things down. And today, a perfect storm of inefficiency has erupted because all betting on the Bengals is off. This is because of the difference, so I'm told, between the 6.5 point spread on the cards and the 9.5 on the board. (One of the quarterbacks on the opposing team got hurt and was replaced. But the cards were printed before the injury and can't be changed. Got that? Good. Do you want to explain it to me?)
"Lockouts are very rare," Sanzare says. "I can't remember the last time we had to take a game out."
Ten o'clock is almost here and the wait is about an hour. And I must redo all cards from anyone who wants Bengals action (which seems like everyone) before feeding them into the T3.
"Unfortunately, these folks are probably going to be disappointed," says Sanzare as the two-minute warning sounds.
Sanzare has a flair for understatement.
"Is it too late to put in my ticket?" asks a woman who appears on the Lane 1 monitor at 10:01 a.m.
She screeches off between my "I'm" and my "so sorry but …"
The camera picks up the next man slapping his forehead.
It's time to man up to the mess I created. I surrender my duties to the professionals, exit the casino and approach the line.
"I've been out here 35 minutes," reports Julia Weathers, who still has four more cars of waiting to do.
In addition to miffed customers, I also confront my preconceptions. Weathers has a perfectly valid reason for not walking into a casino, for example.
"I didn't put on any shoes," she explains, "and now I wish I did."
Weathers' wager was to have been $10 ("on the Cowboys, of course," she said). Now, she'll have to wait to place a halftime bet.
Richard Chesebro usually walks into the casino.
"But today, obviously, I can't," he tells me.
Chesebro is sitting in his car in a bathrobe.
And Shantea White, waiting to show $10 of Chargers support, has a baby on board. (Minors are not allowed into sports books.)
A drive-through isn't the only option for these people. Fiesta Rancho's race and sports book also permits phone and Internet wagering.
"But some people don't like phone accounts," Ramirez says, explaining that deposits are required.
"And some people just don't want to deal with computers."
Mark Taylor is fully dressed and his idling car contains no children. But the reason he prefers the drive-through is apparent to me. Pointing binoculars at every female entering or exiting is not something one can do inside a casino without being escorted elsewhere by armed officers.
When I knock on Taylor's window, his lenses train on me.
"Corey Levitan, Fear and Loafing!" he screams.
When I wonder who reads these articles, I see a bespectacled professor at the University of Nevada, Las Vegas, between classes with a half-empty coffee cup. I see a frazzled receptionist between phone calls in a doctor's office. I see a bored housewife in a teddy. (Hey, it's my vision.)
The reality is probably more like Taylor, to whom my hard work is a time-killer between untoward glances at leggy brunettes.
"You're responsible for this?" Taylor asks. "Ah, man! I missed my Seattle game.
"You had to pick today to do your column!"
Watch video of Levitan taking drive-through bets at www.reviewjournal.com/columnists/levitan.html. Fear and Loafing runs Mondays in the Living section. Levitan's previous columns are posted at fearandloafing.com. If you have a Fear and Loafing idea, e-mail clevitan@reviewjournal.com or call (702) 383-0456.
watch the video