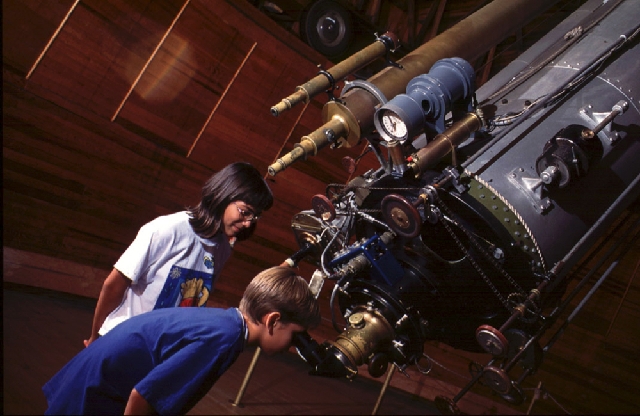 A holiday weekend in February presented the perfect opportunity for my family to set out on an Arizona adventure.
Our goal: explore the 150-mile stretch of Interstate 40 from Kingman to Flagstaff.
For this trip, we chose to stay at the Grand Canyon Railway Hotel and Resort in Williams, 35 miles west of Flagstaff, where a two-night stay in a standard room totaled about $245.
Though not the focus of this getaway, the railway provides vintage train service to the South Rim of Grand Canyon National Park. And in December, my family boarded The Polar Express there for a magical excursion to the North Pole.
For our February trip, three generations of my family crowded into a minivan and departed late on a Saturday morning. We ranged in age from 7 to 73.
As we headed south on U.S. Highway 93 and past Hoover Dam, we entered Arizona and promptly lost an hour. Nevada and Arizona clocks are the same this time of year, however, because our neighboring state doesn't observe daylight saving time.
It was midafternoon when we arrived in Kingman, 130 miles southeast of Las Vegas. For $4, each adult bought a ticket good for admission to three attractions: The Mohave Museum of History and Arts, the Route 66 Museum and the historic Bonelli House. Children younger than 12 were admitted free.
We spent two hours touring the two museums before they closed, but we didn't get a chance to tour the Bonelli House, built in 1915, because it's closed on weekends.
We started at the Mohave Museum, 400 W. Beale St.
While the younger members of our group were under the weather and lacking some of their usual enthusiasm, the adults were surprised by how much the small-town museum had to offer.
Fans of old movies will appreciate the Andy Devine exhibit, which showcases memorabilia donated by his family. Devine, a Flagstaff native who grew up in Kingman, appeared in more than 400 films before his death in 1977 and was known for his distinctive raspy voice.
The museum also has a Hall of Presidents, which features portraits of the U.S. presidents and first ladies, as well as exhibits that focus on mining, ranching and Native American artifacts.
From there, we ventured over to the nearby Powerhouse building, 120 W. Andy Devine Ave., home of the Route 66 Museum. Kingman, which has a population of about 45,000, sits at the center of the longest remaining stretch of historic Route 66.
We saved our appetites for our next stop: Seligman. The tiny Route 66 town doesn't have much, but it has become a favorite stopping point for us since we found Westside Lilo's, across the highway from the Roadkill Cafe.
Lilo and Patrick Russell have operated the restaurant for 17 years.
Patrick was in the U.S. Army when he met Lilo in Germany. They were married there in 1961, and the following year he brought her with him to Seligman, his hometown, where she first worked as a waitress.
"She always wanted to have a restaurant of her own," her husband explained.
Lilo prepares all of the pastries and some of the specials. She is also responsible for some of the German items on the menu, and this time we had to splurge and try the two schnitzel dishes ($16.99 and $18.99).
The french fries are made from hand-cut fresh potatoes. Other popular menu items include bratwurst, chicken fried steak, hamburgers and Lilo's carrot cake.
After dinner, we drove the remaining 42 miles into Williams and checked into our hotel rooms. Williams has a population of about 3,000 and is known as the last town to have its section of Route 66 bypassed by Interstate 40.
The next morning, we headed into Flagstaff, which sits at about 7,000 feet in the Coconino National Forest. The city, which has a population of about 65,000, is home to Northern Arizona University.
Although I have lived in the Las Vegas area for more than 20 years, I didn't discover Flagstaff until my family stopped there on a return trip from Oklahoma five or six years ago. We found it charming and have returned to the area several times since. The drive takes less than four hours.
Last summer we took a trip specifically to visit the Lowell Observatory, one of the city's gems, and were delighted to find daytime temperatures in the 80s.
"If we hit 90, it's, like, miserable for us," said Joanne Hudson, spokeswoman for the Flagstaff Convention and Visitors Bureau.
Flagstaff has four distinct seasons, with winter bringing an average annual snowfall of nearly 109 inches.
This past winter marked the 75th anniversary of the Arizona Snowbowl, one of the oldest continuously operated ski resorts in the country.
Flagstaff had a snowstorm several days before our latest visit and was still quite chilly when we arrived.
We began our day by heading to the Walnut Canyon National Monument, 7½ miles east of Flagstaff. The more challenging Island Trail was closed, so we braved cold winds along the Rim Trail to get an overview of the canyon and its ancient cliff dwellings.
That evening we set out for the Lowell Observatory, a private, nonprofit research institution founded in 1894 by Percival Lowell.
Our family has made several visits to the observatory in the past couple of years, and every experience has been different.
On our third try, the weather cooperated enough for us to take our first look through the historic Clark Telescope, built in 1896. With this telescope, V.M. Slipher discovered the first evidence of the expanding universe.
The winds died down enough on our most recent visit for us to take another look, and this time we got a glimpse of the Orion Nebula.
Research at Lowell also led to Clyde Tombaugh's 1930 discovery of Pluto, and the observatory offers daytime guided tours of the Pluto Telescope Dome.
Don't worry, no one at Lowell is overly sensitive about Pluto's demotion to "dwarf planet" status. In fact, they have had some fun with it, selling T-shirts with messages such as "Pluto was framed" and "Pluto demands a recount."
On a future trip, we hope to visit another area attraction, The Arboretum at Flagstaff, which is open from May through October. The 200-acre arboretum has horticultural collections, rare plant specimens, historic buildings and a nature trail through the ponderosa pine forest.
Hudson said July, when the penstemons are blooming, is the best time to visit the arboretum, which has 27 species of the plant. The 30th annual Penstemon Festival and Plant Sale is scheduled for July 12 to 13.
As we headed back to Southern Nevada on Presidents Day, we again stopped in Kingman. This time, we enjoyed delicious burgers and homemade root beer at Mr. D'z Route 66 Diner, 105 E. Andy Devine Ave.
Armando Jimenez, a former sous chef at the MGM Grand's now-closed Brown Derby restaurant, and his wife, Michelle, have operated the eatery for 13 years. They own another Mr. D'z in Puerto Vallarta, Mexico.
After our meal, I took photographs of historic buildings in downtown Kingman. Because of the holiday, the streets were empty and peaceful.
I strolled past the Little Red School House, built in 1896 and now used by the Municipal Court, and learned that Devine was once a student there. I also passed by the Mohave County Courthouse, adjacent to the old county jail; the Bonelli House at 430 E. Spring St.; and a mesquite tree that has lived for more than 200 years.
Contact reporter Carri Geer Thevenot at cgeer@reviewjournal.com or 702-384-8710.
IF YOU GO
Location: Kingman, Ariz., is 130 miles southeast of Las Vegas, and Williams, Ariz., is 85 miles east of Kingman. The 250-mile drive from Las Vegas to Flagstaff, in north central Arizona, takes less than four hours.
Directions: Take U.S. Highway 93 south to Kingman. From there, take Interstate 40 east through Seligman and Williams to reach Flagstaff. (Ash Fork is another small town off the interstate between Seligman and Williams known primarily for its flagstone.)
Williams lodging: Standard rooms at the Grand Canyon Railway Hotel in Williams start at $109 a night. For hotel reservations or to book a trip on the Grand Canyon Railway, call 1-800-843-8724 or visit thetrain.com.
Flagstaff lodging: historic Hotel Monte Vista, 100 N. San Francisco St. Call 800-545-3068 or visit hotelmontevista.com.
The Mohave Museum of History and Arts: 400 W. Beale St. in Kingman. Open from 9 a.m. to 5 p.m. on weekdays and from 1 p.m. to 5 p.m. on Saturdays. Call 928-753-3195 or visit mohavemuseum.org.
The Route 66 Museum: 120 W. Andy Devine Ave. in Kingman. Open from 9 a.m. to 5 p.m. daily. Call 928-753-9889.
The Bonelli House: 430 E. Spring St. in Kingman. Open from 11 a.m. to 2:30 p.m. on weekdays. Call 928-753-1413.
Bearizona drive-through wildlife park: 1500 E. Route 66 in Williams. Admission is $20 for adults, $18 for seniors, $10 for children ages 4-12, and free for children younger than 4. Prices do not include tax. Open daily. Call 928-635-2289 or visit bearizona.com.
Walnut Canyon National Monument: 7.5 miles east of Flagstaff. Call 928-526-3367 or visit nps.gov/waca/.
Lowell Observatory: 1400 W. Mars Hill Road in Flagstaff. Admission is $12 for adults, $10 for seniors and college students, $5 for children ages 5-17, and free for children younger than 5. Every day from 12:15 to 12:50 p.m., view the sun through a specially equipped solar telescope. Call 928-233-3211 or visit lowell.edu for seasonal hours.
The Arboretum at Flagstaff: 4 miles south of Route 66 on Woody Mountain Road, on Flagstaff's west side. The first mile is paved, and the remaining 3 miles are unpaved Forest Service Road that is suitable for all vehicles. Admission is $7 for adults, $6 for seniors, $3 for children ages 3-17, and free for children younger than 3. Open from 10 a.m. to 4 p.m. Wednesdays through Sundays, May 1 through Oct. 31. Call 928-774-1442 or visit thearb.org.
Riordan Mansion State Historic Park: 409 W. Riordan Road in Flagstaff. Park entrance fees are $10 for those 14 and older, $5 for children ages 7-13, and free for children younger than 7. Closed Tuesdays and Wednesdays. Call 928-779-4395 or visit azstateparks.com.
Flagstaff Extreme Adventure Course: a tree-top adventure course that opened in May 2012 with more than 70 aerial challenges for children and adults. Currently taking reservations for Saturdays and Sundays. Open daily after Memorial Day. Call 888-259-0125 or visit flagstaffextreme.com.
Flagstaff Visitor Center: in the historic downtown train station. Open from 8 a.m. to 5 p.m. Mondays through Saturdays and from 9 a.m. to 4 p.m. Sundays. Call 800-379-0065 or visit flagstaffextreme.com.