Expo offers means, recipes for surviving disasters
September 8, 2012 - 11:16 pm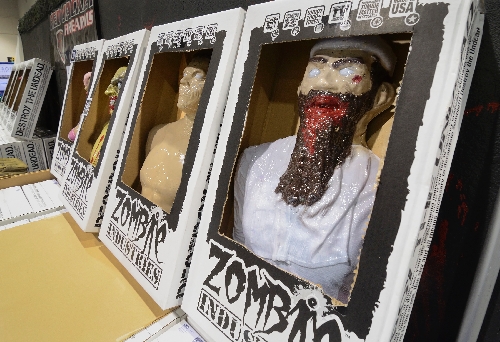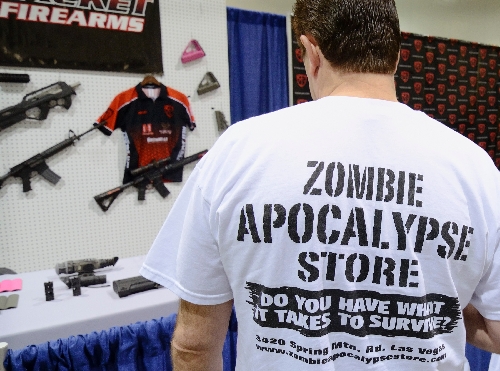 Flaxseed, one of those ancient grains that supposedly fights every disease known to mankind, can also help you survive a zombie apocalypse.
Or the end of the world, which may occur Dec. 21, depending on how you interpret the Mayan calendar. If you believe in neither zombies nor doomsday prophecies, well, flaxseed can still help you live through the loss of modern medical care, according to Angela Harris, mother of nine and the owner of the local health food store Herbally Grounded.
When times are good, sprinkle a little on your oatmeal. When disaster strikes, stick some whole flaxseed in your eye. Seriously.
It will wrap itself around any foreign object that doesn't belong in your eye, such as a piece of glass or dirt, Harris explains to a small group gathered around the stage at the 2012 Survival Expo, held last week at Cashman Center. Flaxseed, and other natural herbal remedies, can come in handy when you're far away from a doctor.
As for getting the flaxseed out of your eye? You just have to work it out with your finger.
Harris was at the expo to offer this and other tips she learned while pursuing an herbal "hobby that got out of control." The expo center was filled with people who know a thing or two about pursuing hobbies in a serious way, from personal protection enthusiasts to those preparing for the eventual failure of every safety net in the country. And zombie fans, of course.
The sound of stun guns repeatedly zapping millions of electrical volts echoed through the auditorium, punctuated with the repetitive "tat-tat-tat" of paintball guns as attendees shot zombies at one of the exhibit booths.
This was the first year for the Survival Expo, says event coordinator Cynthia Boyce. September is also National Disaster Preparedness month, a federal awareness campaign designed to get the public ready for emergencies. But event organizers had been discussing such an expo for a while, Boyce says, and thought they should hold it before the end of 2012.
"Just in case the Mayans were right," Boyce jokes.
The expo displayed more than products and services for disaster preparedness. It also showcased the many layers of the topic of survivalism. There were preppers, food storage buffs, military-minded folks, survivalists, gun enthusiasts, pop culture fans and gardeners.
Interest in disaster preparedness has grown in recent years, says Nick McBride, fishing manager for retailer Sportsman's Warehouse. In the past, the store, with 32 locations nationwide, largely catered to hunters and fishermen. Now, McBride says, the mainstream customer base has shifted to survivalists.
"Being that peace has broken out all over, we think we live in a safe time," says Paul Seyfried, president of Utah Shelter Systems. He was at the expo to educate people about underground shelters. "The fact is, we still live in a nuclear age. Nothing has really changed since the dawn of the nuclear age."
Seyfried, who wore a smart black business suit with sand-colored combat boots, has been a survivalist for decades. With his food and supplies, he can take care of his family for about seven years in the event of a nuclear catastrophe.
But what if that nuclear attack doesn't happen?
"Being prepared for a nuclear event can make an earthquake seem like a cakewalk," he explains.
Zombies, thanks to television shows and popular books, have enjoyed new life. There is no such thing as zombies but the idea of being prepared for a zombie apocalypse serves as a metaphor, says Mike Monko, owner of the local Zombie Apocalypse store.
"If you're prepared for zombies, you're prepared for anything," he says.
Sometimes, the whole survival/prepper/zombie trend makes Andy Anderson roll his eyes.
"First of all, it's not a new thing to me," says Anderson, who was raised in the Mormon church. Being prepared for an emergency is something that the church teaches.
"There's been instability and chances for economic downturns ever since the country has existed," Anderson says. "It's not something to run out and become hyperactive about it."
He may have taken the survivalist thing to a new level. After being laid off from his grant-writing job in 2010, Anderson has only landed contract work as a grant-writing trainer. With a $1,600 a month bill for his family's insurance, he had to come up with a way to make some money.
He started a company, covertfurniture.com, building furniture with hidden compartments. You can hide guns or valuables in the end tables, dressers, head boards and magazine racks he builds.
"Survival … that was the motivation for my business," Anderson says.
Contact reporter Sonya Padgett at spadgett@review journal.com or 702-380-4564. Follow @StripSonya on Twitter.