Exterior decorations brighten the holidays
December 3, 2015 - 11:00 pm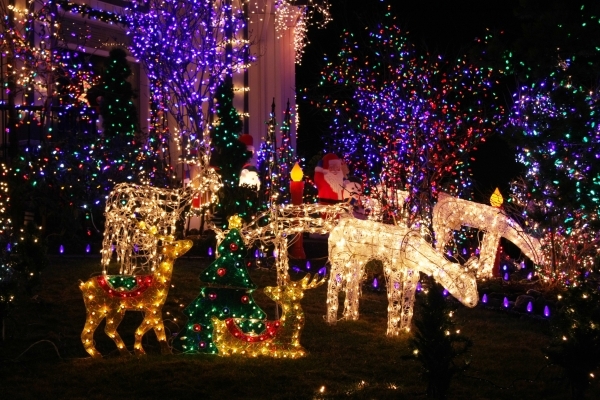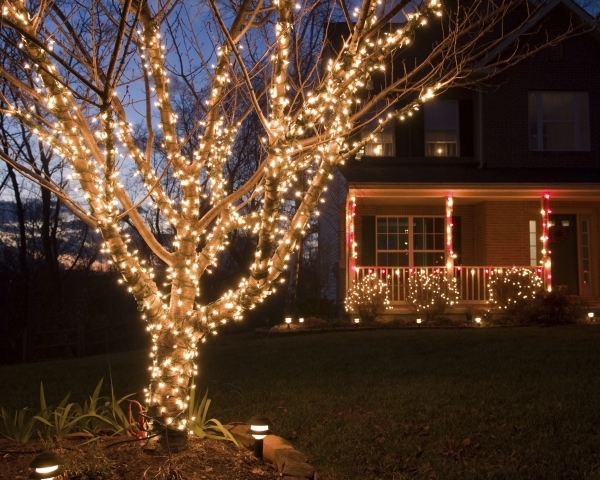 The dark nights of December are perfect for holiday lights that brighten streets to greet and welcome family and guests into your home. The lights say "Merry Christmas" and "Happy Hanukkah" and create a moment of "peace on Earth and good will toward all" while inside those brightly lit home are large bowls of chilled eggnog and crispy potato latkes being served with applesauce.
Those holiday lights are a tradition and most homeowners attempt to decorate their homes Thanksgiving weekend or the first week of December. And because of that, it's been busy for Gil Valenzuela, sales associate in the garden department at Home Depot on West Charleston Boulevard.
"People are buying LED lights in all kinds of colors, along with inflatables such as Santa in his sleigh," Valenzuela said. "Basic decorations don't change much, but they do become more colorful, efficient and safer."
So what's new this year?
"We have quite a few indoor/outdoor characters from 'Star Wars,'" he said. "I have a 28-inch tall, self-standing holiday-lighted Yoda. There is also Darth Vader and C3PO. They light up and they're in their regular outfits. Other stand-ups are more traditional like Rudolph the Red Nose Reindeer, Peanuts and all of Disney."
Darth Vader next to Snow White and Snoopy? Well, it is Christmas.
"Another popular Christmas yard decoration is an animated motif," Valenzuela said.
"They come in all shapes and sizes with various themes. For large yards, consider elves stuffing gifts into Santa's stocking," he said. "If your yard has any type of evergreen trees, consider creating an outdoor Christmas tree. It brightens the entire yard. Just string it with minilights throughout the branches, choosing a color theme that matches other outdoor decorations. It's important to string them among the interior branches instead of just draping them on the exterior branches to make the entire tree brighter. Then add some ornaments to reflect light."
Bare, leafless trees are the best types to be wrapped because their lighted trunks and branches become magical at night, especially horizontal-spreading varieties. The trunks of the thousands of palm trees found throughout Southern Nevada, when wrapped with white or red lights, show off their vertical, upright forms and draw the eye upward toward the night sky.
When wrapping a tree, and if there are several in the front yard, select the most interesting shapes. Don't wrap or cover a new or fragile tree with lights and don't be frugal in wrapping a tree. A tree wrapped with light strands one-third the way up its trunk is not going to look festive or complete. Plan and budget accordingly.
Keeping a color scheme throughout the front yard can extend to the front door. Secure a wreath to the front door, and, if the wreath is bold red, it instantly proclaims Christmas cheer.
Several other types of ornaments can be added for a festive touch such as garlands and bows. To illuminate the entire house or front area, there are spotlights with projectors and there's even a smartphone app to control those lights.
For all the new lights and gadgets out there, outdoor Nativity scenes are still prominent as well as decorative reindeer and snowmen.
Gloria Vuocolo has been decorating her Henderson home every Christmas with topiary animals placed next to trees and near bushes.
"It's easy to create a group of lighted, grazing reindeer made of grapevine or artificial greenery," she said. "Position them in a row to illustrate Santa's reindeer team or get them to stand, graze or lie down. It brings the yard to life because they are available in different heights and in incandescent or LED light colors."
Vuocolo browses the Internet for new ideas on outdoor lighting. This year, she is lighting the path to her front door with a strand of clear holiday lights.
"I'll push the plastic stakes into the ground, slip in the lights and close the plastic hinges to hold the lights in place," she said. "Then I'll swish some fake snow or moss between the lights to cover the exposed cord. The stakes will stay in the ground until spring, even after I pull the lights out after the holidays."