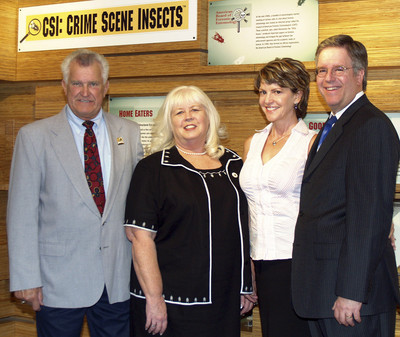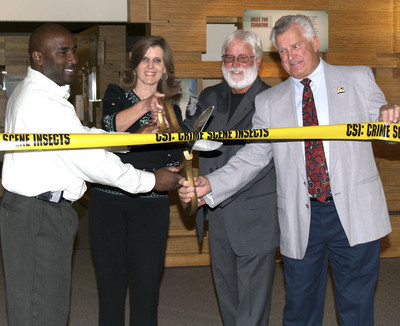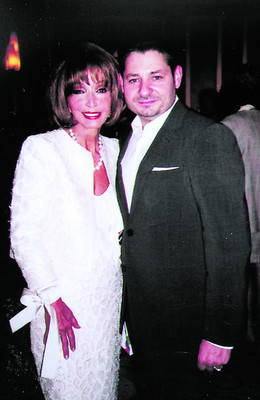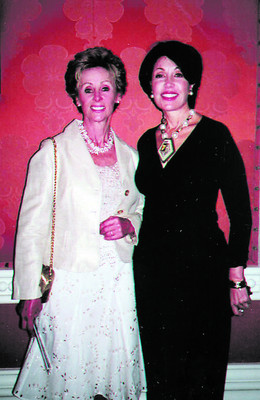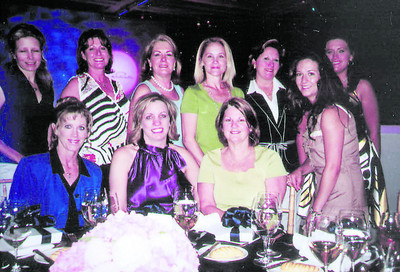 Neiman Marcus presented a fashion show and luncheon to preview the Oscar de la Renta Fall 2008 Collection on May 22 at Wynn Las Vegas. The event benefited Nathan Adelson Hospice.
During the reception, event co-chairs Susan Molasky, Jane Schorr and Beth Weinberger greeted the 727 guests, including Vicki Fertitta, Lovee Arum, Susan Sullivan, Kathy Black, Sheryl Goldstein, Leslie Parraguirre, Jody Ghanem, Lynn Wiesner, Winnie Schulman, Sue Becker, Abbie Friedman, Gloria Fine, Wendy Plaster, Sandee Tiberti, Donna Cloobeck, Jan Jones, JoAnn Strum, Dena duBoef, Camille Ruvo, Nancy Houssels, Mary Jo Ellis, Tiffany Tiberti, Robyne Townsend, Ann Evans and Parvin Jacobs.
Guests socialized while looking over the 80 items available as prizes for those who purchased $20 opportunity tickets. The $100 gold opportunity tickets were for 20 packages, and the $500 platinum tickets were for four items, each valued at $25,000. Those prizes were: a Canturi Jewels 18-carat white gold diamond pendant and earring set, a platinum necklace with one round 1.57-carat diamond from Graff Jewelers and a signature Ballon Bleu watch in an 18-carat gold case set in a sapphire cabochon with an 18-carat yellow gold bracelet from Cartier.
Molasky welcomed the stellar crowd and introduced Bill Terry, vice president and general manager of Neiman Marcus Las Vegas, who spoke about the de la Renta fall collection.
The fashions featured fur-trimmed coats and hats, suits with metallic threads and ruffled evening clothes with ornate beading.
Following the fashions and luncheon, Nathan Adelson Hospice Chief Executive Officer Carole Fisher honored guest speaker Irwin Molasky for his 30 years of dedication to Nathan Adelson Hospice. Molasky spoke about the hospice's 300 employees, 20 volunteers and the $28 million budget that the federal government plans to cut the next year. Nathan Adelson Hospice cares for 400 people daily.
Also among the guests were Paige Gross, Colleen Wadham, Patty Morrissey, Dawn Russi, Diane Bigelow, Carol Rapp, Terri Monsour, Kathy Rogich, Kim Rivera, Dale Wynn, Shannon McBeath, Sheila Beaton and Lori Rogich.
CREEPY CRAWLIES: Las Vegas Natural History Museum premiered its latest exhibit, CSI: Crime Scene Insects, which explores how bugs help to solve crimes, on May 22.
Attending the VIP reception at the museum was Lee Goff, chair of the forensic sciences program at Chaminade University of Honolulu. Goff is a leading forensic entomologist and the scientific consultant for the TV series "CSI: Crime Scene Investigation."
Museum Director Marilyn Gillespie introduced the museum's chairman of the board, Denny Weddle, who named the trustees in attendance, Anthony Guenther, Mike Fauci, Rick Krause, John Good and Mike Davidson. Weddle also thanked Western Exterminators for sponsoring the exhibit and for helping to bring the exhibit to Las Vegas.
Attending from Western's corporate headquarters in Anaheim, Calif., were Roy Ashton, vice chairman; Nancy Ringman, vice president of communications; and Mike Britt, vice president of sales.
Visitors to the museum can observe crime scene insects and see how they provide clues that help tie suspects and victims to a crime scene.
More guests attending were Las Vegas City Councilman Ricki Barlow, Gary Telgenhoff, forensic pathologist; John Fudenberg, assistant coroner; and Clark County Commissioner Lawrence Weekly, Art Wolf, Patty Davidson, LouAnn Harrison, and Linda and Barry Thigpen. The exhibit is acceptable for children 8 years and older and will be in Las Vegas through Sept. 1.
SPRING FLING: The Salvation Army Women's Auxiliary had its 43rd annual luncheon at the Gold Coast recently.
The tables featured varied spring flowers designed by member Elaine Chenoweith.
The auxiliary members and their guests, including Phyllis Roberts, Nancy Pierce-Rogowski, Natalie Schneider, Roxella Williams and Capt. Susan Nute, were welcomed by Jeanette Giannosa, president, Clara Centrone, vice president, and Majors Harreyette and William Raihl.
There was an installation of the new term officers preceding the luncheon, followed by a "Nearly New" Fashion Show. The fashion presentation was coordinated by Ann Peters and the model coordinator was Leslie Smith. The majority of the fashions shown were by well-known designers, which were available for purchase at the Salvation Army Thrift Stores.
Proceeds from the event will go toward the new Salvation Army Chapel on the Lied Campus.