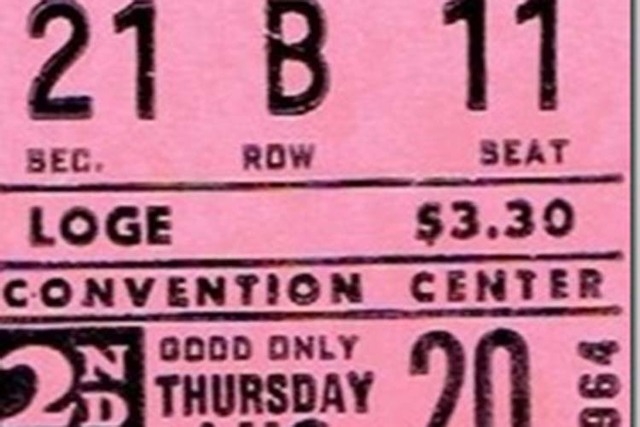 The 50th anniversary of The Beatles' concerts in Las Vegas will be celebrated in "The Beatles: Las Vegas 1964," a multimedia exhibit that will run through Oct. 27.
The exhibit, which can be viewed in the grand lobby of the Las Vegas Convention Center, 3150 Paradise Road, looks at the Beatles' two sold-out concerts here from a fan's perspective and features interviews with and photos of the people who experienced, in person, Beatlemania Las Vegas-style.
The display is free and open to the public. In the meantime, here, in their own words, are a few other fans' recollections of what happened on that historic day.
• • •
It was the summer before my senior year at Las Vegas High. I spent the night before the tickets went on sale in a short line at the convention center. I had expected more people. I bought tickets (I still have the stub) for myself and a friend the following morning. I chose the second performance.
When The Beatles arrived in town, they went by limo to the Paradise Road side of the Sahara Hotel. The arrival must have been published in the newspaper as my parents took me to watch and wait. As the limo went by, you could (see) John, Paul, George and Ringo in the back. John had on this multicolored vertical-striped jacket. All the girls went running after the limo as it passed along the back entrance.
Our seats were on the main floor of the rotunda and pretty far back, considering I spent the night in line to get them. Jackie DeShannon was the opening act. Once The Beatles came onstage, everyone stood on their seats and the screaming began. I never heard a single word that they sang. When the performance was over, the roaring noise in my ears from all the screaming continued for another 30 minutes.
I wish that I could have heard the concert, but I wouldn't have missed the experience for anything.
Linda Martin, Las Vegas
• • •
It was the most exciting day of my life. I was 18 at the time. My best friend's father was an executive at the Sands and managed to get six tickets for the afternoon performance.
My friend and I, his two sisters and my sisters went together … We had floor seats about two-thirds of the way back. The screaming started before The Beatles were even onstage, and when they did appear the cheering, screaming and clapping was the loudest human noise I had ever heard (or ever would). I was a little annoyed because I really wanted to hear them sing. They could be heard, but at times it was difficult.
Another of my friends had been hired as part of the crew to set up the chairs, stage, etc. After the second show, while taking everything down, he found one of Ringo's broken drumsticks. Truly a cherished treasure and a day to remember.
Mark Cronenberg, Boulder City
• • •
It was August of 1964. I was 14 years old, and we had not moved to Las Vegas until two years later. We were visiting Las Vegas for the first time to see some family that had moved here shortly before that date.
You know when you were a kid, and went to see relatives, how your parents went inside first and you just kind of trailed along behind? Well, we walked in the door and my aunt and uncle and three cousins, Jan, Rick and Debby, rushed past my folks and surrounded me. They were incoherent, but I did get: "We (are) giving you five more minutes and then we (are) going to leave! We're going to see The Beatles!"
I said "When?" Jan shouted "Right now!"
I had seen "A Hard Day's Night" about a week prior and was pretty excited about The Beatles, but I didn't even know they were in the U.S., let alone doing a concert here.
My cousins had their tickets way in advance, but as it turned out my uncle had won a single ticket in a poker game! So off we were to the convention center, which at that time still looked like a flying saucer. I came from a small town in Kansas and was pretty overwhelmed with everything, including a drive down the Strip after the show.
Two years later, my dad came here to visit while recovering from an ulcer surgery and was immediately hired by EG&G. (He) closed his TV repair business in Coffeyville, Kan., and we moved here in September of 1966.
Forrest Nettles, Las Vegas
• • •
In 1963 I had just lost my younger sister of 8 years old, and I was 12 going on 13 in 1964. It was a terrible time for me. Nothing was fun anymore. My father somehow managed to get three tickets to the Beatles concert at the convention center. I will never know how he did it, but bless him for it. I think he heard me playing the record player over and over, "I Want to Hold Your Hand." My brother did not want to go, so my friend, Sue Wilson, got to go with me and my older sister Bonnie. We stood on the chairs when they played, and cried. My sister was crazy about John and I was in love with Paul. It somehow made me come out of my depression and into a new world.
Carol McKenzie, Las Vegas
• • •
I was at the Beatles concert here in August 1964. My dad got my then-boyfriend — now my husband of almost 49 years — my sister and myself into the press box at the convention center. I don't know what strings he pulled, but we had amazing seats and could hear them perfectly without having to contend with all the screaming from the audience.
I had just graduated from Western High School in May of '64, so it was quite a treat, and we were so impressed.
Anita Ziegler, Las Vegas
• • •
I attended the 4:00 show of the Beatles on Aug. 20, 1964. As I was one of the biggest Beatles fans around, this has been one of the highlights of my life. I was only 5 years old, but have a few very vivid memories of the day.
We were driving down Sahara in a long line of cars going to the concert and the Beatles were on the balcony of their room at the Sahara Hotel waving to all the cars. At the concert, we could only see them down on the stage and could not hear them at all due to the screaming. Girls were going crazy, crying, screaming and fainting.
That is about all I remember from 50 years ago, but it has been something I have bragged about all my life. What I find so incredible is that I went to this concert at the young age of 5 years old with my siblings and cousins, and the oldest of the bunch was 12! My mother took us and dropped us off at the convention center. That is a testament to those times. It was a safe and wonderful place to grow up!
Sue Skrove, Las Vegas
• • •
I grew up in Vegas, baby! In fact my dad, Ron Amos, was an editor at the R-J and the Las Vegas Sun.
I was 9 years old and went to my first concert ever: the afternoon Beatles show at the Las Vegas Convention Center. We sat about 15 rows back from the stage on folding chairs. I wore my Beatle Boots and went with my mother, Helene Amos, my best friend, Doug Atkin, and his mom, Helen Atkin.
My vivid memories are few, but impactful:
1. In my mind's eye, I see it in black and white, as all the print and television coverage then was, of course, in black and white.
2. I couldn't hear anything but screaming girls.
3. The screaming little girls in the rows around me were so excited that they peed themselves!
I've been a Beatles and classic rock and roll fan ever since, seeing dozens more concerts at that venue … but never as cool as my first.
Mike Amos, Layton, Utah
• • •
My best friend Mary called me and told me we needed to go very early to the convention center and stand in line for some concert tickets. Even though I didn't know who was playing, I complied and went with her. About four hours in line, and one blister on my foot, I had my ticket to the Beatles concert in hand. She assured me this would be great.
Our seats were very good, first row of a balcony close to the stage. I wanted to hear the music, but all these girls were screaming so loud it was about impossible to hear anything much. Such an uproar. I saw them shake their hair, kind of cute.
I saw them on Ed Sullivan's show. Mary and I gave each other a Beatles album at Christmas. I still enjoy their music. "A Hard Day's Night" is my favorite.
Julia Lane-Hiltz, Las Vegas
• • •
What a wonderful way to experience my very first concert! (Who knew it would become a historical event?)
My sister and I stood in line for hours to buy tickets at the then-new convention center rotunda box office.
Our cousin came down from Idaho to join us at the concert. Our seats were in the lower loge section so we could see the stage perfectly. Unfortunately, though, no one could hear any of the music due to the manic screaming of the audience! My sister actually lost her hearing in one ear for several days after the concert.
It was so surreal. My second concert (also at the convention center) was The Dave Clark Five where our
mid-floor seating cost around $5.50 and we could actually hear the lyrics. These are great memories for sure!
Linda K. Hiltbrand, Las Vegas
• • •
My sister Claudette and I went to the afternoon concert. My mother somehow got tickets. She wouldn't let us go to the evening show because we were so young. I was 12 and my sister was 10. … All I remember is nothing but young girls screaming and crying. I remember them onstage, but you couldn't hear very much because all of us were screaming. The next day I was on the front page of the newspaper. It's hysterical to think about it now. Over the years I did get to see Paul perform at Sam Boyd (Stadium) and Ringo with (his) All-Starr Band. I'm happy to say I wasn't screaming or crying!
Michele Truell, Las Vegas
• • •
I was born and raised in this fabulous city in the Las Vegas Hospital in 1954. My mom was able to get three tickets to The Beatles, so my sister, myself and our baby sitter, Ronnie Rogich, got to go. Although the music was great, I was amazed at the girls crying, screaming and pulling on their hair. Getting into a show back then was easy! A great memory of my childhood.
Kathy Bellflower, Las Vegas.
————-
I was there. Aug. 20, 1964 was an exciting day for me. I was 13 years old and a big Beatles fan. My mom and sister waited in line for hours just OVERSET FOLLOWS:to buy four tickets for the afternoon show. I invited my two best friends from Phoenix to come and experience this fantastic chance to see our idols onstage. Our seats were in the nosebleed section of the convention center. We didn't care. We screamed our heads off and took in the whole amazing experience. What a great memory.
Kristi Larsgaard, Boulder City
————-
I attended the 4 p.m. show and still have my souvenir book. I remember that you could hardly hear The Beatles because of all the kids screaming.
Marilyn Black Hall, Las Vegas
Las Vegas Beatles fans: A day in the life