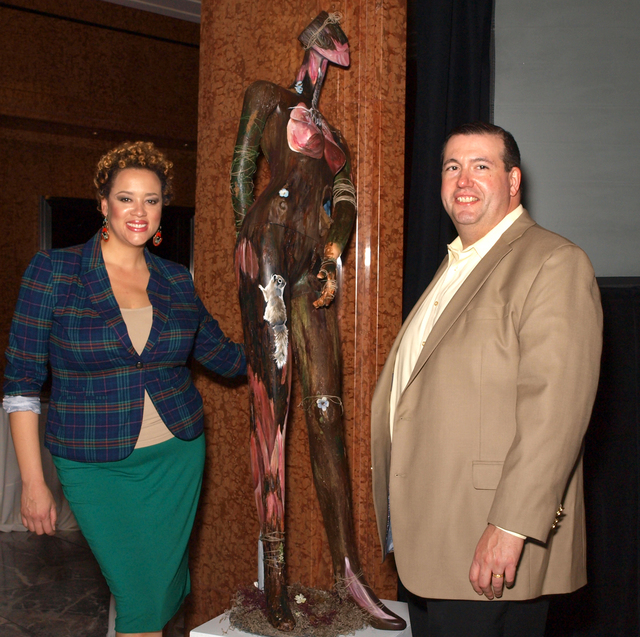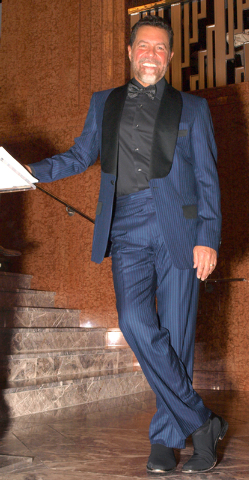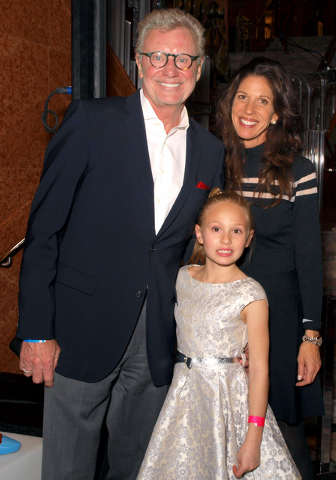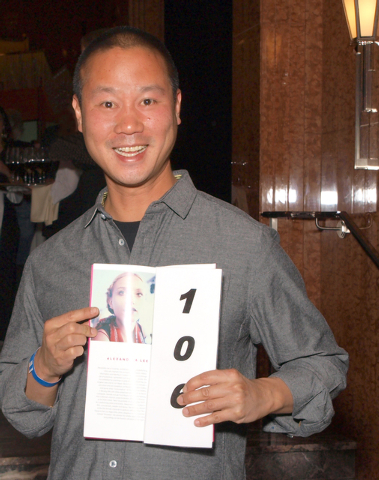 It was a philanthropic affair merging fashion and art in a unique showcase to benefit the Modern Art Museum and the Las Vegas Fashion Council at The Smith Center for the Performing Arts' Reynolds Hall Grand Lobby the evening of Jan. 29.
The 200 guests at artLIVE! partook of libations, appetizers and items from carving stations. Theater-style seating was arranged in two sections on both sides of a runway from the hall's grand staircase. All enjoyed the silent auction and strolling entertainers of music and gymnasts' twirling ribbons.
Making the event possible were local sponsors including Peckman Capital Corp., SK+G, Best Agency, Brownstein Hyatt Farber Schreck, Fox Rothschild Attorneys, the Ogden, Encore Event Technologies, and Mosaic Salon.
The artists created large, one-of-a-kind mannequins that were truly works of art. The mannequins were displayed around the hall and were auctioned off in the live auction by celebrity auctioneer Jeff Manning. The mannequin artists were Alexandria Lee, Jennifer Main, Heather Hermann, Zak Ostrowski, Robin Barcus-Slonina, James Henninger, Joel Spencer, Brien McCrea, and the Las Vegas Academy of the Arts. The Skin City Body Painted statues sold for $300 to $3,700.
Master of ceremonies Clint Holmes introduced artLIVE! Chairwomen Carrie Carter Cooper and Emily Ellis. The event honored two local visionaries representing art and fashion. For art, the special recognition went to Tim Bavington, whose works have been exhibited in distinguished galleries around the globe and in private collections. Zappos.com received the fashion visionary award. The site, headquartered in Las Vegas, showcases millions of products from more than 1,000 clothing and shoe brands. Accepting the award for Zappos was Eileen Tetreault, who oversees bags and accessories for the couture site.
The event also featured esteemed artists from Nevada Ballet, Cirque du Soleil, and Franco Dragone productions. Performers were Paul Bowler, Maia and Tsvetelina Tabakova, Dirk Kay, Joan Sobel, Eric Sean, Bailey Munoz, Sasha &Sergey Korolev, Khaliah Yasmin, and 7-year-old Christopher Convery, as well as many dancers.
The event's fashions were by both emerging and established designers, including Ermelinda Manos, Coco Johnsen, Wanda Merritt and Joey Galon. It was not your garden-variety fashion show. The swimsuit segment was filled with eye-popping bikinis. Loungewear included flowing wraps. The custom evening gowns dazzled the crowd. The provocative gowns were works of art displaying beaded lace and luxurious fabrics.
Seen among the guests were Tony Hsieh, Julie Murray, Ellen Curtis, Carole and Norman Terry, Cynthia and Andrew Baca, Nahed Abdou, Bocho Sushi, Simone Schartz, Pat and Frank Ellis, Emily Ellis-Santana and Freddy Santana, Lee Medick, Niki Reid, Laura Coronado, Katie O'Neill, Willis Walker III, Ronald Smith, Mary Thomas, Phil Peckman and daughter Shea Peckman, Desiree Lapin, Madison Harris, Beth Barbre, Patrick Simon, Sydni Sayles, Tim Molyneux and Robin Leach.