3 Las Vegas stores worth going to on National Thrift Shop Day — VIDEO
August 16, 2017 - 5:30 pm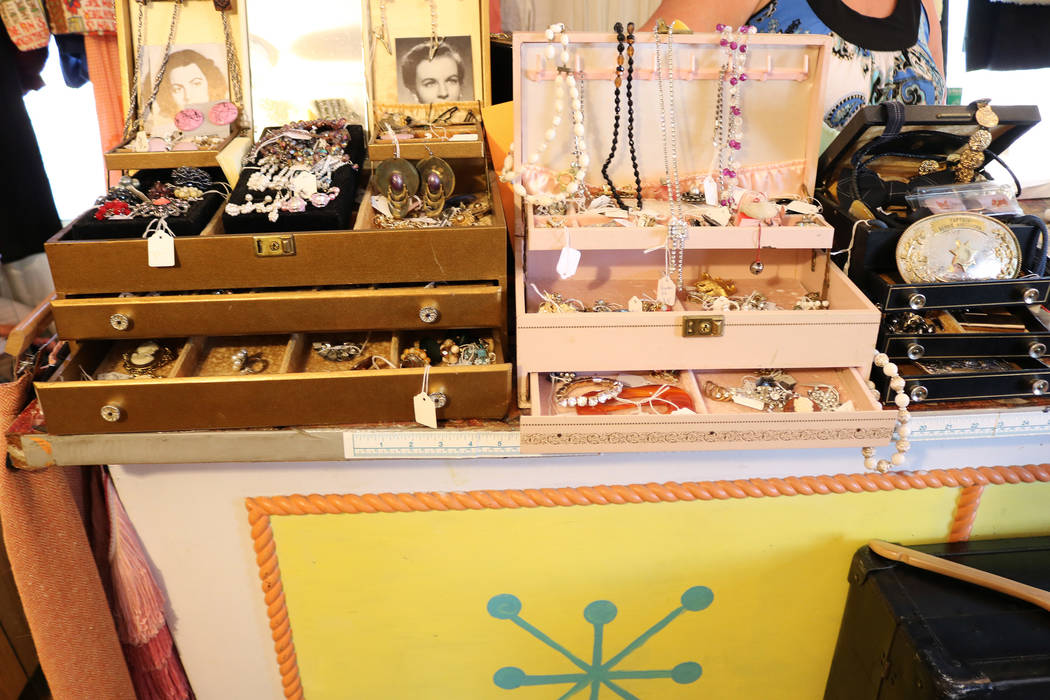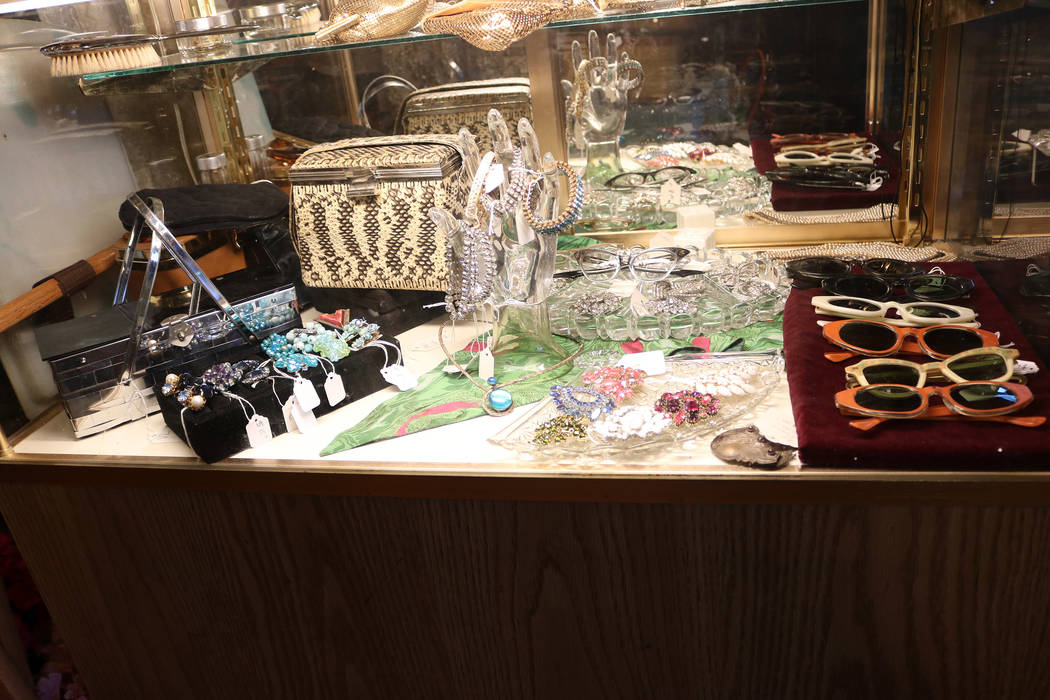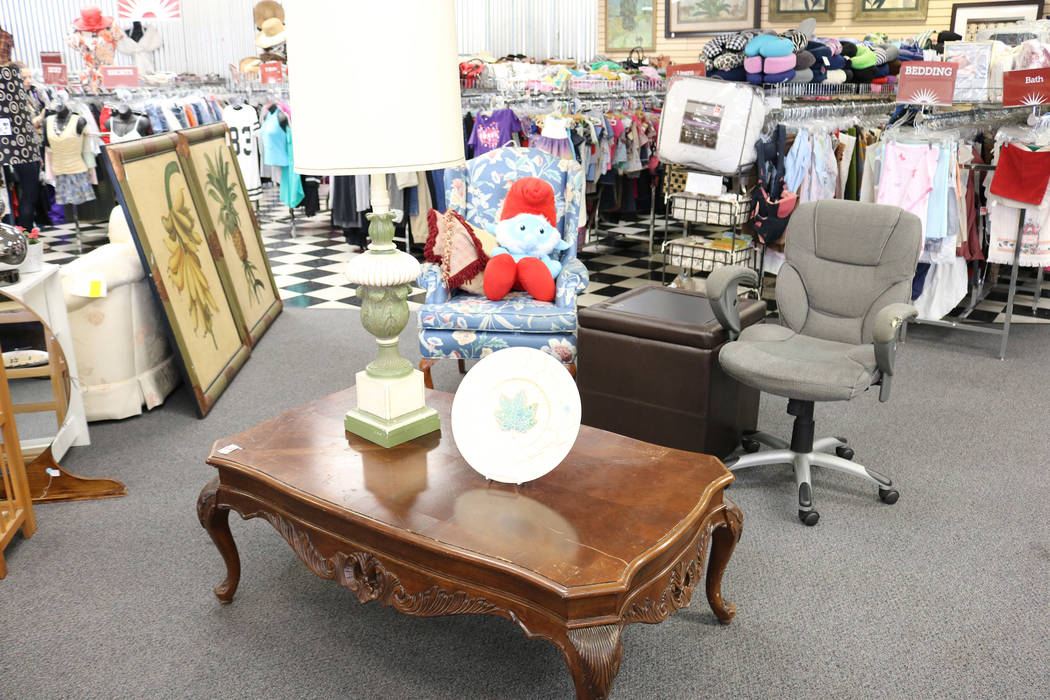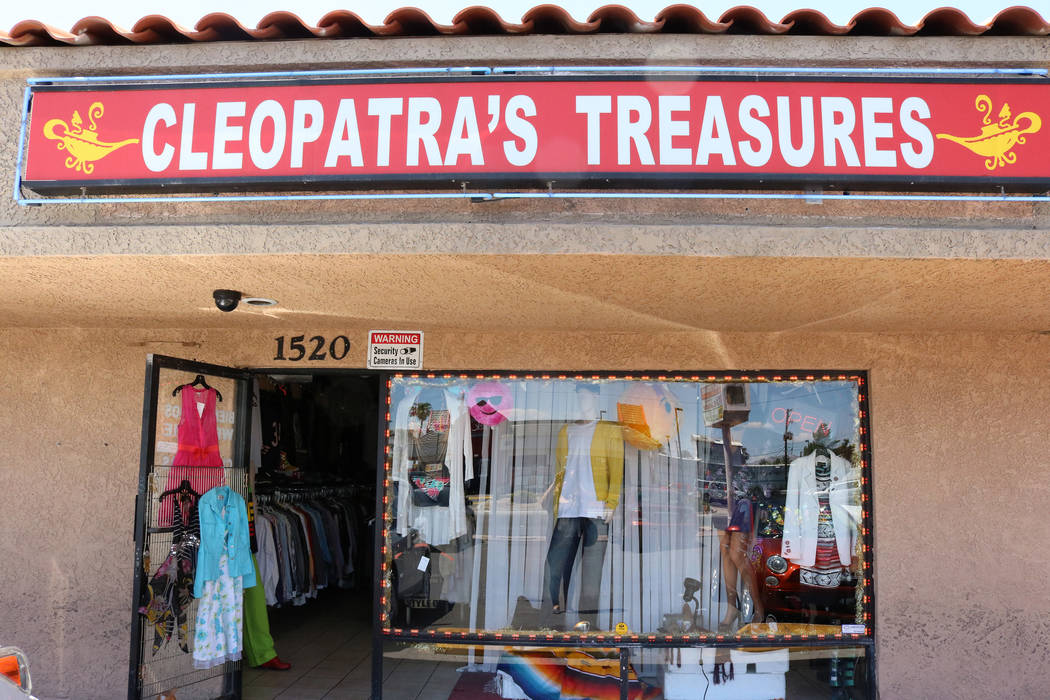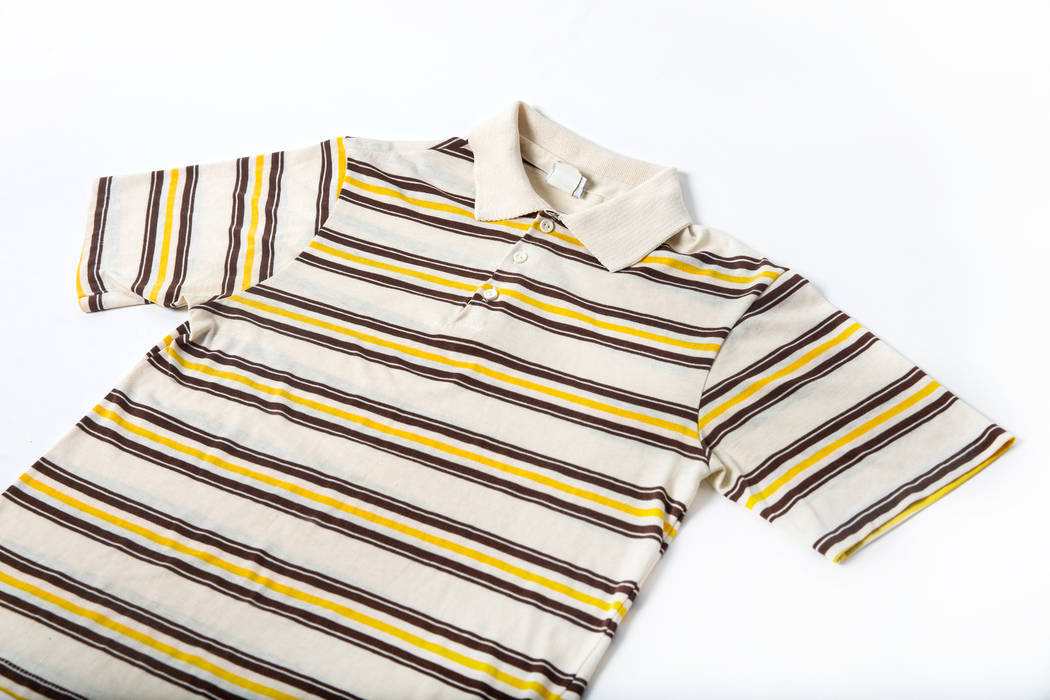 It's not every day that a reporter gets to go thrift shopping on the company dime and time, but three of us got to do just that.
Armed with $90, we were charged with finding items that cost no more than $5, $10 and $15 at three locations. After poking around online, we headed to Dinosaurs and Roses, Cleopatra's Treasures and Glam Factory Vintage, where we scored some real finds and learned that being thrifty is surprisingly easy here. We're hoping our hunt will inspire you to undertake your own since Las Vegas is home to an eclectic assortment of flea markets, antique stores and vintage thrift shops, not to mention it's National Thrift Store Day.
Dinosaurs and Roses, 4310 E. Tropicana Ave.
A thrift store where you can find a little bit of everything if you look hard enough, Dinosaurs and Roses might induce panic in a first-time shopper. Clothes, furniture and tchotchkes haphazardly line the racks and sit on display, donated by individuals and businesses.
"We'll put on our Facebook page that we're looking for donations or holding a donation drive, and people show up," says Jay Fraley, director of operations. "They open up the back of a U-Haul and say, "If you have room for it, it's yours."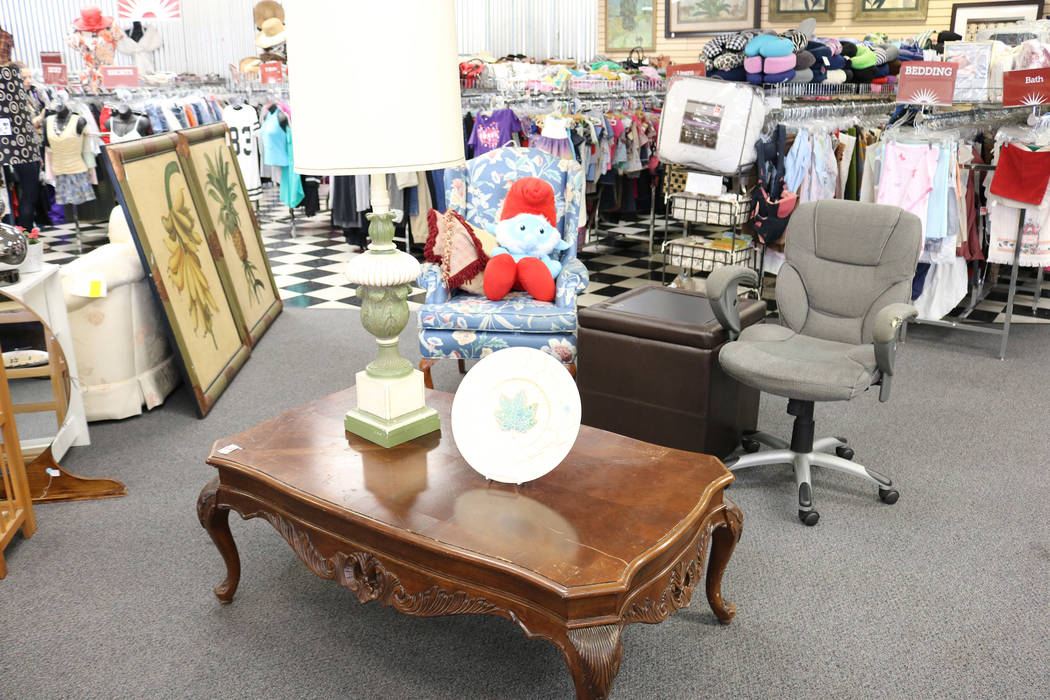 Dig through the racks, and you just might surprise yourself with a gem. Packed in with summer camp T-shirts and scuffed work boots are suede Izod skirts and trendy denim rompers. Most of their clothing goes for no more than $10, and even then, the price can be negotiated.
Janna: Despite my best efforts, I couldn't find something in the $15 range. This shop's selection was hard-to-believe affordable. I scored a bomber-style jacket, which is structured but lightweight, for only $2.50. The earthy color will make a great transition into fall.
Kelcie: I made a beeline for the denim romper since I've always wanted to dress like a riveter. Originally priced at $9, it fit well within my $10 budget. At the register that day, all clothes were 50 percent off, making my day and the final price $4.50.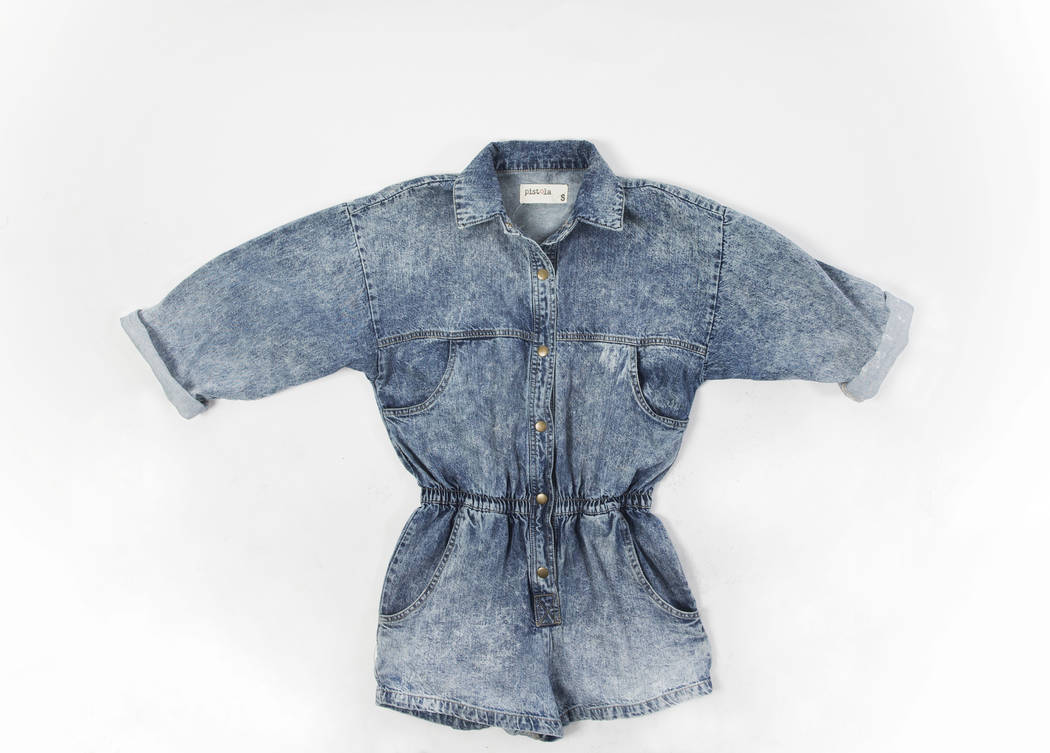 Katelyn: I have far too many floppy hats, but when life presents you with one for under $5, you buy it. This $3 black hat is a classic, and looks great casual or dressed up.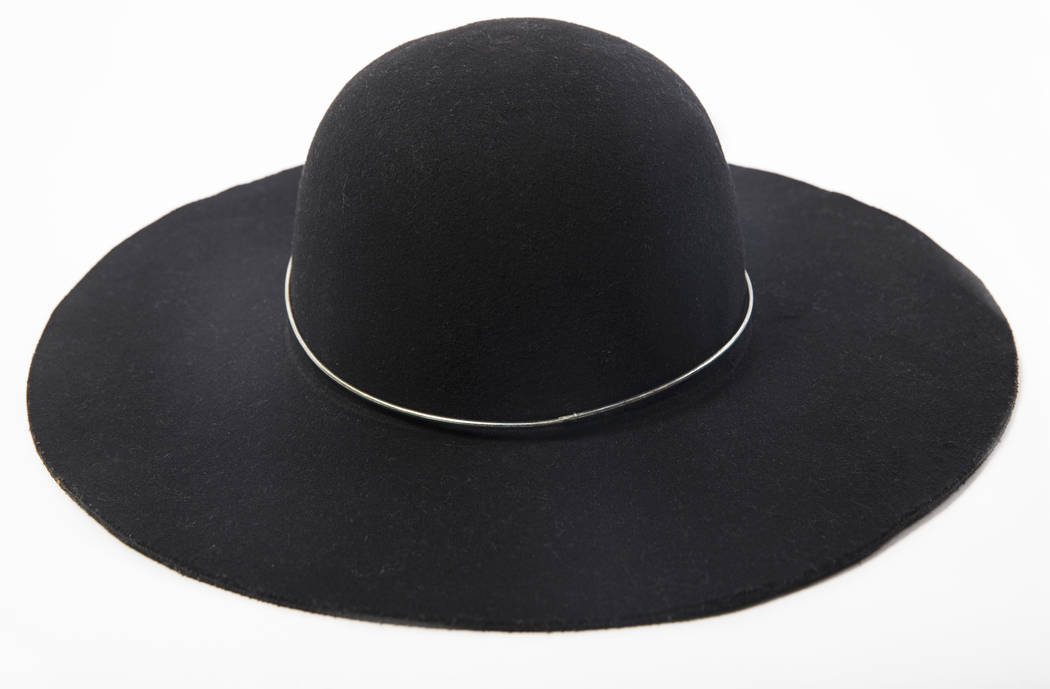 Glam Factory Vintage, 211 E. Colorado Ave.
An assortment of potted plants and lawn ornaments border two connected orange and yellow bungalows as you enter Glam Factory Vintage. Inside, owner Stephanie Roshto is wearing a pair of denim overalls and a red paisley bandana, tied up in classic pinup style.
She struggles to pin down the exact aesthetic that characterizes her shop. "I just buy anything that speaks to me," she says while flipping through a garment rack of '60s tiki-inspired beach wear, then an aisle of neon faux fur festival styles. "I dig anything from the '20s through the '70s," she says.
A stroll through the cozy, colorful cabin of Glam Factory Vintage reveals a trove of authentic vintage treasures. While Roshto curates her collection year-round, she reserves certain garments for specific events. "A lot of customers come in before Burning Man looking for things like this," she says, holding up a metallic-sequined jumpsuit. She pulls out a high-waisted, collared frock. "I keep a lot of dresses like this for Rockabilly weekend."
Customers also can find an array of spectacles from the '40s and sequined bags from the '70s. Good luck leaving without getting a cuddle or two from Black Jack, the resident pug.
Janna: This $5 pair of vintage costume earrings is a little more bling than I usually go for, but the dainty construction and geometric shape will create a subtle '60s effect.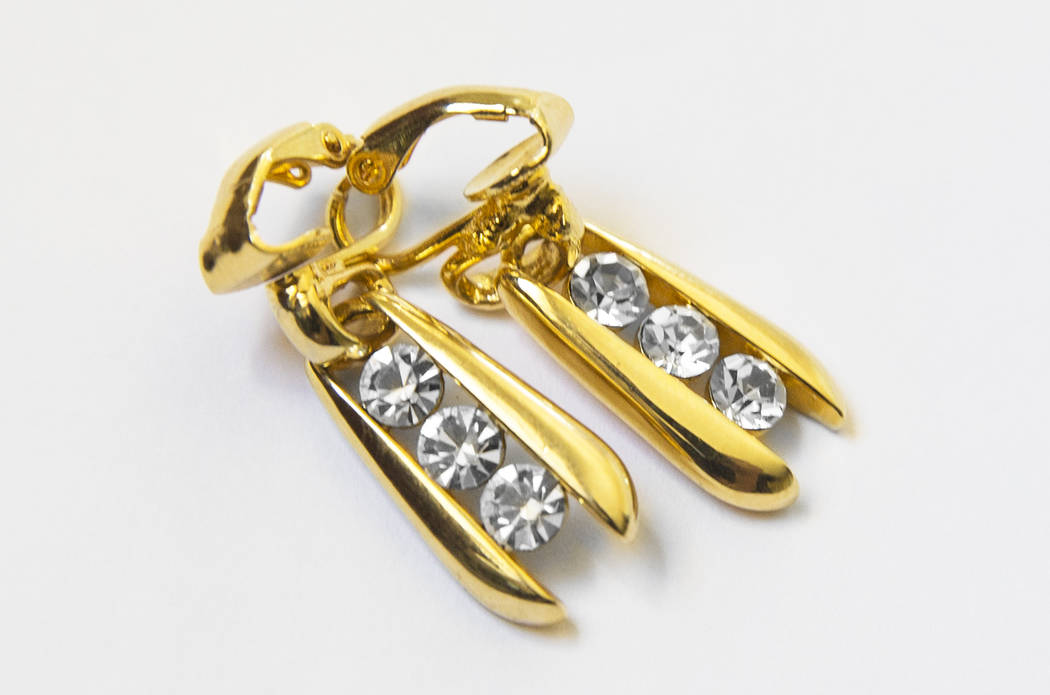 Kelcie: Since I'm always a sucker for androgynous clothing with just a hint of Seinfeld normcore, I went for a $15 striped polo shirt. I plan to wear it with a pair of high waisted jeans and white sneakers.
Katelyn: I've been on the hunt for the perfect summer tote, reminiscent of '60s California beach style. Lucky for me, I found one actually from the '60s for only $8, and it's the perfect size to fit sunscreen and a good book to read by the pool.
Cleopatra's Treasures, 1520 S. Main St.
From the outside, Cleopatra's Treasures doesn't look like much. Located in a strip mall along South Main Street, it's a shop that would be difficult to find unless you were deliberately searching for it. But the treasure in the rough is undeniable when you step through the door and are immediately greeted by vivacious staff and Egyptian-themed decor.
The store is reminiscent of a Buffalo Exchange but with better prices. With a high-quality selection of salient items, Cleopatra's is also a destination for Burning Man attendees, says Ava Albanese, lead sales associate. "The pieces here are one of a kind," she says.
Cleopatra's Treasures may be thinking globally when it comes to theme and ambiance, but if you're acting locally and thinking globally, it's a store you definitely won't want to miss.
Janna: Ava pointed out this $10 ring and said it was her favorite item in the shop — and I had to agree. Can't wait to pair the flower-power turquoise ring with blue-tipped nails.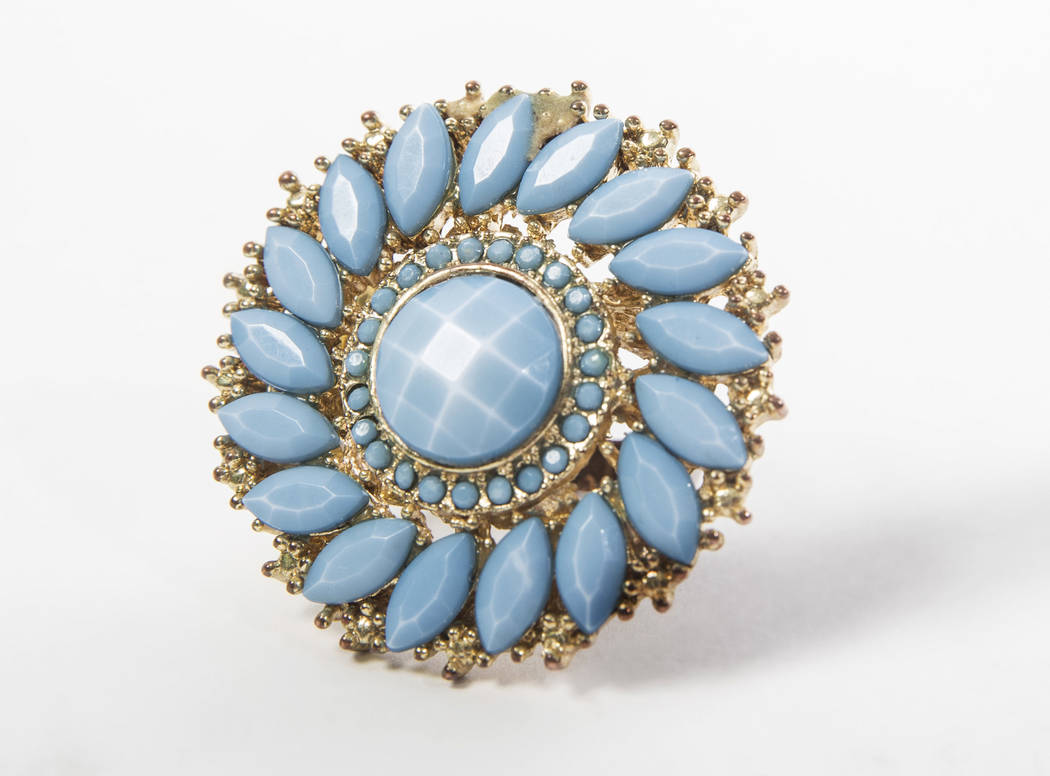 Kelcie: Finding something I liked for $5 or less would be challenging, I thought, but it didn't take long to spot a pair of black leather boots in my size. As if I need another pair of black boots! At only $4, though, I couldn't resist.
Katelyn: At first glance, this sheer, red blouse for $15 didn't strike my fancy, but my love for '70s fashion inspired me to try it on. Now I have the perfect shirt to pair with my denim a-line skirt.