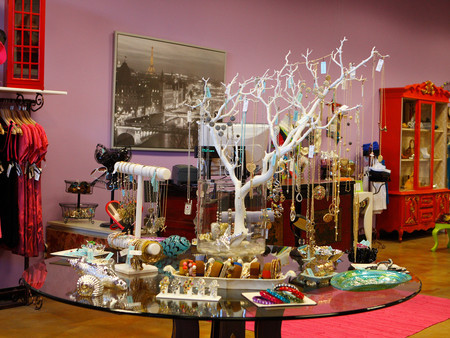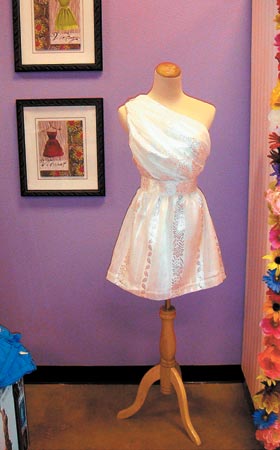 Patty and Juan Barba have bestowed Las Vegas women with a long-awaited gift. Trendy clothes at cheap prices in a chic boutique atmosphere. It's one of those concepts recessionistas fantasize about while waiting in a 15-minute line at Forever 21 or just as the cash register rings up at the Forum Shops or after running into the third woman wearing the same H&M top as her.
One stroll through any of the three Patty's Closet boutiques and you can't help but ask yourself, "Why didn't anyone think of this earlier?"
"Bebe, Arden B, Marciano — they all get their (merchandise) from the same place as us," says 31-year-old Patty. "But we don't mark it up like them. When I found that out all I could think was, 'I've been cheated!' "
At Patty's Closet customers feel like they're getting the steal, not vice versa. Jersey wrap dresses with ruched sleeves cost $20. Denim rompers come in at $23.80. Accessories don't exceed $13. Present a $10 bill with your faux lashes and lip gloss purchase and you'll leave with change. Even Patty's Couture Coset, a small wardrobe of cocktail dresses, doesn't boast a price tag more than $100.
On top of the budget-friendly prices you have exclusivity. Merchandise is unique to each store and they only carry six of each item. Two smalls, mediums and larges.
And then there's the actual boutiques. Eyes don't know what to feast on first, the clothes or the deco. Patty personally selects each item — Salvation Army bureaus, regal, wall-sized mirrors, sparkling chandeliers, cushy benches — then styles them up with her crafty signature. The end result is like an oversized, frosting-flooded cupcake to the eyes.
Patty and Juan opened their third boutique in only a year and a half Saturday in Henderson. (The other two are in the southwest part of town.) While Suze Orman may have vehemently advised against opening a business in the thick of a recession, one could argue the timing of the Patty's Closet boutiques couldn't have been more poetic. Women who downsized their shopping budgets, while kicking and screaming, have found solace here. The line that snaked into the parking lot an hour before the Henderson grand opening was proof.
As Las Vegas locals, Patty and Juan were well-acquainted with the theory that you have to bet big in order to win big. After the Small Business Administration rejected their business plan, the couple said "screw it" and maxed out every credit card willing to approve them to finance the first boutique.
"You settle when you're afraid," says Patty. "We weren't afraid."
But at one time she was very afraid, holding on tight to her modest income from the Pink Taco at Hard Rock Hotel. Until Juan, who crossed the Mexican border at age 14 and worked his way from busboy to butler in the casino service industry, nudged her into a risk-taker.
"I was born here in the states," says Patty, a Mexican-American. "It took my husband, an immigrant, to make me realize the American dream."
Patty became a single mother to a child with Down syndrome at age 18. She knows hard times just as well as she knows fashion and attributes a blue collar upbringing to her conservative pricing markups. She refers to it as one of a woman's greatest thrills, spending very little on something that looks like it cost a lot.
The formula has undoubtedly paid off. "For the first store, we were almost begging the owners (of the building) to let us in," says Juan, 36. "Now, we're turning down The Palazzo."
According to him, The Shoppes at The Palazzo approached the couple to rent a vacant space, but the third store in Henderson was their main priority at the time. That, along with a kids' store, haven't been ruled out as future ventures. As long as they can still greet customers by their first names, Patty and Juan are open to it.
"I just don't want to get too big," says Patty, who is introducing her own line, Be Couture, at the Henderson store. "Because when you get bigger and bigger, the customer gets smaller."
The latest Patty's Closet is located in Henderson at 10271 S. Eastern Ave., Suite 115, 233-6452