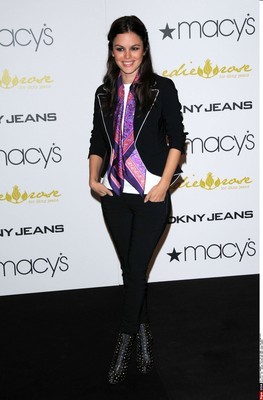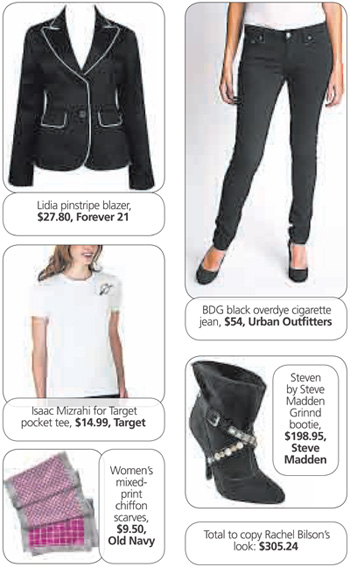 Rachel Bilson is slowly but surely becoming the new Nicole Richie. That's not to say you can expect her clavicles to protrude further than her breasts anytime soon. Rather, the starlet who was commonly referred to as "the other girl on 'The O.C.' " is stealing the spotlight for her style. She could easily pull a Richie coup — abandon her stylist and become a Bazaar cover girl — in the next couple years.
Bilson still dons the occasional predictable dress on the red carpet, but when she liberates her fondness for flair she truly sets herself apart from her peers. Case in point, this mostly black ensemble.
The tuxedo jacket may be a hot commodity for fall, but it's a garment that should come with a warning label: Proceed with caution. You can easily look as though you left your top hat and black cane in the car if you're not careful. But, Bilson pulls it off marvelously.
Instead of going full throttle with a menswear nod, she throws in two pieces from two other style sets. The printed scarf is purely boho while the studded ankle boots are undeniably motorcycle chic. What's even better, Bilson looks like she's not trying too hard. The look probably took careful consideration and planning — she wore it to launch her Edie Rose Collection for DKNY Jeans — but it has an effortless tone.
The starlet did the one thing with this outfit that fashion critics respect most. She took a risk. If she abandons her "safe" looks entirely, expect Bilson's name to be mentioned with the likes of Kate Moss, Richie and the Olsen twins soon.
To copy Bilson's look, consider these pieces, all available locally. You, too, can stand out from the crowd with just over $300.