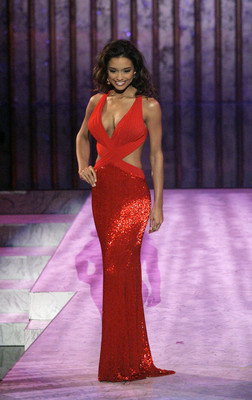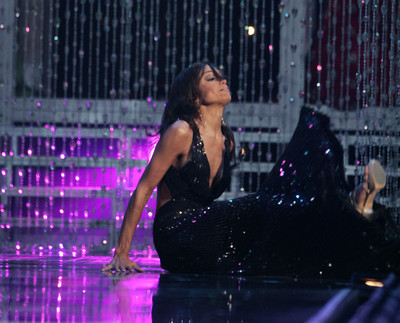 If Miss America is the girl next door, consider Miss USA the girl next door to her. She lines her eyes a little thicker, hikes her skirt a little higher and turns heads a little faster. But she also falls from grace a little harder. Luckily for the current Miss USA, Rachel Smith, her "fall" bruised her butt more than her image.
During the evening gown competition for Miss Universe in Mexico City, Smith slipped on the train of her Roberto Cavalli gown and plopped to the floor. Moments later, a fan posted her fall on YouTube. Now that she's relived it several times over, Smith calls it a "humbling experience" and expresses all the pageant positivity that women in crowns usually do. Her parents' guidance taught her to recover quickly, it made her thankful for the things she has, etc.
But then she throws a curve. "I wish I would've worn the red dress at Miss Universe, too," Smith lamented. The red dress she refers to is the same one she donned to secure Miss Tennessee USA and Miss USA crowns. (Pageant dressmaker, Sherri Hill, designed it.) The 22-year-old committed what many fashion experts would consider the ultimate faux pas — a dress repeat — and her one regret was that she didn't make it a threepeat.
"I know it's a beauty pageant, but it's not about how much you spend or who designed your dress," she said. "It's about the confidence you portray to the judges and I felt like a million bucks in that dress."
She uses the same philosophy with her personal style. Although the last year has brought relationships with designers such as Cavalli, Nicole Miller, Tracy Reese and Rebecca Taylor, Smith doesn't check labels before leaving the house. But if she likes something one of her beauty queen roommates (Miss Teen USA Hilary Cruz and Miss Universe Riyo Mori) and co-stars of "Pageant Place" wears, she has no qualms about asking to borrow it. Whose closet does she most covet? "Riyo's hands down," she said. "Unfortunately, we don't wear the same shoe size."
Smith compares her personal style to Jackie Kennedy Onassis. Like the fashion icon, she says she likes to keep things modest while still staying loyal to trends. The 5-foot-11 pageant queen leans toward bold colors and floral prints for spring but she pairs them with neutrals to keep things at a bearable volume. Smith tries to practice the same balance with her sexy scale. "You don't have to show everything to be sexy," she said.
And, with her beauty routine, she's learned that you don't have to apply everything to be gorgeous. Over the past year her demanding schedule has converted her from a makeup tote bag to a compact case. She also shaved an hour off her makeup regime, which she attributes to observing the bevy of professionals who have decorated her face. Her essentials include Nars eye shadow, Sephora Lash Plumper, Makeup Forever liquid foundation, Kiehl's Ultra Facial Moisturizer and Conair's 12 jumbo Velcro rollers.
But that's all just for curb appeal. "Beauty is a mental, spiritual and soulful thing," she said. "As time progresses, you're getting more beautiful and wiser."
Contact fashion reporter Xazmin Garza at xgarza@reviewjournal.com or 702-383-0477.
ON TV Miss USA 2008 airs from Planet Hollywood tonight on NBC at 9 p.m. (tape delay in Las Vegas). tiara tidbits Hobbies: I like extreme stuff: sky diving, surfing, scuba diving. Wanted to be as a child: Doctor Closet you'd like to raid: Jennifer Lopez for red carpet events and Angelina Jolie for day to day. Guilty pleasure: Any chocolate peanut butter dessert or "Nip Tuck," or both at the same time. Wardrobe essentials: A great pair of jeans. Vacation getaway: South Africa Signature accessory: I always wear a long, gold necklace; it looks good with my skin tone. Can't live without: My BlackBerry. Currently reading: "Eat, Pray, Love" by Elizabeth Gilbert and "The Pillars of the Earth" by Ken Follett In the garage: Volkswagen Beetle Dream car: Hybrid SUV Favorite band: U2 Cocktail: A glass of wine Junk food: Salty trail mix Best hair, male: John Legend Best hair, female: Gisele Bundchen Best splurge: Jeans Favorite designer: Rebecca Taylor Pets: A chocolate Lab named Zoe and I'm getting a toy Schnoodle.