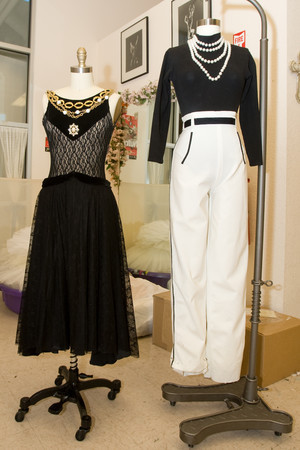 First, Shirley Maclaine played her, then Audrey Tautou. Anna Mougalis is the latest. While there have been several recent productions about legendary fashion designer Coco Chanel, we have reason to believe Las Vegas' version will dance circles around all of them.
The Nevada Ballet Theatre's "Timeless Innovation" production features a 24-minute program sure to garner the interest of anyone who knows the significance of two intertwined C's. "Coco" is the work of NBT's artistic director James Canfield. The '40s-set program came to fruition as part of a three-piece series he put together several years ago that told the stories of strong women who were just as influential dead as they were alive. Anais Nin, Edie Sedgwick and Coco Chanel.
"She put women in pants," Canfield says of Chanel. "That's a grand statement."
It's also the reason the dancer in the title role, Rebecca Brimhall, dons a pants costume. The designer's penchant for elegant comfort came through loud and clear when she took her customers out of cumbersome petticoats and restrictive corsets. Women the world over finally were able to breathe a collective sigh of relief once Chanel made ladies pants fashion-forward.
The fashion feat she's most lauded for is the little black dress, which is the other costume in "Coco." Chanel made women realize that, while a garment might appear dull on its own, the right accessories can act as a loud microphone.
Both "Coco" costumes do as Chanel would and pile on the jewelry. Do four bangles, a triple tiered pearl necklace, white turban and other baubles make leaps and twirls a tad more difficult?
"That's why she's been rehearsing with them on every day," Canfield says.
The program, performed to the songs of French singer Edith Piaf, also pays homage to Chanel's tweed skirt suit and her early days as a milliner.
The Nevada Ballet Theatre presents "Timeless Innovation" featuring "Coco" by James Canfield at 8 p.m. Saturday and 2 p.m. Sunday at UNLV's Artemus W. Ham Concert Hall.