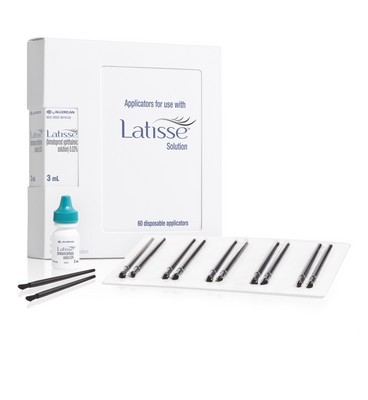 Longer, thicker, darker. Until recently those words had become as believable to women as "bigger, firmer, fuller." With the December FDA-approval of cosmetic prescriptions for Latisse, however — a treatment originally used for glaucoma until patients discovered it caused eyelash growth — the claim is now reality.
Judi Hynds, 62, has been using Latisse drops for about six weeks and her lashes have extended so much people have asked if she's wearing falsies. "That's what people look at when they're talking to you," she says. "That's why it's a huge part of our makeup (process)." Hynds began using Latisse after samples came into her place of employment, Horizon Ridge Wellness Clinic. The results have turned her into a loyal follower.
At about $120 (depending on the pharmacy), Latisse prescriptions come with one bottle of eyedrops and 60 applicators. One applicator for each eye. Patients squeeze one drop onto applicator brushes and smooth the solution across upper eyelids nightly. In as little as two weeks noticeable growth can be expected, with full growth anticipated at 16 weeks.
Latisse doesn't offer the quick-fix that false lashes and lash extensions tout as patients play the waiting game for results. For most women, though, having privilege to the assertion "they're real" while batting a set of long, thick ones quickly instills patience.
According to Dr. Andrea Fong of DermaTherapy in Summerlin, it better also instill persistence. "If you stop, the lashes revert back," she says. It takes time, but the dramatic effects achieved eventually will return to the "before" lashes that motivated the treatment in the first place. Reason being, Latisse stimulates the hair follicles on the lash to keep growing longer so the lashes don't fall out as fast. Discontinuation stops both the growth and the prevention of losing existing lashes.
Fong's office has provided Latisse to patients, with fills done in-house, since mid-March with enthusiastic reception among clients.
Unless patients have history of eye fluid trouble, most gain approval for the cosmetic Latisse prescription. Side effects are very rare and go away with discontinuation. They include darkening eyelids, itchy eyes, redness and possible darkened iris' among people with light-colored eyes.
Dr. Spencer Quinton, optometrist at Vision Source Green Valley/Henderson, has treated two patients with Latisse. Both happened upon the treatment while visiting his office for optical reasons, but as word gets out Quinton's waiting room soon could resemble the corner salon's. "They won't need any false lashes or extensions anymore," says Quinton.
Horizon Ridge Wellness Clinic, 938-0190; DermaTherapy, 796-7546; Vision Source Green Valley/Henderson, 889-3937