October 5, 2007 - 9:00 pm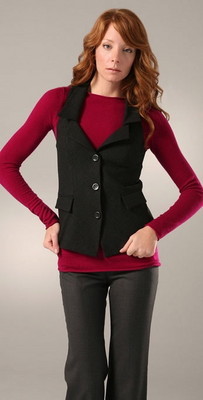 Don't get scared when the fashion magazines tell you it's time to add some masculinity to your wardrobe. Mastering menswear has little to do with invading your boyfriend's closet and more to do with injecting serious attitude into your feminine attire. Throw one masculine piece into the mix and watch as your step gets a bit of a swagger. Tack on a couple more and you could soon be reaching for the stogies to complete the statement.
Add a heel to an oxford or wing tip shoe and you have the difference between dull and dynamite. The slimmer and higher the heel, the more feminine your masculine shoe becomes.
For garments, look for a tailored vest to incorporate just the right flavor of masculinity to your office gear. Remove the undershirt and/or jacket and you have the perfect piece to chaperone you to cocktails.
Last but not least, a hat, specifically a fedora, will man up your outfit faster than you can say Annie Hall. Just make sure the rest of your look agrees with this seductive but tricky piece of head gear. Pair it with pants and keep the feminine frills at a low frequency.
REVIEW-JOURNAL