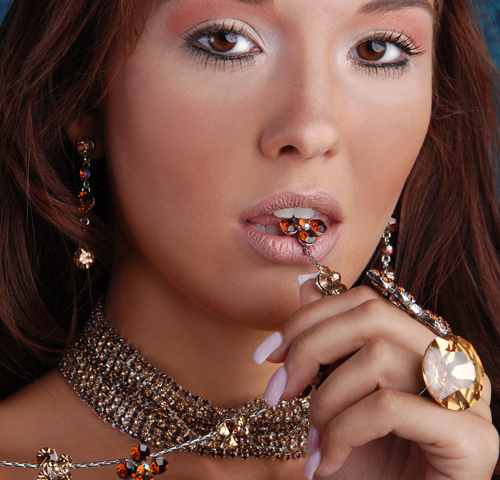 Miles of Style: Gold, silver and semiprecious stone jeweler Kari De Mexico has opened its first Las Vegas location at Miracle Mile Shops at Planet Hollywood. The store features original gold, silver, diamond and semiprecious stone designs. TAGS Evolution, a jewelry and accessory retailer, also has opened. Merchandise features Swarovski cut crystal jewelry lines, handbags, optical wear, crystal accessories and timepieces. Prices start at $20.
Personal Appearance: Designer Georg Roth will make an appearance from 3 to 6 p.m. Saturday at Mojitos at Wynn Las Vegas. Roth will be signing his limited edition shirt collection designed for country music singer Sean Patrick McGraw, who will perform in store.
Neimans News: Check out the evening gown trunk show today in the Couture Salon at Neiman Marcus. Neimans also hosts a David Yurman New York Stories trunk show from 10 a.m. to 5 p.m. Friday. Meet interior designer, lifestyle expert and author Moll Anderson at her book signing from 1 to 4 p.m. Saturday. Zachary Prell makes a personal appearance from noon to 4 p.m. Saturday.
Watch Out: Watch Station International has opened at Fashion Show mall. The store makes shopping for a watch a personal experience. The opening follows the launch of watchstation.com.
Now Open: A new Sephora beauty store has opened at the Forum Shops at Caesars. The new store is 8,925 square feet and features more than 13,000 products from more than 200 brands. This is Sephora's 300th store.
Giving Back: Aquae Sulis, the spa at JW Marriott, hosts 12 Days of Giving now through Dec. 16 in which 10 percent of sales more than $50 will go to participating local charities and nonprofit organizations. Three Square food bank, Easter Seals Nevada and Opportunity Village are among the beneficiaries.
Pretty Partnership: Italian fashion brand Marni will collaborate with H&M for a spring collection. Available March 8, the line for both men and women will include clothing and accessories.
Fashion Show: Check out the Cultural Fashion Show at 11 a.m. Dec. 17 at the Las Vegas Natural History Museum, at 900 Las Vegas Blvd. North. Southern Nevadans will model fashions representative of their homelands.
Western Wow: Visit Pinto Ranch from noon to 1 p.m. today for autographs and photos with select members of the Cinch team. Check out the Old Gringo trunk show Friday and Saturday. And, Pinto Ranch fashions can be seen live at 1, 3 and 5 p.m. Friday through Sunday on the runway at Fashion Show mall.
Sak it to Me: Adopt a puppy or kitty from 10 a.m. to 4 p.m. Saturday at the Saks Fifth Avenue mall entrance. Saks also holds a three-course luncheon at the Four Seasons' Veranda Restaurant on the art of fragrance combining at noon Tuesday. Guests get a $20 Saks gift card, plus a gift from Jo Malone. Cost is $59 per person. Call 632-5121 to reserve a seat.
On the Town: XTC, a men's and women's contemporary and modern fashion boutique, is now open at Town Square. Bohme Boutique, with collections of denim, tops, dresses and women's accessories, also is open.
Wear the Web: Fruition Las Vegas has relaunched its website, fruitionlv.com, as an online destination for designers, writers, stylists and photographers to express views on inspiration, fashion, the arts and consumer culture.
Fashion Forum: Salvatore Ferragamo has reopened inside the Forum Shops at Caesars after a redesign.
Stylish Sound: Las Vegas lifestyle clothing brand Billionaire Mafia announces the expansion of its business with the launch of Billionaire Mafia Entertainment, an independent music label and entertainment company.
Now Open: Patty's Closet fashion boutique has opened its fifth Las Vegas store, on the northwest side of town. The franchise owner is Melissa Duran, formerly of KLAS-TV, Channel 8. The northwest store is at 7010 N. Durango Drive, Suite 120. Another Patty's Closet has opened at Town Square.
New Nike: A new Nike factory retail store has opened at Silverado Ranch Plaza.
Style Site: StyleSeat.com is a new website that connects consumers with beauty industry experts. Offering an environment for small and large businesses, StyleSeat showcases beauty professionals' portfolios and provides them with tools to build their businesses.
You Glow Girl: Glow, a Mandara Spa, has opened its first location at Tropicana Las Vegas. Glow's menu includes more than 50 treatments.
Celeb Style: The Kardashian Khaos boutique is now open at The Mirage. The "celebrity lifestyle" boutique offers exclusive items, including the products the Kardashian girls and Kris Jenner own, represent, market and endorse.
Chic Charity: Log onto the newly launched communitycollection.com, an e-commerce destination that offers the latest fashions while giving back to those in need. The site connects fashion brands with charitable causes by donating 20 percent of each purchase to a philanthropic cause paired with the designer.
On the Plus Side: Charming Shoppes Inc., a specialty plus-size retailer, is pleased to announce that consumers shopping for plus sizes around the globe will have online access to fashion brands such as Lane Bryant, Cacique, Catherines, Fashion Bug and Loop 18, at Sonsi.com.
On Air: Local image consultant Lauren Rubeli now hosts a radio show on VegasKool.com called Image Strategies. Tune in for all aspects of image from 5:30 to 6 p.m. Wednesdays.