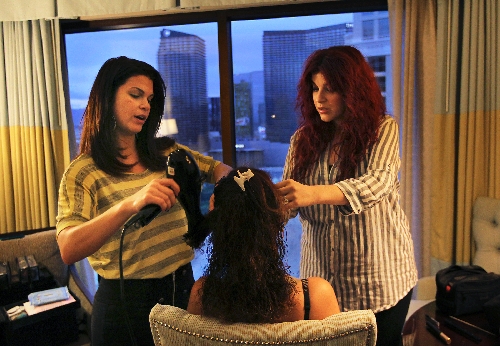 The two women behind Your Beauty Call have been called Indian wedding specialists, pinup photo shoot specialists and vintage bride specialists. A convincing case, in the form of an "after" shot, can be made for each claim.
When it comes down to it, though, Janine Cali and LaVey Ortiz-Kindred are hair and makeup specialists. Period.
The mobile hair and makeup team met while working at the Salon at Canyon Ranch almost 10 years ago. Both later worked at COLOR, a Salon by Michael Boychuck at Caesars Palace when Ortiz-Kindred, 30, found the courage to leave the security of a salon.
Her last day before branching out as an independent makeup artist was New Year's Eve. For a beauty professional, the day holds significance because it's often the busiest day of the year. For Ortiz-Kindred, who is now married and six months pregnant, it represents the best business decision she ever made.
Cali, 32, got pulled in shortly after. The single mother of two was a little more gun-shy.
Ortiz-Kindred had a big job of 16 girls and called on her old friend. Together, the two produced Photoshop results, which led to the kind of idea entrepreneurs never forget.
That was three years ago. The two have been partners ever since, making women look beautiful in the privacy of their hotel rooms, chapel salons and master bathrooms.
There are a lot of reasons Your Beauty Call, a play on "booty call," could have failed. The economic crisis was still fresh and unemployed beauty professionals were plenty. But the women attribute their success (depending on the time of year, some of their appointments are booked out a year) to two things: mobility and the celebrity factor.
As artists representing Caesars Palace, it wasn't unusual for the two to do hair and makeup (each service starts at $100) for celebrities making appearances at Pure. By the time Your Beauty Call launched, their resumes already included every Kardashian sister, Cindy Crawford, Sharon Stone, Kelly Osbourne and many more.
When clients have a magazine tear of Kim Kardashian, their most-requested, it helps that both women can say they've worked on her.
"There's even times when I've done the makeup in the picture," says Ortiz-Kindred.
A lot of their business comes from out of town brides with bloated wedding budgets. Cali says they choose Your Beauty Call for its distinction.
"We don't market ourselves for the cheesy bride. We market ourselves as red carpet celebrity hair and makeup," she says. "If you want little tendrils, I'm not the hairstylist for you."
After splitting from COLOR, the women continued to pick up celebrities.
The last time Ortiz-Kindred worked on Kris Jenner, she was given clear direction on her smoky eyes: "I don't care how old you think I am," the reality show personality told her. "If you think it's dark, go darker."
They work regularly with tattooed pinup model Sabina Kelley and hope to work on Coco now that she's headlining "PeepShow." And, for Playboy models Jayde Nicole and Claire Sinclair, Your Beauty Call offered free service in exchange for a Twitter shoutout.
As for advice Ortiz-Kindred can give other aspiring makeup artists, she doesn't really have any because her experience was so "serendipitous."
She was in cosmetology school when her salon's only booked-full makeup artist pulled a no-call no-show. Ortiz-Kindred stepped in. At the end of the day, her boss told her she had a job as soon as she graduated.
Her original career aspiration, planted during a "goth phase," was to become a mortician. Cali's was to deliver babies in a nursing uniform. Both are happy neither panned out.
They're even more happy with how they'll be spending New Year's Eve this year. They gave themselves the day off. For no other reason than simply because they can.
For more information on Your Beauty Call, log onto yourbeautycall.com.
Contact Xazmin Garza at xgarza@reviewjournal.com or 702-383-0477. Follow her on Twitter @startswithanx.
GET THE LOOK
For anyone wanting a professional hair and makeup look without the cost, Janine Cali and LaVey Kindred-Ortiz offer a few tips.
Hair: "Braids and buns are really in and really easy," says Cali. She suggests a do-it-yourself sock bun for a clean, chic look or a messy fishtail braid for an edgier look.
Makeup: "Do it in a darker room so you put on more than you're used to," says Kindred-Ortiz. Lashes will "instantly change" your look and a burst of pink or coral lipstick are party-ready.