Beauty trends make transition from runway to everyday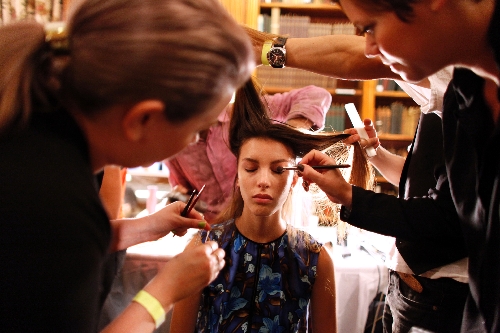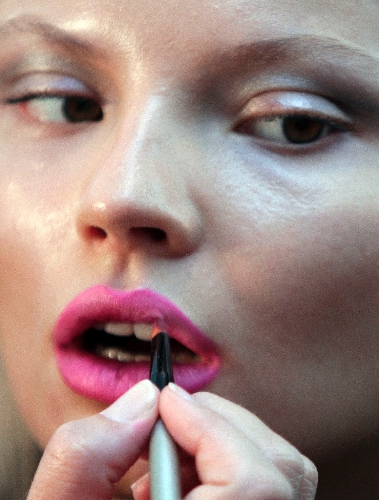 Spring beauty will have ladies puckering up. Not only to give lips a big, bright spotlight, but to kiss false lashes and blush goodbye. The look this season will be quick, easy and exciting.
Before you do anything, though, keep in mind this rule of thumb.
"You have the runway or the real way," says local makeup artist Kim Katunis of Square Salon & Spa. "The runway is the inspiration. Tweak it to your needs for the real way."
Case in point, your pucker. The runways called on bold shades, such as construction-site orange, Santa-suit red and Pepto pink, to paint lips. An office version might infuse these with a topcoat that will tame the look considerably.
While the "Mad Men" influence has given lips that bright red hue for several seasons and a resurgent '80s has meant bright pink lips, the real standout here is orange. Recent seasons made it a favorite for adventurous eyes, but using it on lips is new. Like choosing red lipsticks, the veins in your wrist act as a compass.
Blue veins suggest leaning toward a cooler shade. Green ones mean warmer oranges will best flatter you.
When your lips work this hard, the rest of your face can take a break.
"Nobody used blush," says Katunis. "It's almost like it's completely out of style."
Even Kim Kardashian, famous for her loyalty to NARS' pink Orgasm shade, may embrace bare cheeks. Instead, Katunis says, it's all about the contoured look. The practice of defining the face's bone structure with different shades of makeup isn't as hard as it might seem.
Katunis recommends using the example provided in late makeup legend Kevyn Aucoin's "Face Forward" book as a guide. It shows exactly where to highlight and darken to create the perfect contour, a technique regularly featured on the famous faces of Jennifer Lopez and Celine Dion.
Another big change for spring makeup is in the lashes. No more high-glam here. If you do faux lashes, go for a natural length and volume. The rest of the eye will boast a little sparkle, but nothing disco-standard. Many beauty lines launched a line of liquid metals special for this. These cream shadows, such as Chanel's Illusion D'ombre Long-Wear Luminous Eye Shadow need just a dab on the ball of the lid to shimmer things up.
The rest of the face will take a cue from those eyes. It's all about the dewy look. Katunis recommends NARS Copacabana illuminizer or MAC Strobe Cream under or over foundation to achieve this favorite-for-springtime face. "The key," she says, "is no powder."
Once you have the face dewy, the cheeks contoured, the lashes au naturel and the lips the polar opposite, you can get started on your hair. That ombre effect of one shade fading into another isn't going away this season. But it has a bit of a twist.
"We're transforming it by bringing it around the face, toward the back and heavy tips in front. It's like a veil," says Michael Boychuck, celebrity hairstylist and owner of COLOR, a Salon by Michael Boychuck at Caesars.
Thanks to celebrities such as Lady Gaga, Nicki Minaj and Katy Perry, the next trend involves every color of the rainbow. Boychuck has found his clients want this trend, but don't want to take quite the leap those pop stars have committed to. Extensions provide the solution. Just a sprinkle still makes a colorful, edgy statement.
Longer hairstyles will get sporadic layers to add movement and texture, while bangs maintain a presence for another season. Keep them above the brow, says Boychuck who likes that this trend doesn't leave the face so exposed with pulled back looks.
Speaking of which, ponytails are back in business. Ever since Sandra Bullock and Gwyneth Paltrow opted for ponies at the Oscars, clients want the same styles. Variations include the slipknot, which is a ponytail that hasn't been completely pulled through its elastic and the topknot, a favorite of JLo's.
All have special appeal in our hot-climate city. Says Boychuck: "People will be using them at the pool a lot."
Contact fashion reporter Xazmin Garza at xgarza@reviewjournal.com or 702-383-0477. Follow her on Twitter @startswithanx.