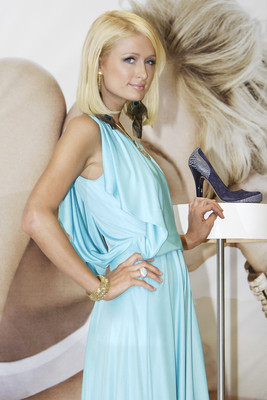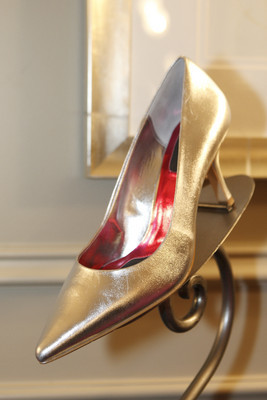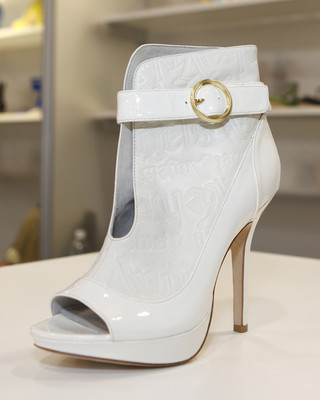 Women have spoken and the shoe industry has obliged: Pretty shoes are now comfortable. Or, at least their manufacturers are doing everything they can to make them so.
The World Shoe Association, the bi-annual shoe and accessory convention at Las Vegas Convention Center and The Venetian, was in town this week and comfort was the big trend generating buzz on showroom floors.
If you're picturing Crocs and nurse shoes, you have the wrong idea.
We're talking footwear with a strong fashion focus. Velvet Angels, a new line designed by former head designer of LAMB, Joe Ponce, boasts a few nose bleed-inducing heels named after bars in L.A. The line's bowed heels, flats and kitten heels all come with silicone-padded insoles.
"For me it was a natural transition because I come from an athletic footwear background," Ponce said. "And when I started designing the line my wife said, 'Why can't these ever be comfortable?' "
Some of the Velvet Angels shoes, sold locally in C-level and Shooz, hurt just to look at them and could consequently struggle with comfort claims. However, other shoe lines can rely on their reputations to uphold their claims, like the joint effort of Foot Petals and RSVP.
Foot Petals is known for its shoe inserts that relieve foot pain and RSVP is a comfort-concentrated shoe line. Their collaborative collection, RSVP Cushioned by Foot Petals, is strictly sold on the Las Vegas-based retail shoe site, Zappos.com.
The Foot Petals Tip Toe and Haute Heel inserts are sewed into each of the shoes' sock liners to add a feel good element to each shoe. The line launches the end of August.
Paris Hilton's line of shoes, Paris Hilton Footwear, may include sky-high platform stilettos but even the heiress has taken steps to improve the wearability of her shoes. A cushy "comfort heart" is inside the inner sole of every shoe to make them viable options for women who "are on their feet all day."
Whether these lines hold up to their claims remains to be seen. But, rather than have you empty your purses testing each out, Shoetube.tv does the work for you. The online video channel aims to bring women together through their love of shoes. Part of its vast shoe coverage includes testing shoes' wearability and reporting the results.
Host Jill Hodges, who grew up in Las Vegas, reported from WSA and took note of the comfort efforts among manufacturers. A life-long shoe addict, Hodges has worn foot-straining shoes so long she's damaged her feet to the point she now needs corrective podiatry surgery. She plans to blog about it on the online video channel.
Her love-hate relationship with shoes makes it easy for Hodges to understand why women who watch Shoetube.tv are just as concerned with wearability as they are new trends.
"Chicks want to know if they're comfortable but they don't really care if they aren't," she said. "They just want to know what they're up against."