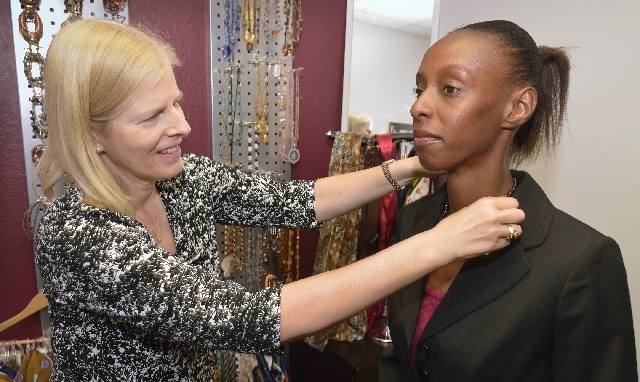 There's a certain way one must dress as a working prostitute in Las Vegas.
It's a style that is usually incompatible with an office job.
Natashia Wilson, 31, worked in the sex industry over half her life; she knew what to wear for the part. Having never held a real job, she was lost on how to dress for one.
So it came to be that she found herself in a boutique a few weeks ago, surrounded by supportive women, all giving her advice and encouragement on what to wear to her first interview.
They also gave her something she couldn't afford to buy: a business suit.
A single mother on a mission to remake her life, Wilson was overwhelmed by the feel-good vibes in that clothing boutique. She cried.
That happens frequently at Dress for Success, a nonprofit that fits unemployed women with business attire. Clients are referred to them through a variety of job programs at local nonprofits.
The idea is to boost women's self-confidence by providing them with a business suit to wear on an interview. The appropriate clothing, combined with a confident job candidate, might be the difference in whether a woman gets a job, says Paige Candee , who founded the local chapter of the national nonprofit in 2009 .
Vice president of 10e Media, a Las Vegas-based public relations firm, Candee was looking for ways to make a difference in the community. She was familiar with Dress for Success and thought the valley was a prime location for a chapter.
"It was all about empowering women, getting them back into the workforce and helping them to become role models," Candee says. "That was really what inspired me in the beginning."
Their inventory comes from donated clothing of all sizes. Dress for Success carries pantsuits, skirts, blazers, dress shoes, blouses, purses, jewelry and other accessories, everything a woman needs to dress for an interview. Women who are referred to them receive one suit plus shoes and accessories; if they land the job, they can return to get a week's worth of work clothes.
It's something people probably don't think about until they're in that situation, Candee says, but what do you do if you've been unemployed for a while and your wardrobe is lacking? And what do you wear after you land a new job and you're waiting to receive your first paycheck?
"I was excited about coming here because I am one of these girls who can't afford to buy a suit for an interview," Wilson says.
She volunteered for five weeks at Dress for Success, mainly so that she could learn some basic office skills in a friendly environment. It was part of her job training program through her referring agency, Green New Jobs.
It may seem like a small thing but it made a major difference in her life, Wilson says. She wants to speak out for other women who are like her.
When she first walked in to Dress for Success, she was nervous.
"I was scared, uncomfortable. I didn't know what to expect," she recalls. "I felt like they all knew my life, like I'm wearing it on the outside."
She worried that the staff would judge her. She felt ashamed about ever selling her body.
Wilson, who was born and raised in Las Vegas, got into prostitution when she was 14. She was a rebellious teenager and couldn't wait to be an adult. She also craved attention and thought she would get it through prostitution. As an adult, she realized her way of life hurt not only herself but her 11-year-old son, too. So one day, she got up in the morning and decided to quit. By nightfall, she was in a safe house. That was two years ago.
Though her old friends and her past pull at her, she fights against herself the most. It's not an easy lifestyle but it's one she knows. She reminds herself that it may seem like easy money but it takes a toll on her psyche and her son.
Wilson says she feels like she has changed so much in just a few weeks. She's not as shy and withdrawn anymore. While volunteering at Dress for Success, she focused on pushing past her discomfort and interacted with other clients. She talked with them, gave them encouragement when they needed it. She even gave her first media interview and aced it. Wilson credits the clothes.
"I think it's an amazing opportunity for women in need," says former Dress for Success client Debbie Bradbury, 60.
She was referred to the nonprofit when she told her JobConnect representative that she had some interviews but she didn't have the right clothes for them. For 10 years, Bradbury worked as an administrative assistant for a local company. She was laid off in 2010. Her daily work outfit was a pair of jeans and a logoed shirt but it's hard to find secretarial jobs that allow casual dress codes.
She shopped in thrift stores for work clothes but had no luck.
A few weeks ago, Bradbury had a suiting at Dress for Success. That's where a stylist pulls several outfits in the client's size and then helps her decide on the best one. The stylist helps clients find the right fit and color and then pairs the accessories and shoes with the outfit. The environment is designed to be much like a private, upscale boutique, Candee says.
While the staff is there to help select the proper outfit, suitings have been known to turn into retail therapy sessions.
"I was an emotional mess when I was in there with those girls," Bradbury says with a laugh. "They were so sweet and helpful."
That day, she left with a black suit. Bradbury landed a job with a local transportation company. Now, she works as a chauffeur on the Strip. She returned to Dress for Success and got several additional outfits.
Without Dress for Success, Bradbury says she doesn't know what she would have done about her clothes.
"Now, I'm beautiful, I'm wonderful, I'm successful," she says. "I hope that anybody who goes there will feel as blessed as I did."
Contact reporter Sonya Padgett
at spadgett@reviewjournal.com
or 702-380-4564.
Follow @StripSonya on Twitter.