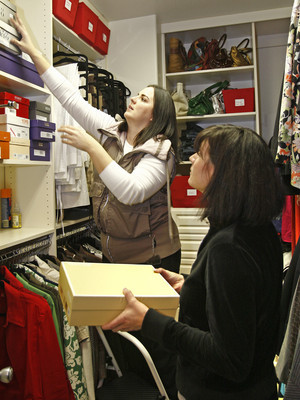 It's that time again. The seasons are changing and your natural inclination is to make your wardrobe do the same. There's this tiny little obstacle in your way, though: the economy. Lucky for you, Las Vegas has personal stylist Jenna Doughton who can take the Bermuda Triangle you fondly refer to as your closet and turn it into a completely new wardrobe. No malls, no daunting fitting rooms. Just you, an open mind and a couple day's worth of work.
"I didn't know any of the outfits we put together even existed in my closet," says Krista Darnold. "We restyled several months worth of outfits without even going shopping."
Doughton's concept of having clients shop their own closets is part of her Recessionista Package. Aside from careful closet editing, a look book is created as a final reminder of the goals and precise outfits you compiled together. From there, Doughton assesses your closet's inventory and comes up with new shopping goals when you start spending again. "It's crazy what a different set of eyes can see," she says. "For example, Krista has 10 zillion white cotton blouses."
The Recessionista Package, through which Doughton creates 75-100 new outfits, costs $750. Her clients would rather fork out that figure than the amount a day of shopping on the Strip can run them. For those who can't afford a personal stylist, however, Doughton offers a few tips. Implement these pointers and you'll soon be fielding compliments on your "new" wardrobe.
1. Inspiration Board: Before you start, pick up a few fashion magazines and tear out the looks you'd like to replicate. If you don't know the style you're going for, this is a sure way to discover it.
2. Borrow Someone's Eyes: Ask a brutally honest friend over whose style advice you trust and respect. Not only will they tell you to trash the polyester pantsuit, they'll also take note of the areas that are lacking, such as statement pieces or black slacks.
3. Make Three Piles: Once you start plucking away at your closet, be sure to separate the items according to those for donating, reselling and tailoring.
4. Get Creative: Dust off accessories and find new uses for them. Brooches update a neckline in no time and belts instantly renew silhouettes. Mix and match patterns like florals and stripes. Turn scarves into belts and hair ties. Find new ways to wear your old items.
5. Go to the Tailor: This part has nothing to do with fit and everything to do with change. Rather than trash your outdated, asymmetrical hemmed dresses, straighten out the hem for a new garment entirely. Hike up tea length skirts, remove sleeves from long-sleeve tops, change the buttons on cropped jackets. Before you know it, old clothes are unrecognizable.
For more information on the Recessionista Package, contact personal stylist Jenna Doughton at jenna@jennadoughton.com.