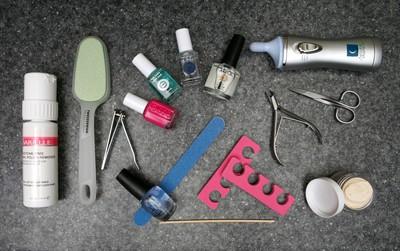 Chances are your feet are in desperate need of attention these days. They have been hibernating in fur-lined boots, patent platforms and suede ankle booties all winter long. It's time to let them see the light of day again.
Rather than slip the sandals over ungroomed feet, and likely scare a few innocent bystanders in the process, treat your feet to a more civilized means of showing them off in the warmer months.
For the woman who prefers to take matters into her own hands, she has the at-home pedicure. It's speedy, inexpensive and safe. For the more high-maintenance woman who would rather sport naked toes than get her hands dirty, the spa pedicure provides all the pampering she needs. It will take a little more time and money but the experience will make both well worth it.
Not sure which is right for you? Here's the breakdown for both types of pedis. It's all you'll need to know to give your feet the proper spring debut they deserve.
HOME FREE
Yes you can: "A lot of women feel like (at-home pedicures) are a big daunting task. They think they can't replicate it at home, but the key is just in removing dry skin," said Ann Buirid, managing partner for Artemis Woman, manufacturer of the Heel Smoother. Tools like the Heel Smoother used in conjunction with pumice stones and exfoliators will make getting rid of dry skin an easy feat.
Save it: A lot of spa pedicures start around $50, the amount you could spend on a new pair of sandals, and go all the way up to the high $100s. Aside from the advanced tools you may purchase (Artemis Woman Heel Smoother, $29.95, Sharper Image), your at-home pedi will cost you a couple cotton balls, an orange stick and an emery board: "Those are just pennies!" Buirid exclaimed.
Time is on your side: To plan a spa appointment, you have to book the appointment, drive to the spa, spend 50 to 90 minutes getting the pedicure, and then drive home and hope you won't ruin your polish while donning a pair of flip-flops. "When you do it yourself at home, it takes about a half an hour," Buirid said. The longest parts are soaking your feet and doing your nails."
Safe and sound: Unless you are very familiar with a spa's reputation and cleanliness, your safety from dirty tools is never guaranteed. If tools are used and reused without being properly sanitized, bacteria can spread and painful infections can result. When you're controlling every tool from cotton balls to orange sticks that your use, you have the peace of mind of knowing you're safe.
OOH LA SPA
Comfort zone: "It's a lot easier for someone else to do it than it is for you when you're all crouched over and in an awkward position," said Roxy Figueroa, salon manager of Canyon Ranch Spa Club at the Venetian. Not to mention, you get to catch up on your tabloid reading and sip on bottled water the whole time. Spas like Euphoria and The Spa at Red Rock have massage chairs so you can get a little work on the rest of your body while your feet are getting polished.
Rub it in: Let's face it, performing your own foot massage somehow isn't the same as having someone else take care of business. Plus, there's a reason you're asked to wear loose-fitting pants when getting a spa pedicure; your lower legs get to enjoy a fabulous exfoliation and mini-massage. Not only do you get to look good when you leave, but you'll be feeling good for a while, too.
Homework: Once your nail tech has finished your feet off, many spas are now having them send you home with a few maintenance tools. "We make our pedicures very personalized," Figueroa said. "Everything we use on them, we give to them." She's not just referring to the toe separators and emery board. Nail polish is included too!
Amenities aplenty: Most spas require a fee around $30 to enjoy the facilities (jacuzzi, hot tub, steam room, relaxation rooms, etc.) but if your service includes the fee, you get to enjoy the perks. The cost of your spa pedi will definitely cover the fee. As the saying goes, you get what you pay for. Extras such as champagne, fruit, tea, scalp massages, paraffin and fun treatments, such as the Ice Cream Pedicure at Brannon Hair Salon at the Hard Rock Hotel) can be added onto your pedi at a lot of spas.
Experience the experience: "The difference is in the experience you get when you come in," Figueroa said, referring to the skill level of the professional nail techs on her staff. Simply put, these people went to school to do it; you didn't.
at-home pedi recipe
If an at-home pedi sounds like it's for you but you're still not clear how to accomplish it, these tips from Artemis Woman should make things easier.
1. Erase old polish that may be causing your toenails to yellow. Remove using an acetone-free remover (try Barielle Acetone-Free Nail Polish Remover) and then clip away the long nails and remove jagged edges.
2. File like a pro. Grab your favorite emery board (we like OPI's) and start with the coarse grit to file and shape toenails. Then, flip to the medium grit to smooth toenail edges. Follow your toenails' natural shape and file in one direction to avoid weakening nails.
3. Create your at-home spa oasis. Fill your foot bath with hot water, river rocks and then add a mixture that contains 1 tablespoon honey, 1 tablespoon liquid soap,1 teaspoon vanilla extract and 2 tablespoons sweet almond oil and soak your feet for 10 minutes. Honey is a great anti-bacterial agent and locks in moisture. Soak feet for 10 minutes.
4. Exfoliate dead skin and rough calluses with a reliable tool such as the Artemis Woman Heel Smoother or Tweezerman Pedro Callus Stone.
5. Hydrate your thirsty feet with a foot moisturizer (try Artemis Woman Topaz Foot Butter) and massage into feet, ankles and calves. For an added bonus, slip on cotton socks and wear overnight.
6. Push back cuticles with an orange stick and clip them if you desire (try the Tweezerman Professional Stainless Steel Cuticle Nipper). Be sure to slip on toe separators to avoid smudges.
7. Be perfectly polished. First, prep with a base coat (try OPI Start to Finish or Essie First Base), then apply two coats of the polish of your choice and then the top coat (try Essie Good to Go). For the best results, apply one steady brush stroke down the middle of the nail, followed by one on each side. To keep polish from bleeding, dab cuticle oil skin such as Creative Nail Design Solar Oil surrounding the nail before applying color; however, keep oil off of the nail bed or polish will not adhere.
8. Erase mistakes with a cotton swab dipped in polish remover. Out of time? To quickly dry fingernail polish, dip your nails in ice water. The polish will harden much faster.
did you know?
If your nails aren't growing, mix 1 packet unflavored gelatin with 1 tablespoon almond oil. Store in an airtight container at room temperature. Massage into nails daily to help grow them long and strong.
To correct discolored nails, dissolve a tablet of denture cleanser in warm water and soak fingers until the stains disappear.
Are brittle nails a problem? Rub a waxy lip balm into nails three times a day to protect, condition and seal in moisture.
If you're tired of wearing nail polish you can apply white iodine to nails — it strengthens them.
You should never file nails right after a shower or after they have been in water. They will be too soft and will tear very easily.