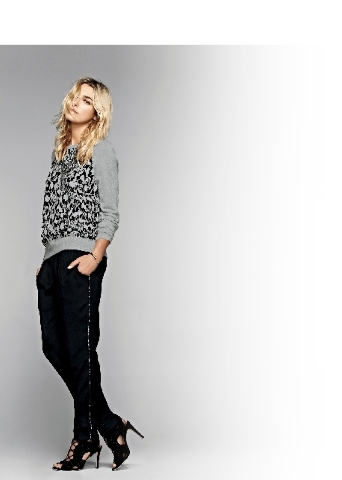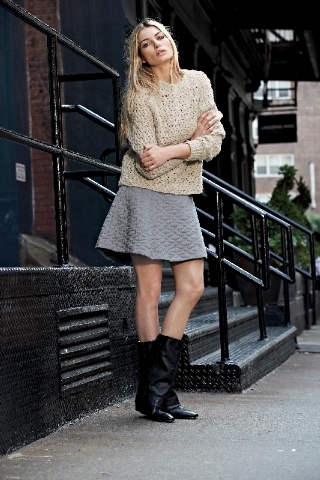 Forget that it's still hot enough for dangling earrings to burn your neck, fall fashion is here. As difficult as it might be to put yourself in an outerwear frame of mind, the trends of the upcoming season could change that.
If you want a succinct summary of 2013 fall fashion, just take a look at anything Balmain and Alexander McQueen showed on the runways.
At least that's Christie Moeller's suggestion. The local fashion stylist and blogger says those designer labels very well demonstrated the "perfect mix of chic and edge."
"A lot of designers did silk dresses with will leggings, heels and a giant baggy sweater over it," she says. "It's grandma chic meets grunge."
The shift, Moeller says, can be attributed to past seasons' superstructured and ladylike looks. People want something fresh and pairing a cocktail dress with cozy knits certainly accomplishes that.
If you're looking for one piece that captures the same theme, look out for decadent sweatshirts. Metallic and beading upgrade this piece that's otherwise known as a couch staple.
Beanies will also be big next season. The knit hats provide an easy way to balance an otherwise dressy look.
Other accessories that lend the same function include biker boots with metal embellishments, bracelets so heavy on the hardware they look like handcuffs and miniature handbags. Miniature, as in the mini-me of your favorite oversized bag. They're petite enough to fit inside a tote for a day-to-night transition.
For anyone not in the market for a new Balmain or Alexander McQueen dress, Patty Barba has a few suggestions. The founder of the budget-friendly, trendy Patty's Closet stores sees a fall full of cropped trousers and opulent tops.
Of course, black and white is still popular, as are houndstooth and plaid prints.
"Layering is always a favorite in the fall for our customers, especially because our weather is so unpredictable," she says. "It's always great to have a short-sleeved embellished top or even a fancy tank layered on top of a turtleneck paired with an amazing pair of trousers."
Trendsetters her shoppers look to for inspiration continue to be the Kardashian sisters and Beyonce, but Selena Gomez and her transition to womanhood seems to get their attention, too.
Over at Saks Fifth Avenue, shoppers find fashion ideas through their favorite TV shows, such as "Mad Men," "Boardwalk Empire" and "The Good Wife." That explains why these shoppers are veering more toward vintage-inspired silhouettes and suit and separates for the workplace.
A big trend here also includes combining textures and fabrics. Not too drastically, though. There needs to be "harmony." Hot colors at Saks include gray toes and black and navy, a clear departure from the hot neons of seasons past.
That said, the overwhelming favorite look is hands-down leather.
"Leather separates are great staple pieces for our Las Vegas mild winters," says Debbi Miles, marketing director at Saks Fifth Avenue Las Vegas. "This year the motorcycle jacket is a key piece in building your wardrobe. … It's a versatile piece that can be sexy or sensible worn over jeans, slim pants, slim skirts and dresses."
Contact Xazmin Garza at xgarza@reviewjournal.com or 702-383-0477. Follow her on Twitter @startswithanx.