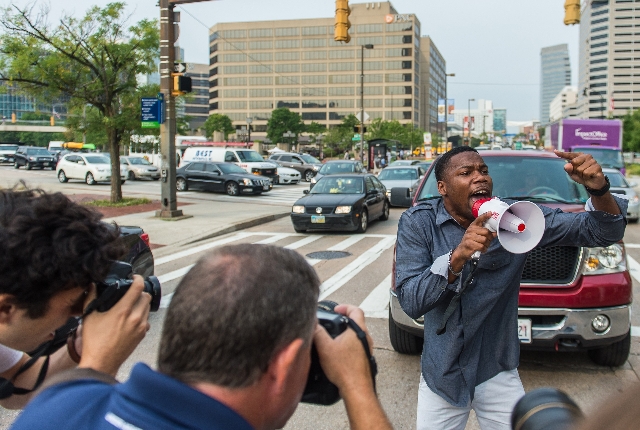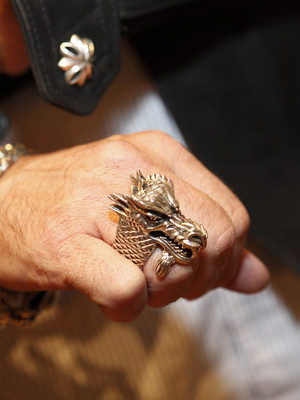 Mitchell Binder walks into Mojitos at Wynn Las Vegas looking like he owns two things: the room and a lot of expensive jewelry. As designer and owner of King Baby Studio, the company responsible for producing King Baby and Queen Baby jewelry lines, his loud presence makes perfect sense.
"(King Baby) comes from a term Sigmund Freud coined," Binder said. "It's a mental condition where the patient thought the world revolved around them."
The 51-year-old explains this while sipping from a can of Red Bull, his sunglasses propped on his forehead and his button-up shirt making little use of its buttons. The designer's self-crafted sterling silver jewelry decorates his fingers, wrists and neck, creating a significant contrast against his biker tan.
Binder is a walking advertisement campaign for the jewelry company responsible for blurring the gender lines. When King Baby originated, the collection felt as masculine as a one-armed push-up. Embellished chunks of sterling silver form bracelets, necklaces and rings that a guy who rides a "hog" would wear with pride.
Over time King Baby started to catch the eye of higher profile customers such as Kidd Rock, members of Velvet Revolver and Adrien Brody. Soon enough, women took notice and began dipping into significant others' jewelry cases before their own. Consequently, both sexes transitioned from bling to brute. Reacting to the demand, Binder supplied Queen Baby last year.
Today, Jennifer Lopez, Fergie, Rihanna and Jenna Jameson all count themselves as loyal customers. Binder claims the Hollywood attention doesn't impress him personally, but professionally he refers to it as a "great gift and asset." But there are two sides to the celebrity coin: the good endorsement and the bad endorsement. The former includes people such as Bruce Springsteen, members of Aerosmith and Tommy Lee. The latter is harder to get out of him but Binder eventually caves.
"I don't think Hulk Hogan wanting to wear it is a good idea," he said. "I'm just not a fan."
Binder probably thought he'd be the last person to exercise that kind of selectivity in his early jewelry days. Back in the '70s when the designer lived atop his 500-square-foot workshop, he just wanted to create the kind of pieces that would appeal to a guy who equally loved rock-n-roll and motorcycles. A guy like him.
Binder creates each piece with longevity, not fashion, in mind. He thinks of it as the distinction between King Baby Studio and its competition, which will prove an elimination factor during this testing economy. "It's a natural weeding out process," he said.
Every icon he selects — hearts, skulls, crowns — represents something personal to Binder. A Valentine's Day birthday supports his penchant for hearts. His biker lifestyle almost requires skulls (which he refers to as celebrations of life, not death). And the crown signifies the company name.
The fact that people have responded so well has turned the tables on the designer. Now the items he once considered his special little secrets have become trends. It's to the point that Binder can identify with Madonna when she doesn't want to sing "Like a Virgin" at concerts anymore. He'd rather not make another piece of jewelry bearing a skull, but he does because his passion is now a full-fledged business.
That said, Binder's not complaining. He knew his hobby had evolved into something pretty powerful a couple years ago. "I woke up and looked where I live and what I drove," he recalled of his Bel Aire home and Mercedes S63. "It was a dream that was real."
Contact fashion reporter Xazmin Garza at xgarza@reviewjournal.com or 702-383-0477.
binder bits Guilty pleasure: it's still smoking (Player's cigarettes) Favorite dessert: Pecan pie Vacation getaway: Italy or Maui In the garage: I built a bike with a Harley engine. It's an old-style Bobber with a suicide clutch Can't live without: Shorty, my dog Hobby: Riding Favorite band: Let's be safe and go with The Doors Celebrity crush: Sienna Miller Words to live by: Do the right thing