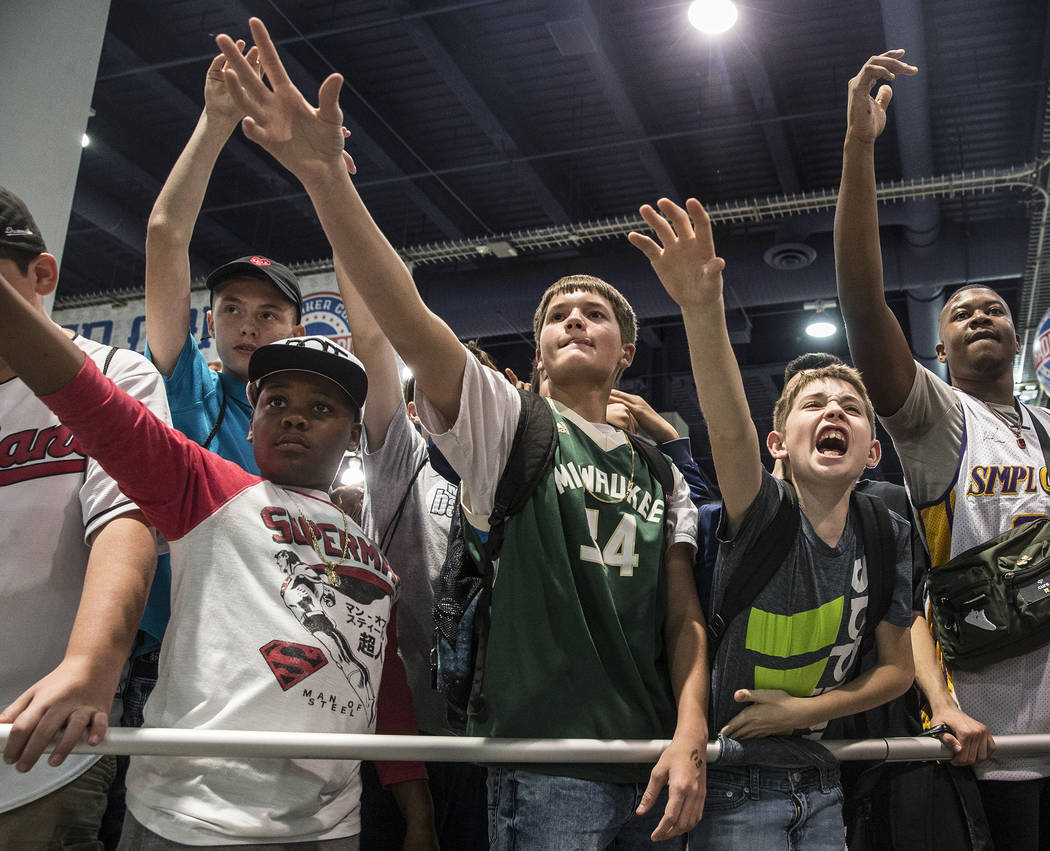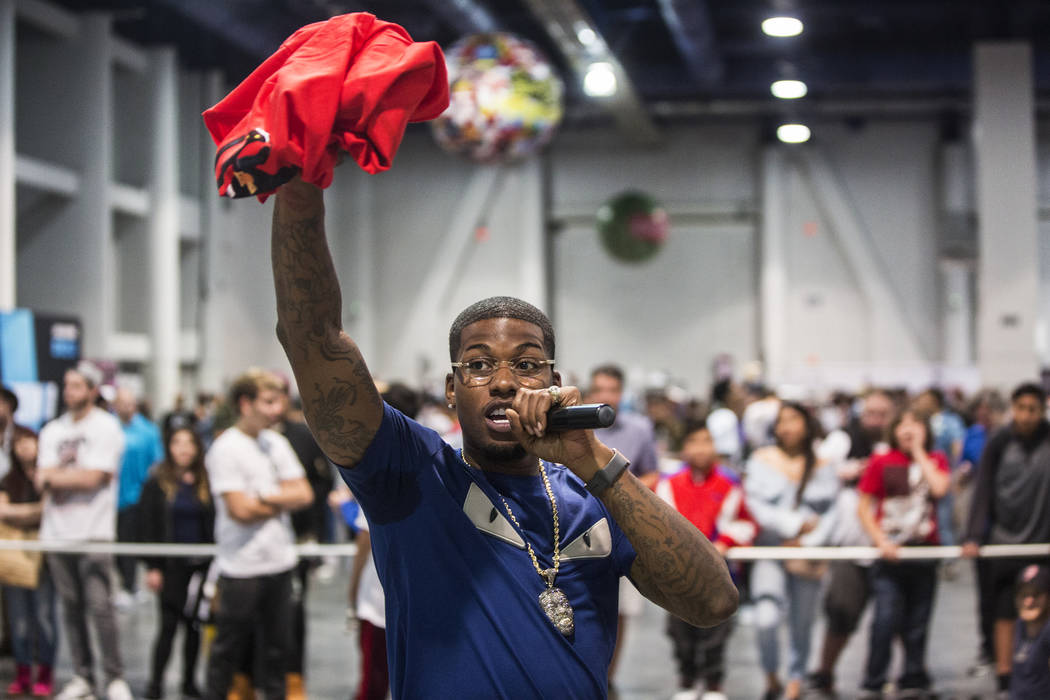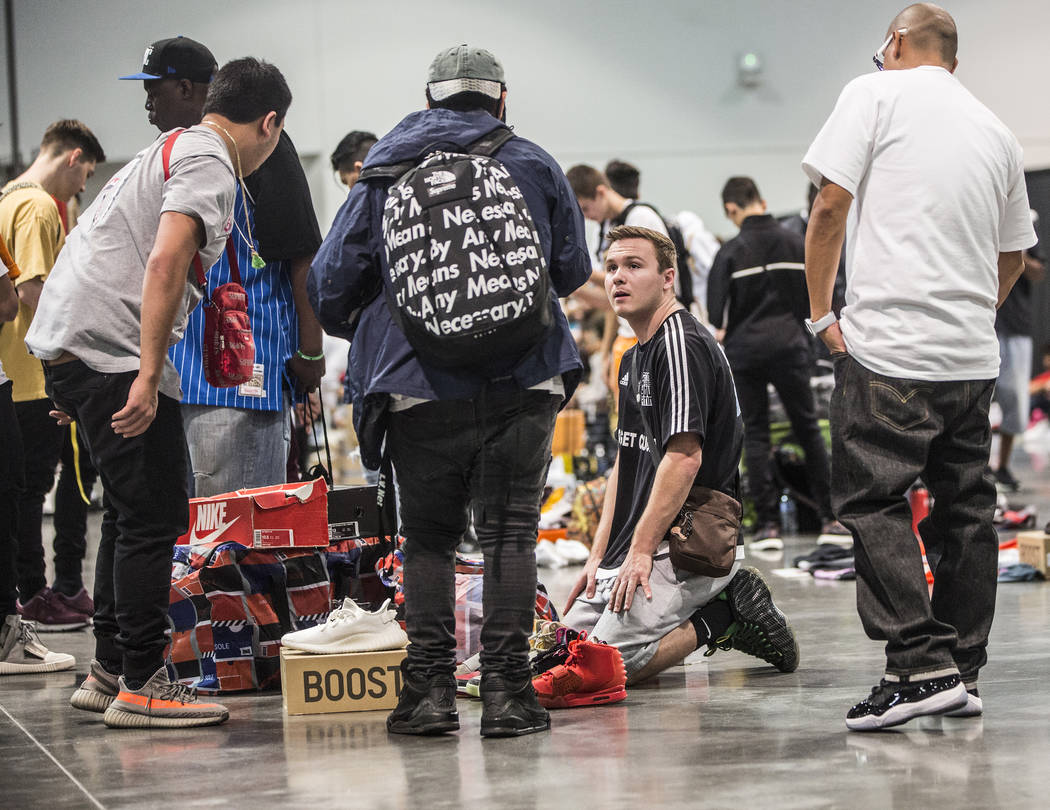 Jaysse Lopez, owner of Urban Necessities in the Boulevard Mall, brought some pretty amazing shoes to Sneaker Con, Saturday's inaugural gathering of sneaker connoisseurs at the Las Vegas Convention Center.
There were the Nikes adorned with Iron Maiden's name and logo, believed to be one of only 24 pairs produced before legal issues reportedly halted production. Even rarer was the one-of-a-kind sample pair created for Kanye West in preparation for his own 24-pair run to celebrate the release of his album "The College Dropout," valued at around $8,500.
But the shoes concerning him at this moment were the much more modest looking camouflage-green Air Jordan 4s with accents of black, white and orange. He had just acquired the unworn shoes on consignment and has no doubt he can sell them quickly for about $16,000. An outrageous figure to some? Sure. But Lopez says it's a steal.
"I could sell this for 30 grand, but it can take me seven months," he says confidently. "Whereas, I can sell this for 16 grand and it'll probably last 20 minutes."
Jonathan Ruiz brought Lopez the shoes after accepting them on consignment from someone on Instagram, who was representing another seller. If Urban Necessities succeeds in the quick sale its owner predicts, Ruiz will receive more than $13,000, a portion of which will go to his consigner, who will presumably take his own cut before passing their agreed-upon price to his own seller.
It's no secret that there's big money in sneakers. And between the kids who wait in line in the cold to buy a limited-edition release, and the wealthy fashionistas willing to pay hundreds or even thousands of dollars for a rare pair of shoes, there are plenty of middlemen. All levels were represented at Sneaker Con.
Lopez and other big retailers dominated the main space of the convention hall, with formal booths and large inventories. At the west end of the hall, past a small stage and a basketball net hosting free-throw and one-on-one competitions, was the other end of the supply chain — the trading pit. Devoid of booths or any other formal attractions, individual sellers simply spread out their limited selections on the floor in makeshift rows or piles, hoping to catch the eye of a motivated buyer.
This is where Zach Smith prefers to shop. Smith traveled from Dallas to pick up bargains he can resell at a profit. He came with a $40,000 bankroll and was on track to spend about $35,000 of it. He planned to sell everything for a profit, either through OfferUp online, to a high-end retailer or through a consignment shop.
"These guys don't know what these shoes are worth," he said of the sellers in the pit, clutching a pair of cement patterned Air Jordan 4 Retros. "These I bought for $160, I could probably sell them for $250."
Some in the pit were simply satisfied with any profit they could make.
Las Vegas resident Max Heinz, for example, was selling shoes he recently purchased in the pit of a Los Angeles show. Getting top value wasn't his biggest concern.
"I try to find steals in the trading pit, and I'll flip the shoe," he explains. "I'll even take a $10 profit. I'll take a $1 profit, as long as I'm making money."
That philosophy has helped the trader make about $3,000 a year for the past three years. It's not a fortune. But then again, it's also not bad for a 15-year-old. And it's been enough to inspire several of his friends to join him on his convention visits, and flip their own inventory.
Will they become sneaker moguls? Who knows. Lopez was once homeless, selling sneakers out of the trunk of a car. After starting Urban Necessities three years ago with a $40 investment, it's on pace to do $25 million in business this year.
"The resale side of (sneaker culture) is bigger than the retail side," he says. "And it's still on the way up."
The real thing
A mid-level pair of shoes at Sneaker Con, according to co-founder Yu-Ming Wu, sells for between $300 and $500. With stakes that high, counterfeiting can be a real problem. On Saturday, sneaker owners lined up to have an expert certify that the shoes they had bought, or were hoping to sell, were legit.
Bryan Mora manned a small table on the border between the main exhibit area and the trading pit. "I've been around shoes my whole life," the 21-year-old says, and he's been involved in the business for about 10 years. He examines each pair's materials, size tags, insoles and more, even smelling them at times.
Once he's satisfied the shoes are real, he affixes a numbered tag, and enters that number, along with other details on the shoe, into a database. So when the owners offer them up for sale, a potential buyer can go online and verify they've been run past a pro.
Mora said on some days he might see 30 to 40 fakes; on Saturday, however, he said "not a lot" of shoes had failed his close inspection.
Related
Las Vegas sneakerheads foster culture of footwear and community
Contact Al Mancini at amancini@reviewjournal.com. Follow @AlManciniVegas on Twitter.