Local artist's cellophane dresses a hit with Lady Gaga fans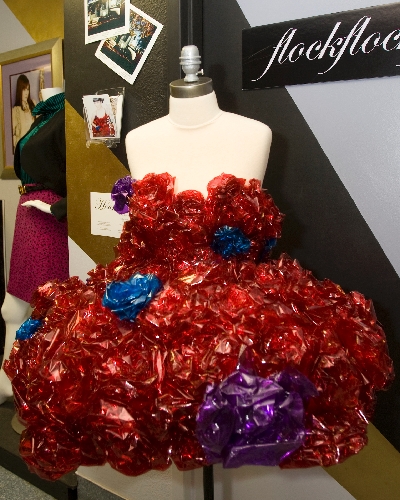 When you go to a concert for a singer who once used a meat locker for her closet, the dress code is anything goes. It's not unusual for Lady Gaga's "little monsters" to take a look around their houses and decide something like a rotary telephone, teacup or raw rib-eye will provide that perfect final touch to their outfit.
That might explain why local artist Jennifer Henry has kept herself busy lately designing cellophane dresses for Lady Gaga concertgoers nationwide. Not only do they make for a loud fashion statement, but they also make for a loud fashion statement. The crackle and crunch of the artist's latest creation gets louder with every layer she adds.
"The reason I haven't added zippers," she explains, while crumpling a sheet of cellophane, "is because there's a magical quotient to it. You don't know what it is or how someone got into it. (No zippers) adds to the sense that this is something really special."
It also means customers have to strategically tape themselves into the dresses. Henry does them the favor of including step-by-step instructions, something she'll probably be doing a lot of in the next week since Gaga comes in town March 25.
While she carefully pleats cellophane against the long strip of packing tape hanging from the dressing room door of Flockflockflock, her vintage boutique inside Emergency Arts, a young Lady Gaga fan in Louisiana patiently awaits its completion.
Henry just needs to add a layer of tissue paper for a barrier between the sweat-inducing cellophane and her customer's skin. Then she'll begin working cellophane around a bra she purchased at T.J. Maxx (based on measurements she requested before getting started) to make a corset for the party dress.
By day's end Henry will stuff the finished $60 party dress into a tiny 9-by-9-by-9-inch cardboard box for a jack-in-the-box unwrapping and move onto her next order. It could come from her Etsy shop, one of her more than 1,300 Facebook fans or a Flockflockflock passer-by who takes an interest in one of the shiny, intriguing dresses on the mannequins in the hall.
And, it isn't just teenagers going Gaga who are wearing the dresses. Henry has designed for educators' educators and medical administrators attending everything from costume parties to charity benefits.
For cellophane, it's quite the sophisticated system. Especially considering it all started by accident. In November 2009, Henry and a friend put together a Christmas-themed photo shoot that had their model posing in gift wrapping paper. Henry couldn't find any rolls of gold paper, so she settled on cellophane and taped her subject into the design minutes before her photo session.
Henry took a liking to the ballerina look she created that day and made another cellophane dress for another friend to wear the night of New Year's Eve. It was a hit. Strangers marveled and several asked to be photographed with the woman in the cellophane dress.
Several months passed before Henry made another one. She collaborated with Susan Tosches-Deneau — owner of Altered Nations, also inside Emergency Arts — to produce fashion shows using alternative materials. Henry naturally turned to cellophane. The first show celebrated a candy theme which resulted in the artist's first cellophane ball gown. The skirt, a voluminous bubble of purple and blue cellophane and the bodice, a corset of Good & Plenty boxes.
Not long after the candy fashion show, Henry cellophaned local band members Melissa Marth of The Big Friendly Corporation, Aily Iglesias of Jacuzzi Hi Dive and Tracey Miravite of Tracey Hope.
Once she launched the Etsy store, the Gaga orders rolled in. The way Henry puts it, the correlation makes sense.
"The dresses are so bizarre and sort of otherworldly — the same reason Lady Gaga is so appealing to people," she says.
Angie Scaduto, 26, ordered a green, gold and purple party dress from Henry last August to wear to Lady Gaga's concert here in Las Vegas. Scaduto went with her cousin and a friend, who also ordered dresses from Henry. The three of them considered the concert a "big deal" and wanted to commemorate it with a "big moment" of their own. That's where the cellophane dresses came in.
Aside from a girl with beer cans rolled into her hair, Scaduto says they were indeed the standouts. Fascinated, people pointed and stared and a few snapped photos. Removing the dress left rip marks on her abs, but it was all worth it for Scaduto. Even getting taped in.
"(Henry) wrapped us up pretty good," she says. "It took way less time than it would've taken to find an outfit."
Log onto www.flockflockflockmade.etsy.com for more information on Jennifer Henry's cellophane dresses or to place an order.
Cellophane Style
Prices for Jennifer Henry's cellophane dresses are as follows.
Skirts: $30
Party dresses: $60-$65
Custom party dresses: $100
Ball gowns: $300