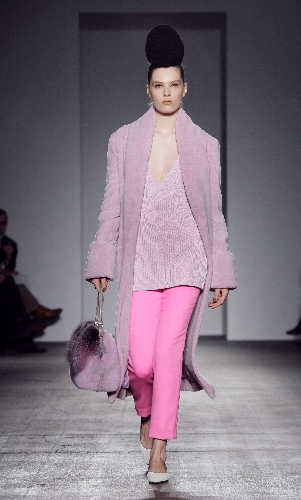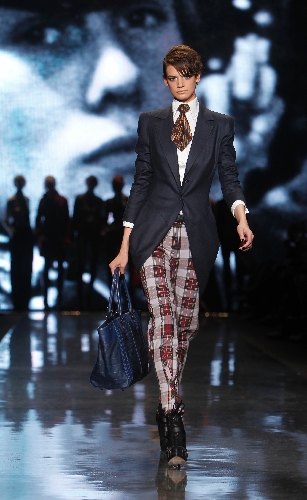 Every six months, David Wolfe stands before a crowded conference room in the Las Vegas Convention Center to tell attendees the fashion future. This past MAGIC was no different. As creative director for The Doneger Group, a retail analyst company, Wolfe travels the world to find out what Americans will be wearing several seasons from now.
According to him, the "future" as movies in the '80s had us believe it would look like, is finally coming to fruition. "The 21st century is only now starting to arrive," he says, citing 3-D technology and the "techno future" as examples. "In 10 years this exhibition will be full of fashions we never dreamed could exist."
A few adventurous designers already have started to experiment with this idea. Manuela Dack has designed a shirt that releases fragrance with body heat. There are spray-on clothes in the works, boots that plug in for heat and shoes that illuminate after being charged like a cell phone battery. It comes down to the same concept Wolfe discussed at MAGIC last August. Consumers want life-changing products. This is why technology changes so rapidly and fashion has resorted to recycling trends that overstayed their welcome five years ago.
The looks we'll see in fall '11 and the seasons that follow it will act as stepping stones to a more futuristic-looking form of fashion. Next fall will feature three major themes, one being what Wolfe calls calm chic. It consists of silhouettes that let the body breathe and frills-free design. Cigarette pants, tunics, drape dresses and catsuits all play a leading role.
"To make it exciting (you can do) unusual layering and color it. Have the guts to really color it," Wolfe says. Similar to what spring '11 is demonstrating, the use of color isn't just a bright clutch. It's a full-on commitment to vibrancy.
As always, there will be contrast from trend to trend, which the old-fashioned femininity look shows. Here you'll see tailored jackets, "basic blue jeans," velvet, more lace and silks. This is also where the Yves Saint Laurent obsession will rear its head. Wolfe says the current fixation with the designer, who he calls the greatest of the latter part of the 20th century, is due to a major retrospective exhibition held for him in Paris last year.
Last, fall '11 will bring a return to respecting the establishment again. He points to Kate Middleton as a source of inspiration for this. Her midnight blue Issa dress sold out after she wore it for her big engagement announcement. Her royal April wedding and the events that follow will have even more influence.
Hemlines will extend, status accessories will resurface and classic sportswear will have a heyday.
"People who have never been in rehab will be the role models again," Wolfe says.