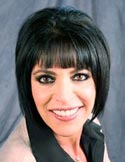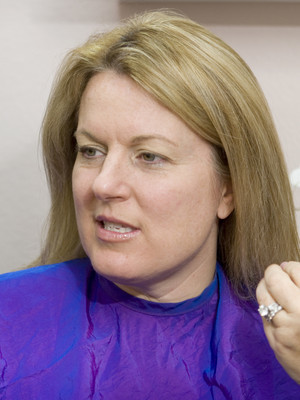 It's noon on Thanksgiving Eve and Barbra Jo Batterman has been called to duty.
Equipped with her Bass Pro tackle boxes and a portable lighting unit, she finds herself at Dee Berkley's jewelry studio in southwest Las Vegas. Once pleasantries are exchanged, Batterman asks the crucial question that accompanies any noteworthy event: "What are you wearing?"
A long, dark teal tunic with gold buttons for a birthday party at One Queensridge Place has brought Batterman to Berkley's service today. The raven-haired makeup artist will make her client crave her own reflection in approximately one hour, the way she's done for seven years now.
She'll do the same for a schedule book full of clients through New Year's Eve. Aside from wedding season, the holidays are Batterman's busiest time of year for personal appointments. She charges $350 for house calls and $125 for clients who come to her.
According to Berkley, it's money well spent. "I can't do my eyes and I don't want to look like I have a big mask of makeup on," she says. "When Barbra Jo does it, it stays on, looks natural and people say I look rock star amazing."
Although her event doesn't start for several hours and trips to the grocery store and Toys R Us — in the pouring rain — await her, Berkley has no doubt her face will stay put. "It always lasts. … For my wedding, my pictures were unbelievable," she gushes.
As her client raves the way a proud mother would, Batterman tilts her chin into position and airbrushes her imperfections away. Next come her eyebrows, which suddenly have shape and definition.
With Berkley, Batterman knows the drill but for new clients she goes through a makeup meter before putting brush to skin.
First, she asks to see two photos, one in which the client loves the way they look and one they're not so fond of. Then, she consults. "I try to really listen, that's most important," Batterman says.
Most important to her clients is the end result. Even after being in the business 33 years, there are some reactions that never get old when the almighty hand mirror is placed before clients. One that immediately comes to mind for Batterman: "I never knew I could look so beautiful."
Today — after contouring her client's face, lengthening her lashes and glossing her lips — she hears something equally gratifying. "Wow," says Berkley, who's sat in Batterman's chair more times than she can count. "I feel so pretty."
Barbra Jo Batterman can be reached at 498-LIPS or bjbmakeup@cox.net. Log onto her Web site at makeupartist-bjb.com.
Batterman Bits Makeup pet peeve: Dark lip liner with light lipstick Worst thing a client can say: "But, my husband won't like it." Celebrity I'd like to work with: Beyoncé Favorite makeup artist: Kevyn Aucoin was amazing. Final touch: Always the lips