New Vintage rehabs old handbags with fringe, feathers and TLC — VIDEO
The bin in Tanya Crawford's home is full of multicolored feathers, patterned guitar straps, old key chains and fringe. Something else stands out — vintage Louis Vuitton purses.
In Crawford's hands, the pieces, though not normally paired, are combined to create something new. An old custom purse has new life as a funky bohemian-dream bag. Or maybe it takes on a Wild West theme, adorned with fringe, braided brim and a beaded belt as the strap.
"I dig through (the bin) to get some inspiration," Crawford says. "I might find some emoji beads, and the entire bag is based around that theme. We look at a bag and assess what we can do with it and then find a little inspiration somewhere."
This is New Vintage Handbags, a year-old Las Vegas business for which Crawford is design director. New Vintage, founded by Stephanie Ponder and Candace Easdale, remakes designer bags not only to sell them online, but also for custom orders.
Co-owners of New Vintage Handbags Candace Easdale left, and Stephanie Ponder, in their office in Las Vegas. Elizabeth Brumley Las Vegas Review-Journal
A Balenciaga beginning
The idea for New Vintage began with a black Balenciaga handbag that belonged to Ponder but had been stashed in a closet and seldom used. It was about 10 years old, the leather on the body and handle scuffed. Ponder was going to a concert and rodeo event that week, and the bag, though stylish and classic, needed a makeover.
"My Balenciaga was pretty beat," Ponder says. "I started with the handle by wrapping leather around it. I started playing with the sides, and before you know it, I'm punching holes and throwing fringe on it."
Co-owner of New Vintage, Stephanie Ponder, displays custom purse straps and bags at Tanya Crawford's, director of design, home in Las Vegas. Bizuayehu Tesfaye Las Vegas Review-Journal
She started refashioning her other bags, then purses of some of her friends, and word began to spread. A year later, the women, who all work from their homes, have sold about 2oo hand-redesigned bags through their website, newvintagehandbags.com.
Finding bags, inspiration
The purses, after they're found at estate sales or auctions or brought to New Vintage by customers, are refurbished, as many that make it into the women's hands date back to the 1980s. The insides are scrubbed, and liners are often removed and replaced. Some purses require more work than others, Ponder says.
Each is then remade in a different way, with variations of braided rims, fringe, feathers, as well as the addition of trinkets. Some feature a combination of materials.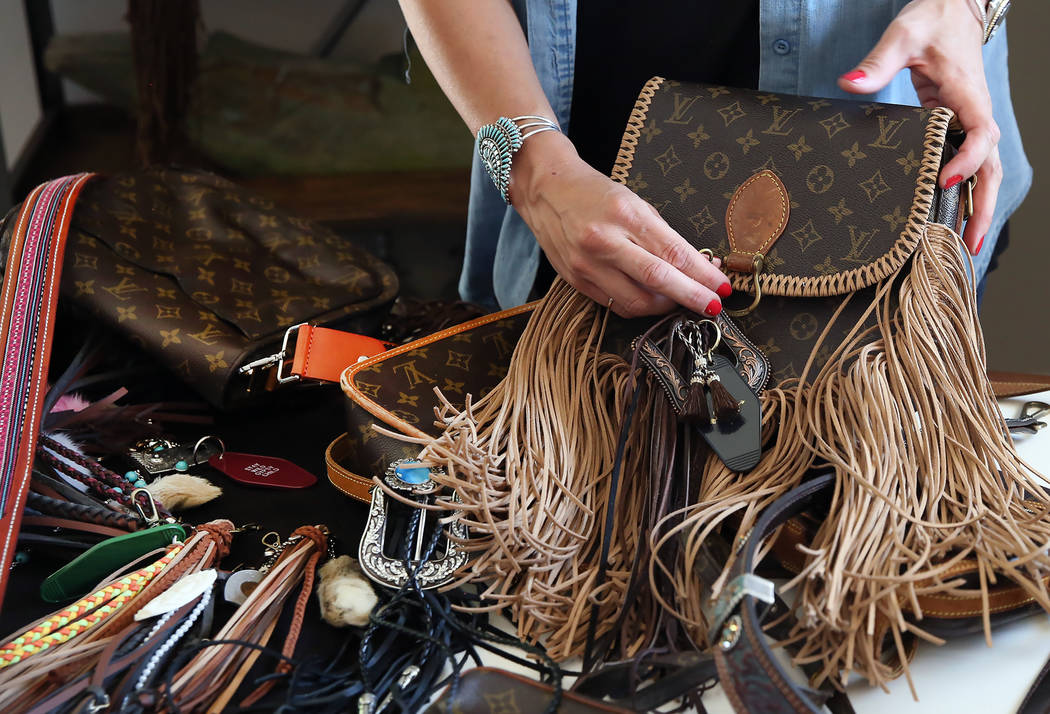 Retro guitar straps, chunky bejeweled belts and even horse bridles are fashioned to replace worn handles. Trinkets such as crosses, key chains and pins are often pieces that Ponder finds at markets and antique stores.
"I get materials from anywhere and everywhere," Ponder says. "We call it 'going junkin.' If it sticks out to me, I think, 'All right, I have an idea for this.' "
The women measure and punch holes in bags to get the braiding and fringe through and change out the handles. Some purses are painted with images of colorful skulls, cats and dogs, and favorite emojis.
Ponder said some have complained on their social media sites about the bags not representing the spirit of Louis Vuitton, but others say the redone bags are a refreshing and funky take on the brand's classic look.
Mallory Gardner, 18, spotted the bags at Vasari in Tivoli Village, and she said she wasn't going to leave without one. She especially loved how she could change the strap to whatever she wanted.
"You could just buy a bag already done or switch out the straps," Easdale says. "There's a lot of options you can do to fit your style."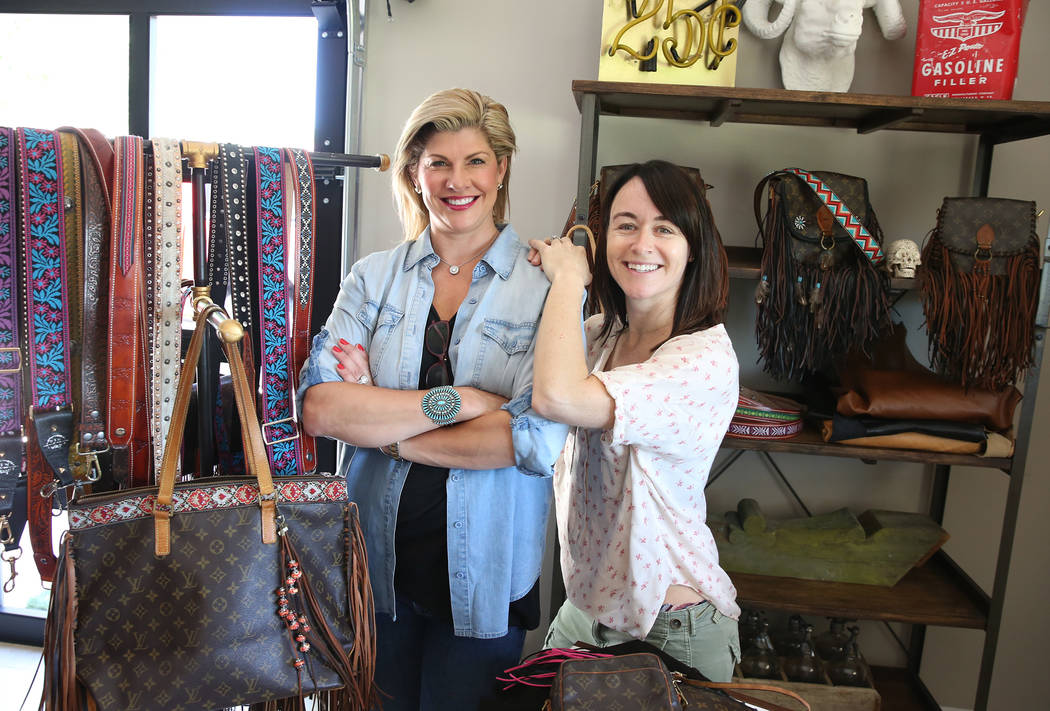 Co-owner of New Vintage, Stephanie Ponder, left, and Tanya Crawford, director of design, display custom purse straps and bags at Ponder's home in Las Vegas. Bizuayehu Tesfaye/Las Vegas Review-Journal
Ponder and Easdale decided to make the straps and trinkets interchangeable, something they were doing with their own purses.
"It blew up," Ponder says. "Ladies love options, and they love to change their mind. I enjoy changing the look of the bag, so why shouldn't we give that to our clients?"
Making it meaningful
Clients who bring an old bag to New Vintage work with Ponder or Crawford on a design sketch for the remake. Artwork and decoration has in some cases been a reflection of clients' feelings about loss of family and pets, surviving cancer or accomplishing milestones, Crawford says. Some women have brought items such as dog tags or a grandfather's tie to incorporate in the redesign.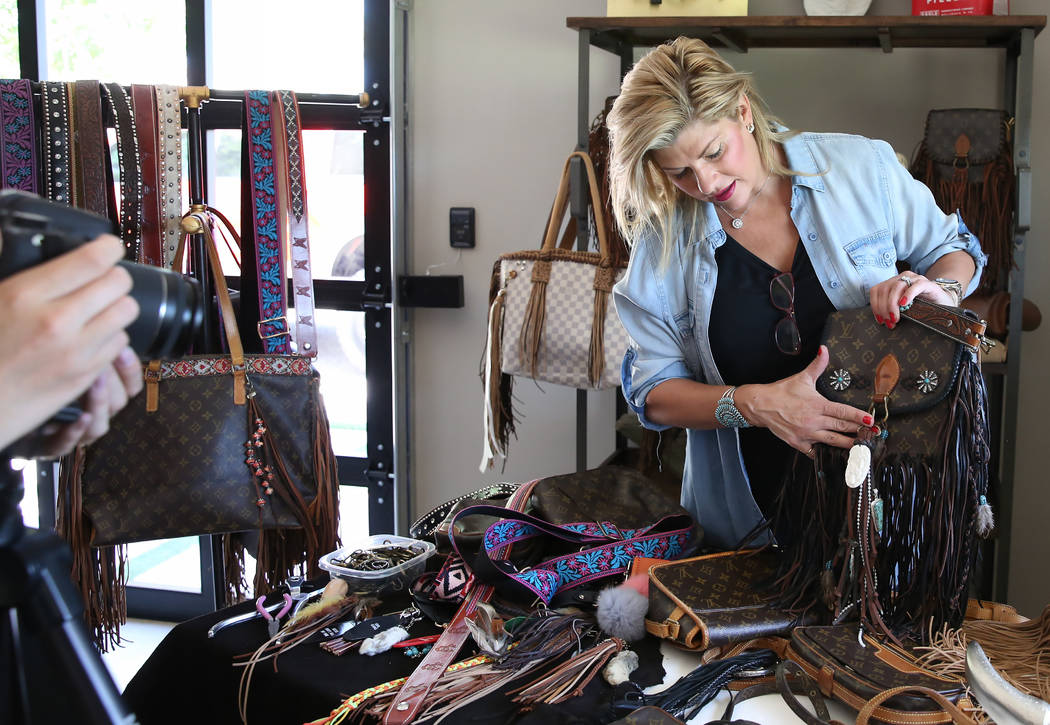 Co-owner of New Vintage, Stephanie Ponder, demonstrates how to make old designer handbags new again by decorating them in a trendy, bohemian way. Bizuayehu Tesfaye Las Vegas Review-Journal
"These stories are emotional," Crawford says. "It brings tears to our eyes when we read some of the reasons why people want to bring the bag back into circulation and repurpose it."
Contact Katelyn Umholtz at 702-383-0279 or kumholtz @reviewjournal.com. Follow @kumh0ltz on Twitter.