October 13, 2010 - 11:00 pm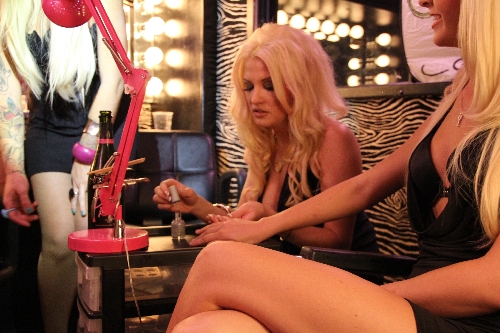 Imagine your current hair salon with even louder music than normal. Now add a stripper pole. Now put it on wheels. That's the Girls Night Out Beauty Bus for you. The party bus and salon in one gives local women a party while they get ready for another party.
"We know it's going to take a while for people to understand what it is," says Markham Gordon, vice president of Girls Night Out. He and wife Stacie Gordon, Girls Night Out president and founder, are still feeling out the concept themselves.
Stacie conceived of the idea a couple years ago, while attending cosmetology school. Like any smart entrepreneur, she made a point of not sharing her idea with anyone.
Then, Markham's family business became a casualty of the recession. Less than a year later there was a giant bus parked in their driveway.
With a hot pink and zebra print interior, the sleek black bus caters to image-conscious women with a party destination. Manicure stations, makeup vanities, salon chairs and a shower-turned-spray-tan booth make the primping easy. A flat screen TV, blaring music, complimentary champagne and stripper pole make the partying easy.
The couple originally thought the Beauty Bus would appeal to out-of-town clubbers with cash to blow. Realizing those aren't in ample supply these days, they've set their sights on other areas, like the bridal industry. It's one of the few areas on which a woman still isn't willing to skimp. The way they see it, the bus can accommodate both the bachelorette party and the bridal party on the big day, driving right up to the aisle if requested.
Keeping in compliance with state laws and codes, the Salon Bus can't move while salon services are in use and alcohol can't be sold from the bus. Stacie, who has behind-the-wheel duties, instead drives the clients to one of two locations with a Strip view or parks the bus at clients' homes or various events. Clients are welcome to bring their own alcohol.
The bus can service five to 10 people at a minimum of $100 worth of services per person and $500 total minimum. When the bus goes to events, there isn't a limit on the number of clients it can service.
Clients can apply their $100 fee to salon services, which start at $30 for a style and run up to $600 for extensions. Packages, such as the Prom Queen, Divine Diva and Damn Girl, are also available. The team that glams the girls up consists of six Nevada board-certified cosmetologists, including Stacie. Markham has affectionately dubbed them "cosmetainers."
"It's a lot of fun for me," says Stacie of what she refers to as her "dream job."
The Girls Night Out logo, two blow dryers pointed in opposite directions with scissors in between, is on her business cards, but it was on the small of her back first. Stacie got it tattooed there when she completed cosmetology. She and Markham hope it will ultimately commemorate two accomplishments.
For more information on the Girls Night Out Beauty Bus, log onto vegasbeautybus.com.