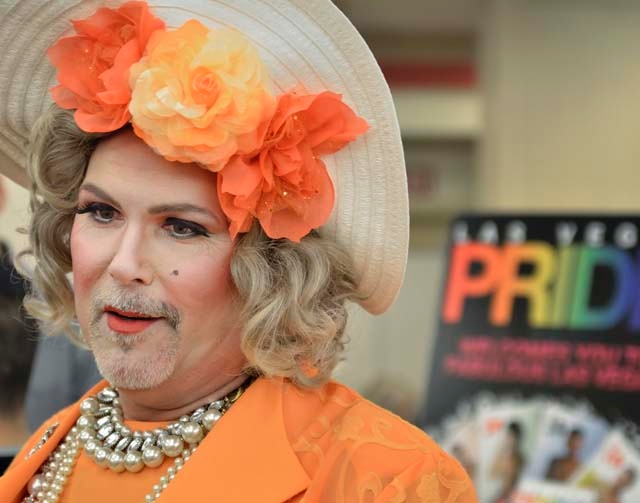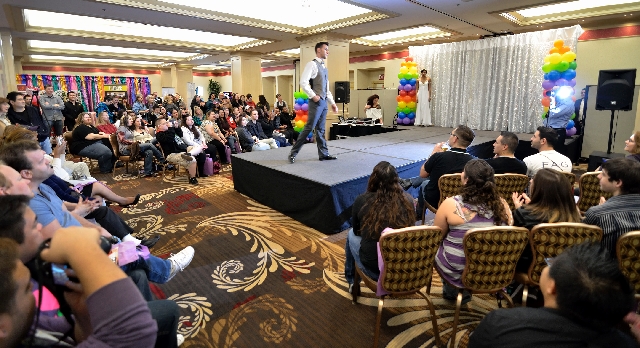 It's not legal for two women to marry each other in Nevada, or two men, for that matter.
That didn't stop dozens of gay and lesbian couples from filling a ballroom at Circus Circus last Sunday to find everything they need to plan their weddings.
More than 300 people attended the "Same Love, Same Rights" LGBT Wedding Expo, sponsored by the Rainbow Wedding Network. It's the expo's third year in Las Vegas but the first year it was on the Strip.
Wedding photographers, officiants, wedding planners, tuxedo and gown rental shops, event venues and jewelers were among the 25 vendors showcasing their services.
Emily Miller, 30, was excited about the chance to exhibit at the expo. She and her domestic partner, Nicole Raleigh, own Bouquet Couture and make custom bouquets, boutonnieres, corsages and centerpieces for brides and grooms. They attend bridal shows as a regular course of business, but this was the first time they exhibited at one that targeted same-sex couples.
"I am so proud of this expo," says Miller, an artist. "Even if we only meet 10 gay couples, it's worth it. We're so excited to do gay weddings."
Miller and Raleigh had a commitment ceremony last year. They plan to have a legal wedding when they go to Hawaii later this summer. It doesn't matter whether gay marriage is legal in Nevada, she says. Gays and lesbians are going to have weddings.
"We're going to do it anyway. No one is going to stand in the way of our happiness," she says. "I deserve a chance to proclaim my love for my partner the way anyone else does."
Brie Kinard, 28, and her girlfriend, Savannah Miele, 26, plan to proclaim their commitment to each other in a September ceremony. The couple are already making plans for it; 100 guests have been invited and their venue has been booked.
Now, they just need a cake topper. And a form-flattering tuxedo that they can rent.
They are small details but important, nonetheless. And that was what motivated the couple to attend the expo.
It's a place where they can plan and talk openly about their impending nuptials without fear of discrimination, Kinard says.
"I cannot believe there are still people who are so narrow-minded," says Cristina DePoy, a photographer from Arizona.
She does most of her work in her home state but travels to Las Vegas for weddings and events, too. She's done a handful of same-sex ceremonies but most couples she meets end up going to a state where they can legally get married, she says.
DePoy is a straight ally, a heterosexual business owner who supports gay rights. It was her first year at the expo but she says she will be back.
"If they had one in Arizona, I would be there in a heartbeat," DePoy says.
Last week, she lost her first bride in three years of business because of photos of same-sex couples on her website. The bride called and told her that she didn't like the fact that DePoy showed photos of same-sex couples alongside heterosexual couples. DePoy says she was disappointed to realize that gays and lesbians still have to overcome that kind of disapproval.
"This is a stand we have to take. We just think love is beautiful in any form," she says.
Holding an event like this provides a sense of legitimacy that the gay community needs, says Marianne Puechl, event coordinator and co-founder of Rainbow Wedding Network. It also gives couples a one-stop shopping spot for everything they need to plan a commitment ceremony or wedding. Since the network was founded more than 13 years ago, they have held 80 expos in 22 states.
"A lot of times, our biggest events take place in states where gay marriage isn't legal," Puechl says.
"They're going to have the ceremonies whether it's legal or not."
Contact reporter Sonya Padgett at spadgett@reviewjournal.com or 702-380-4564. Follow @StripSonya on Twitter.