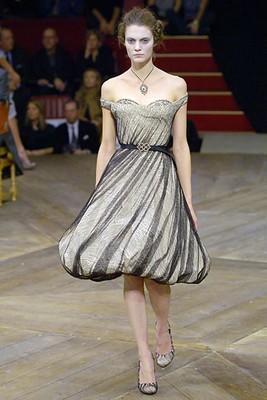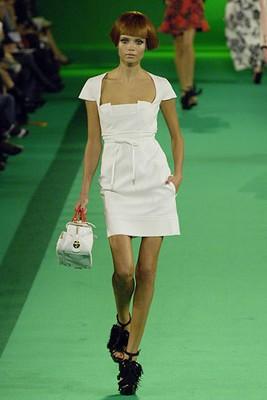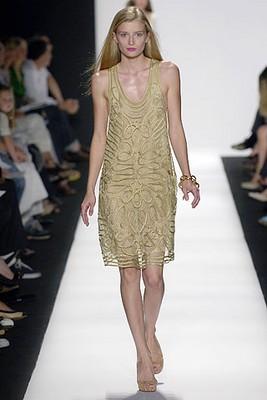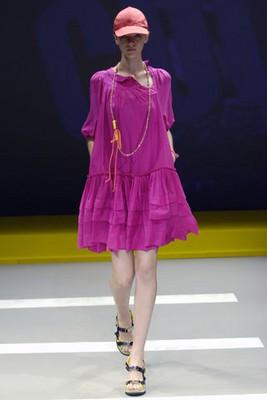 One look through the spring runways and you'll notice that the dress pops up as the look to own this season. Designers obliged us with the mini, the sheath, the trapeze, the T-shirt, the A-line and the shift, among many others.
Whatever you do, you have to own at least one dress and learn how to wear it with panache. That means you can pair your T-shirt dress with a belt, jeans and ballet flats for a casual look or you can throw a cardigan over your trapeze to ward off the air conditioning.
To help you update your closet for spring, we took a look at some of the dresses that walked the runways to give you an idea of the breadth of styles available, plus we let you know where to find them in Las Vegas.
3.1 PHILLIP LIM
Phillip Lim offers everything from the simple to the complex for spring. Look for T-shirt dresses adorned with roses and strapless dresses paired with leather vests. You can find 3.1 Phillip Lim at Nordstrom and Neiman Marcus and Aristo at Fashion Show mall.
ALBERTA FERRETTI
Weightless fabrics made up a majority of Alberta Ferretti's runway show. Think cocktail dresses, pin-tucked chiffon and jersey-draped numbers. You can find Alberta Ferretti at Neiman Marcus.
ALEXANDER MCQUEEN
Designer Alexander McQueen likes to work in the area between grand theatrics and sullen. Look for corseted dresses or the bubble dress that could make your evening. You can find Alexander McQueen at Outfit at the Wynn Las Vegas and Saks Fifth Avenue.
BLUMARINE
Designer Anna Molinari has become synonymous with the party dress. Look for shirt dresses that could make for a dressy day look or evening looks in chiffon, taffeta, brocade, embroidery and prints, all nipped in at the waist and flared to A-line perfection. You can find Blumarine at Outfit at the Wynn Las Vegas.
BOTTEGA VENETA
Designer Tomas Maier creates grown-up looks that have just the right amount of luxury that you almost don't need accessories beyond a handbag and shoes. Look for a palette of khaki and rose. You can find Bottega Veneta at Outfit at the Wynn Las Vegas.
CALVIN KLEIN
Designer Francisco Costa certainly took Calvin Klein away from its simplistic looks by adding intricate details such as pleats, tucks and shirring. But the collection retains its monochromatic tones that appeal to so many. You can find Calvin Klein at Dillard's and Macy's.
CHRISTIAN DIOR
Designer John Galliano struck a chord this season with dresses that are definitely pretty. Look for asymmetrical looks along with the occasional chain or strand of gold embroidery. You can find Christian Dior at the Wynn Las Vegas.
CHRISTIAN LACROIX
You can always go to Christian Lacroix for over-the-edge looks. This season, it was organza bubble dresses and silver cocktail gowns that dominated his show. You can find Christian Lacroix at the Forum Shops at Caesars.
DEREK LAM
Think raw and loose when you think of Derek Lam. He mimicked Claire McCardell's working girl looks from the '30s to the '50s. You can find Derek Lam at Intermix at the Forum Shops at Caesars.
DIANE VON FURSTENBERG
While Diane von Furstenberg is known as the queen of the wrap dress, she showed a number of styles in between that covered sweater dresses, relaxed tunics, shifts, coat dresses and strapless numbers. You can find Diane von Furstenberg at Scoop NYC and Intermix, both at the Forum Shops at Caesars, Saks Fifth Avenue, Nordstrom, Neiman Marcus and Talulah G.
DKNY
Look for DKNY when you want city girl smart fashions that are no-nonsense. This season, Donna Karan presented parka dresses, sunray-pleated minis topped with layered tanks and hot pink dresses with empire-line bodices. You can find DKNY at the Forum Shops at Caesars.
Marc Jacobs
This season, Marc Jacobs took a page from F. Scott Fitzgerald with his designs. He added drop waists to his dresses and incorporated his favorite design trick, layering. You can find Marc Jacobs at the Forum Shops at Caesars.
OSCAR DE LA RENTA
Oscar de la Renta is the type of designer you should seek out when you want looks that would be appropriate on the beaches of French Riviera or a day with the ladies. Sundresses in bright and bold patterns along with bubbles in silk gazar or taffeta dominated his collection. You can find Oscar de la Renta at the Wynn Las Vegas.
STELLA MCCARTNEY
Easy does it seems to be Stella McCartney's mantra this spring. Look for slouchy shirt dresses, silk organza trapezes and puff-sleeved sack dresses. You can find Stella McCartney at Talulah G.
the price is right
You don't have to spend a fortune to add a dress to your collection. Note the shapes that you like, and then look for similar shapes at your favorite store. Look for dresses at Forever 21, Target, Bebe, Ann Taylor, Zara, French Connection or Old Navy.