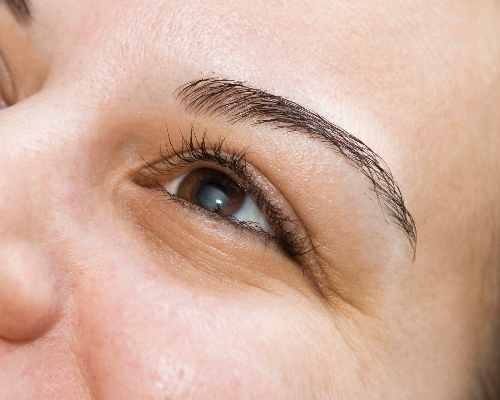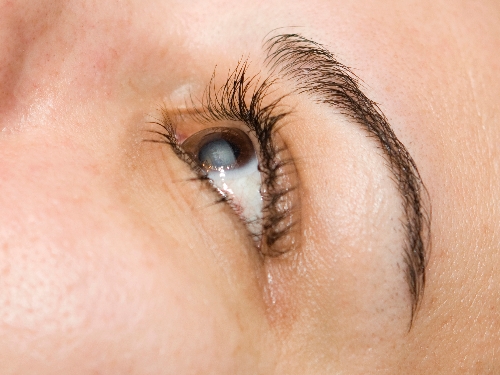 Tialutrell McCormick wants to take away your mascara for six weeks. Before you go into a rant about what you want to do to McCormick, be advised that the aesthetician makes a living making eyes beautiful. The latest beauty service to come to her 155-square-foot Eye Tactics studio is called LashDip, a semipermanent professional lash coat.
"It's very exciting," McCormick says. "Contacts, removing your mascara at night — you're liberated from all that. And, you don't have to buy a lot of extra stuff to maintain it, either."
For $200 clients spend 45 minutes to an hour in McCormick's treatment chair as she applies their semipermanent mascara. Today, Pomai Uphouse, a DJ for KMXB-FM, 94.1, has heard about LashDip from friends and wants to try out the new service herself.
With Pandora set to a neo-soul station in the background, she begins asking McCormick a series of "what if?" questions. McCormick, the only LashDip-certified aesthetician in Vegas, assures her client the process is painless and upkeep is "idiot-proof." "I hope so," Uphouse replies.
First, McCormick cleans the lashes with two spongy wands and Lash Prep Solution. Next, she sets the lashes, brushing through them to see if they need to be curled and to create the overall look she wants to capture. She then begins applying LashDip.
The process involves two needlelike instruments that McCormick dips into the formaldehyde-free LashDip formula and applies to each lash individually. Unlike eyelash extensions, the client can keep their eyes open during the application. Depending on the desired outcome (natural to glamour girl), additional coats may be necessary.
To correct any imperfections, including clumping, a refining solution is used. Once the lashes are perfectly in place, McCormick dries them with a hose she wears around her neck like a doctor does a stethoscope. Last, she applies the LashDip Sealer, which is normally $25, but she sends it home with clients complimentary to moisturize their lashes and add a glossy finish. "(Apply it) once a day or once every two days," says McCormick. "It's up to them."
The 29-year-old became LashDip-certified after traveling to Chicago for hands-on training with the owners and inventors of the beauty innovation, Jessica Harley and Gina Mondragon. For two days straight, she performed the service on a multitude of models while Harley and Mondragon observed. A little intimidating, but the best way to ensure clients, like Uphouse, get the best results.
As she finishes off her latest set of lashes, McCormick gives her client the "all done" cue. Uphouse sits up and McCormick puts a hand mirror in front of her.
"Oh, wow!" she says. "Holy cow! When I wear mascara it doesn't even look that clean."
Uphouse is admittedly low-maintenance in the makeup department. A once-every-six-weeks beauty treatment with enough impact to have her smiling in a hand mirror may be the cosmetic solution for which she didn't know she was looking.
McCormick fell into her specialty after getting defunct eyelash extensions for a pageant she was competing in (she was second runner-up for Miss Alaska). She began researching the treatment and later became an aesthetician focusing strictly on eye-enhancing services. In addition to LashDip, she also performs eyebrow and eyelash extensions, tinting, waxing and a variety of other eye treatments.
"Outside of cosmetic surgery," she says, "(enhancements) to a woman's eyes can instantly change the way she looks and feels."
To learn more about LashDip, log onto lashdip.com. For an appointment at Eye Tactics, call 250-6532.
The Rules
1. Avoid steam. It's the enemy. Hot showers are fine, but steam rooms are off-limits.
2. Oil-free. Makeup and makeup remover is fine, so long as it's oil-free.
3. Water contact. For the first two to four hours, avoid water contact with your lashes.
4. One day. Wait 24 hours and LashDip is fully set, water-proof and sweat-proof.
5. No eyelash curlers. You shouldn't need them, anyway.