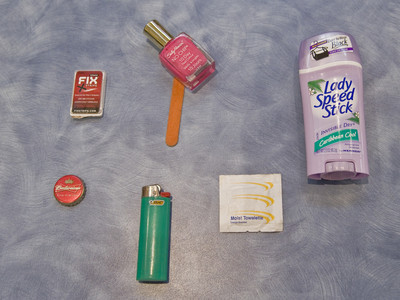 • Who: Heather Little
• Location: Meadows Mall
• Handbag: Um, I don't know. A Heather Little bag?
• Are handbags status symbols? Not this one, but a lot of the time they are. This one was just cheap.
• What does this bag say about you? I'm fun and flashy.
• If someone found your bag and looked inside what would they think? That it's a Swiss Army purse because I'm prepared for everything.
• What's the most important item in your bag and why? My wallet because without it, everything's gone.
• What's the strangest item in your handbag? Probably a beer cap. It's from a boy.
• Tell us about the first handbag you ever bought? The first, most important one was Guess. It was gorgeous with a big, silver "G" in the middle.
• Knockoffs: Love 'em or hate 'em? Love 'em! Because you can get something fantastic for cheap. What sucks is when you have a real one and people think it's a knockoff. I just can't see spending $300 on a purse.
• Image is … Everything.
• What's in your handbag? 1. Fix hangover strips, 2. Sally Hansen nail polish and nail file, 3. Lady Speed Stick, 4. Budweiser bottle cap, 5. Bic lighter, 6. Moist Towelette wet napkins