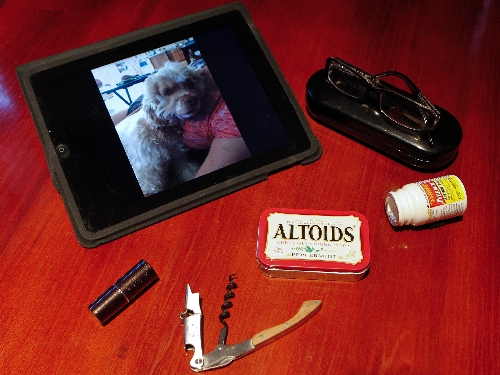 ■ Who? Jackie Evon, operating partner at Fleming's Prime Steakhouse & Wine Bar
■ Location: Fleming's Prime Steakhouse & Wine Bar
■ Handbag: Tory Burch black leather Robinson tote from the spring '11 collection
■ Are handbags status symbols? Yes. Look at the bag I carried when I was 20 versus the bag I carry now.
■ What does this bag say about you? It says I'm strong, independent and fun. And, my husband has great taste, since he bought it for me.
■ If someone found your bag and looked inside, what would he/she think of you? They'd probably think I'm chaotic, busy or that I must have been trying to win on "Let's Make a Deal."
■ What's the most important item you've carried in your bag? My iPhone because, not only is it my lifeline, but I would be lost without the GPS that I use on the daily.
■ What's the strangest item you've carried in your bag? I'll never tell.
■ Tell us about the first special bag you owned. A crocheted bag with a dollar in it that my grandmother made me when I was 8 years old.
■ Knockoffs: Love 'em or hate 'em? Hate 'em. Why? Be whoever you want, but be authentic.
■ Image is … how you are perceived by others. I feel image isn't just all about how you look. Image is all in your attitude, or moreover, your "swagger."
■ What's in your bag? Prescription Fendi glasses, empty Tylenol bottle, Altoids, bottle opener, Laura Mercier lipstick (My favorite shade is Baby Lips), iPad.