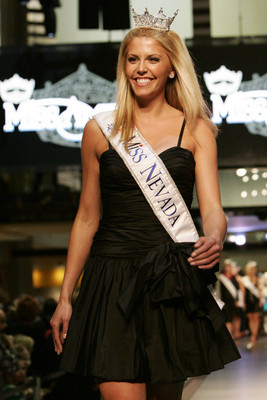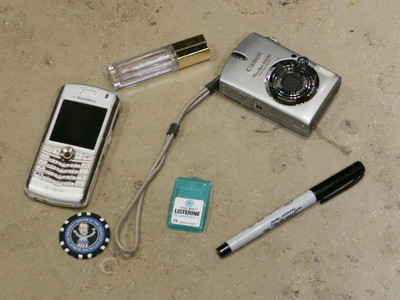 • Name: Caleche Manos
• Occupation: Miss Nevada 2007
• Occasion: Miss America pageant on the runway at Fashion Show mall
• What kind of handbag? Black velvet clutch with a rhinestone clasp.
• How much did it cost? $60.
• Where did you get it? It is from Off Fifth here in Las Vegas. Off Fifth is my favorite store.
• Tell us about the first handbag you ever bought. The first handbag I ever bought was a denim purse in the seventh grade and I got it at Miller's Outpost, which is now Anchor Blue. It was hideous.
• Why did you choose this handbag today? It matches my dress perfectly, and I never go anywhere without some sort of handbag.
• What do you like about this handbag? I love that it is simple enough to match just about anything, but has enough of my favorite color to make me smile every time I glance at it. My favorite color is rhinestone, by the way!
• How many handbags do you own? I own…um…next question? OK I own around 30. Give or take a few…
• What's the most you ever paid for a handbag? My most expensive handbag is a $700 Coach bag that I absolutely love. It was a gift, though. I could never justify spending that much on myself.
• Image is … Necessary but shouldn't control you. First impressions are incredibly important, especially when you have the job that I do. Maintaining a positive, healthy image is so important in order to maintain credibility. You can't roll out of bed with tangled hair and a sweatsuit and expect people to take you seriously as Miss Nevada.
REVIEW-JOURNAL