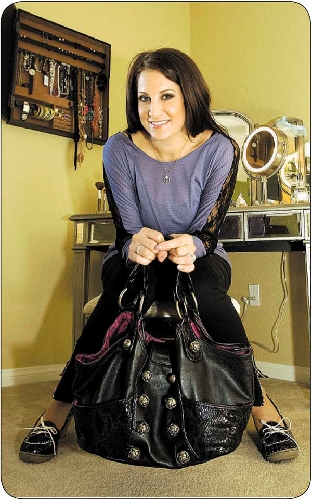 ■ Who? Krystle L. Randall, makeup artist, hair stylist and body painter for KoLoR, LLC
■ Location: My makeup vanity
■ Handbag: Betsey Johnson hobo
■ Are handbags status symbols? Yes, much like the kind of car we drive, you can tell a lot about someone by the kind of purse they carry. But, for me, I just think certain designers create fun and unique bags, so I like the way they look. I wouldn't buy a purse just because it was expensive or a certain name brand. I have to love the way it looks and it has to be practical for all my contents.
■ What does this bag say about you? It says I'm simple because it's all black, yet fun and interesting because, up close, you can see it's shiny, sparkly and snakeskin (faux of course; I'm terrified of snakes). The inside is bright pink satin and lace and there are silver rosette buttons on the outside.
■ If someone found your bag and looked inside, what would they think of you? That I am clean, obsessively organized and on the go. They would see that my bag has a lot of pockets and everything is neatly in its area. They could also see that I'm a makeup artist because I carry tons of samples and a touch-up kit.
■ What's the most important item you've carried in your bag? My wedding rings during a manicure or when I'm body painting at work.
■ What's the strangest item you've carried in your bag? Preparation H. I use it on tired models to shrink swollen eyes. Apparently, it is not carry-on approved and the airport security confiscated it, but not without first holding it up for everyone to see. So embarrassing!
■ Tell us about the first special bag you owned. I bought my first Gucci bag when I visited Europe right out of high school. It was my first "big" purchase as an adult (even though it was probably the smallest bag that Gucci made). I used it for years and even had my dad try and weld it back together when the metal clasp broke in half. I think it's still hanging in his toolshed.
■ Knockoffs: Love 'em or hate 'em? I used to live in Soho, near Chinatown in New York City, so I will admit I've had a few good ones before that I loved. It was an affordable way to keep up with the trends, even though I could barely pay my rent! Now, though, I'd rather save up and get one I really want from the designer who deserves the credit.
■ Image is … showing people who you are on the inside by how you present yourself on the outside.
■ What's in your bag? Makeup bag full of samples and touch-up stuff, anti-bacterial lotion (keeps my hands, which are very important in my line of work, clean and soft), doggie bags (I am a responsible pet owner and always clean up after my beagles), GPS (as a freelancer I work at different locations every day, and I'm not the best with directions), RevitaLash (keeps my lashes long so I don't have to wear false ones), counterfeit money detector pen (I get paid a lot in cash so it comes in handy to check larger bills on the spot).